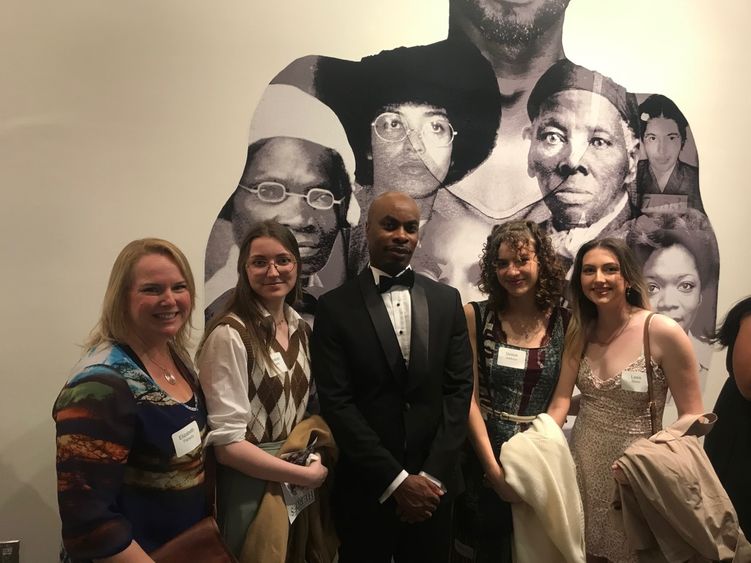 CENTER VALLEY, Pa. – Penn State Lehigh Valley has thrown its support behind a new art exhibition that celebrates iconic women of color as comic book superheroes.
The campus is among the sponsors of artist Bart Cooper's exhibit, "Heroes: My Heroes Actually Have Superpowers," which is on display through May 22 in the Crayola Gallery of Bethlehem's Banana Factory Arts Center.
Members of the campus community turned out for an artist's reception at the gallery, including several students, Chancellor Tina Q. Richardson, Director of Academic Affairs Anibal Torres Bernal, Gallery Director and Arts Coordinator Ann Lalik, and Associate Teaching Professor of Arts Administration and Honors Program Coordinator Elizabeth Flaherty. A few days later, Cooper met with a group of campus students at the gallery.  
A Lehigh Valley native who now lives in Los Angeles, Cooper came up with the idea for the exhibit a few years ago following a conversation with a young man who couldn't identify Harriet Tubman by name, yet could immediately identify and name Superman.
This interaction was a revelation for Cooper, who used it to reflect on "the disparity between our recognition of popular culture's fictitious heroes versus those who actually exist," according to the exhibit's publicity materials.
With that, Cooper created "Heroes," a series of 10, 48-by-48-inch mixed media works depicting its subjects as DC and Marvel superheroes, along with well-known quotes attributed to the subjects. The group includes Tubman as Superman, Oprah Winfrey as Captain America, Rosa Parks as Iron Man, Nina Simone as Wonder Woman, Angela Davis as the Punisher, and Henrietta Lacks as the Incredible Hulk.
"Their struggles, their trials and tribulations, their willingness to fight through showed strength and resilience. These people had powers and practiced them rigorously, and not only for themselves, but for others," Cooper said in his artist statement for the exhibit.
At the exhibit opening, Cooper said it was always his goal to bring the show to the Lehigh Valley.
"To see this show being done here, to see all my Lehigh Valley people and family experience 'Heroes,' it definitely melts my heart," he said. "Some people asked me, 'Why women?' It's because I was raised by strong women who instilled so many things in me."
For more information on the exhibit, visit bananafactory.org.