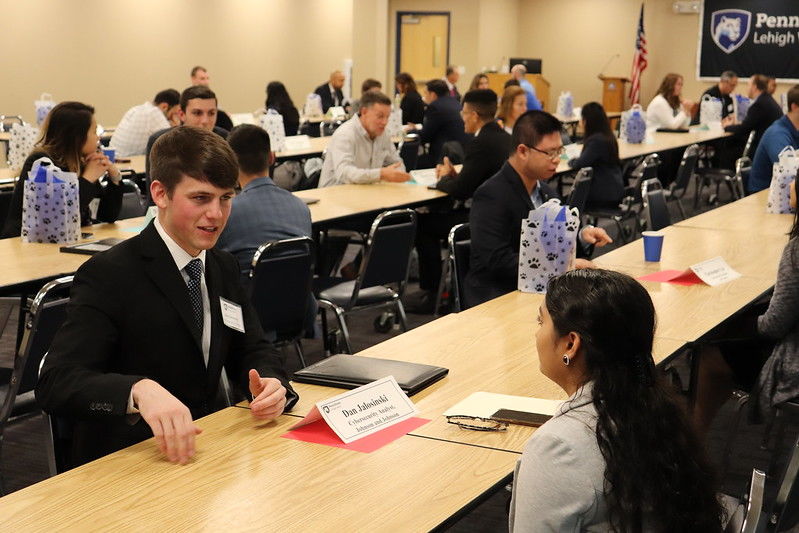 CENTER VALLEY, Pa. — More than 30 Penn State Lehigh Valley students had the opportunity to interact with local business representatives Oct. 3 at the Lehigh Valley campus. They were given the opportunity to learn about different careers and meet many professionals. The event was sponsored by the campus' Business, Engineering and Technology Advisory Council and the Penn State Alumni Association.
The speed networking event's purpose was to create connections between students and professionals in several short five-minute sessions, while providing an opportunity for students to learn the ins and outs of networking.
Diane McAloon, alumni relations director at the Lehigh Valley campus, and Denise Ogden, professor of marketing, organized the event to help fuel students' speaking and listening skills in a networking situation.
"This event is a great way for students to meet professionals and explore different careers," Ogden said.
Solomon Taylor, a Penn State Lehigh Valley senior, was presented with the 2019 Sigma Beta Delta scholarship award. Sigma Beta Delta is an international business honor society.
Murtaza Jaffer was presented with the Outstanding Business Alumnus award. A 2002 graduate of Penn State Lehigh Valley, Murtaza is co-owner of EBC Printing in Trexlertown.
Contact
Dennille Schuler
Public Relations Specialist
Penn State Lehigh Valley