Successful female entrepreneurs shared experiences and actionable advice from their military careers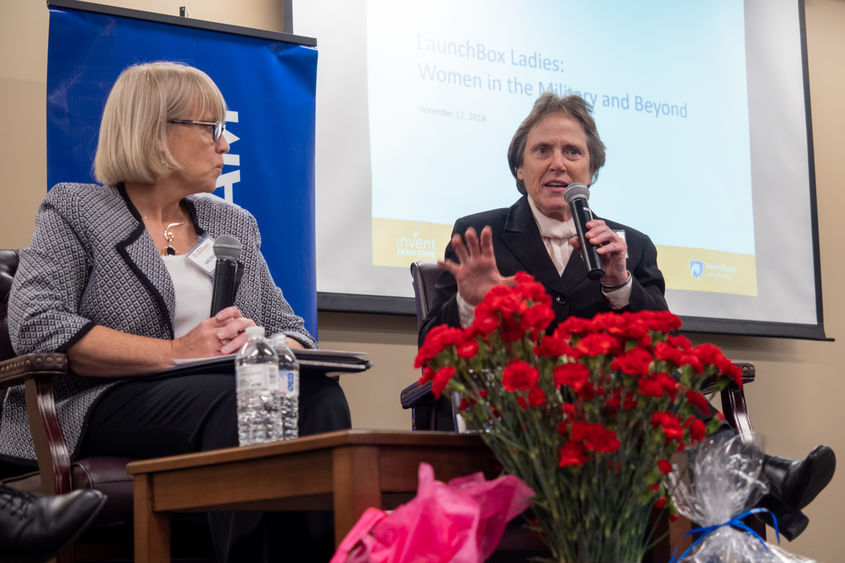 CENTER VALLEY, Pa. — "Women in the Military and Beyond" was the theme for the "LaunchBox Ladies: From Passion to Profit" event held Nov. 12 at the Penn State Lehigh Valley campus. The panelists were interviewed by Kym Ramsey, owner and CEO of Ric and Kym, LLC, a consulting and facilitation service for educational enterprises. Ramsey served in Desert Storm as an Army Captain in Military Intelligence.
The three panelists, who are also all veterans, shared what they learned from military life and how they apply it to their current civilian lives. The panel drew about 90 community members, students, faculty and staff.
"Networking — getting to know who is going to help you and who's got your back is so important in the military and on the civilian side," said Theresa DelBalso, superintendent, State Correctional Institution at Mahanoy. DelBalso oversees more than 600 staff, approximately 2,400 inmates and an $88 million budget. She is also a retired U.S. Army veteran, serving 28 years.
"The risk management piece is huge; evaluating what could go right or wrong and having a plan B," said Jody Rennie, president, JVR Collaborative Advantage, LLC. "Also, seeking purpose helps to give a sense of belonging and the idea of doing things for the greater good that things are bigger than me."
Rennie is a certified project management professional. She has 30 years of experience managing projects, while serving in the U.S. Air Force and private sector.
"When working collaboratively you can get things done. This carries over into the civilian world with teamwork, camaraderie and the collaborative efforts of many minds," said Diana Sorrentino, director of security and intelligence operations, Lehigh Valley Paladin, LLC. Sorrentino is a security and intelligence professional, focusing on critical incident management, behavioral analysis, and threat assessment. She served in the U.S. Navy.
Upcoming LaunchBox Ladies events include "The E-Commerce Transformation," on Jan. 30, 2020. Doors open at 11:30 a.m.; program starts at noon.
Lehigh Valley LaunchBox is a signature program of the Invent Penn State initiative. In addition to the LaunchBox Ladies speaker series, LaunchBox provides no-cost coworking space, accelerator programs, microgrants, legal and IP advice and mentorship to help early-stage entrepreneurs de-risk and accelerate their businesses. For more information, visit the Lehigh Valley LaunchBox website, email [email protected] or contact Pam Kiser at [email protected].
Contact
Dennille Schuler
Public Relations Specialist
Penn State Lehigh Valley