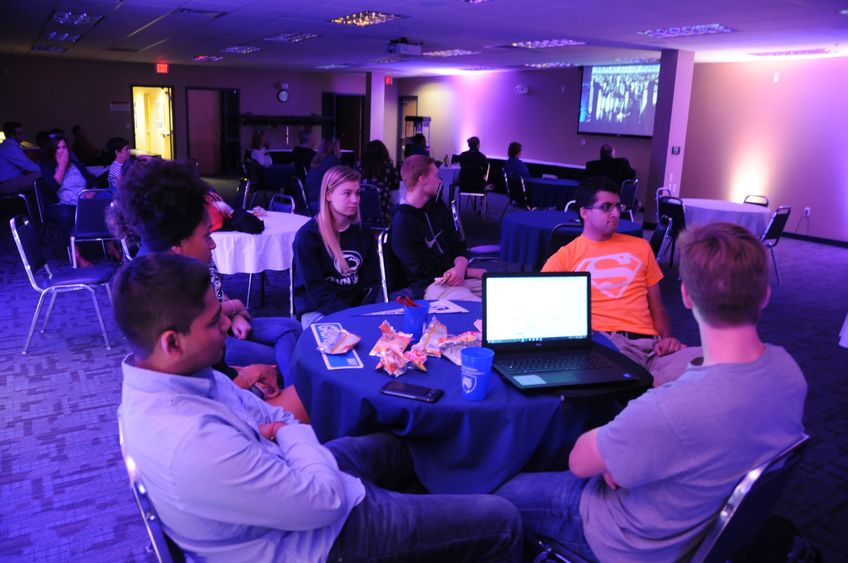 The Penn State Lehigh Valley community came together Thursday, Oct. 6 to be a part of the "All In at Penn State" launch held at University Park and livestreamed to every campus location. This year long event known as "All In: A Commitment to Diversity and Inclusion," recognizes the importance of diversity and having an environment that is inclusive and respectful. Students, faculty and staff observed and learned how they can become "All In" during the kick-off event.
The initiative challenges members in the community to embrace diversity in any way they can to make positive daily impacts. Students, faculty and staff are encouraged to be active and to have an open mind as they contribute to the yearlong process. The goal is to bring students, faculty and staff together to show their commitment to cultivating a diverse and inclusive environment — respectful of everyone regardless of race, ethnicity, religion, age, sexual orientation, abilities, background, veteran's status, political beliefs, and all the ways we differ.
"It's great to see University Park and the Lehigh Valley campus, as well as the other campuses taking initiative in diversity and inclusion," said Sim Singh, a senior psychology major. "I would like to see students, faculty and staff walk as one and push our fears aside. We are all human, and we can do this together as one!"
During the launch event, Penn Staters were encouraged to understand how this starts with an individual. It does not have to be a large task; it may be something miniscule that still leaves a lasting impression. The event included remarks from President Eric Barron and Vice Provost for Educational Equity Marcus Whitehurst, along with music from the Essence of Joy choir; remarks by faculty member Susan Russell and undergraduate student Jin Brooke; and the announcement of a new "All In" Achievement Award to recognize a Penn State student, faculty or staff member who has made a significant contribution to the yearlong celebration and whose life and work embody diversity, inclusion and equity in all of its forms.
As a community of friends and family, the Lehigh Valley campus is dedicating time and incorporating student ideas in the implementation of "All In." Education and inclusion is a key role in the success of the initiative.
"Diversity at the Lehigh Valley campus is unique and as the diversity chair for SGA, I plan to be 'All In' by the various events we plan to host and open to the whole campus to better understand diversity at Penn State Lehigh Valley," said Marie Tabshi, a junior corporate communication major.
Events at the Lehigh Valley campus throughout the year include National Coming Out Week Oct. 10-14; LGBT Spirit Day on Oct. 20; Food and Entrepreneurship Series dinners; Native American Heritage Month in November; Veterans Day on Nov. 11; MLK Day of Service on Jan. 16; Black History Month in February; and more. The "All In" calendar is available online at: http://equity.psu.edu/allin-calendar.
Contact
Dennille Schuler
Public Relations Specialist
Penn State Lehigh Valley