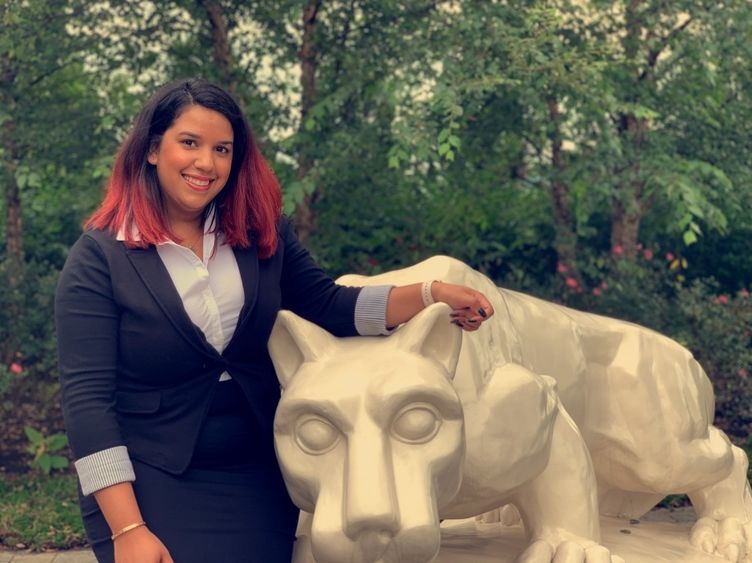 CENTER VALLEY, Pa. — The Penn State Lehigh Valley academic achievement award winners for 2019-20 were celebrated at the Virtual Student Awards Ceremony on Aug. 17. The Student Awards Ceremony is usually held annually in April to celebrate the accomplishments of the campus's outstanding students but was postponed this year due to COVID-19.
The virtual ceremony can be viewed online and includes all award winners. Two of the main award winners were Justin Honer and Fatima Alba, who were acknowledged along with more than 70 other student winners.
Justin Honer, who just graduated with an Information Science Technology degree this spring, is the recipient of the Eric A. and Josephine Walker Award. This award recognizes a student who has completed two full years at a Commonwealth Campus and whose outstanding qualities of character, scholarship, leadership and citizenship have positively influenced fellow students and contributed to the prestige and well-being of his or her campus and hence, to the reputation of the University as a whole.
Honer was influential on campus, participating in activities such as the Students Veterans Association (SVA) and the Adult Learners on campus. Honer values helping students around him succeed.
"I'm glad people thought of me for it, and that I made an impact on the people around me." Honer said.
Honer's work ethic and community impact were both a big factor in why Melissa Baker, coordinator of student success at Penn State Lehigh Valley, nominated Honer for this award. Baker worked closely with Honer throughout his time within the Adult Learners program, as well as other events throughout the campus.
"Justin has continuously looked for ways to assist and improve the experience of all Penn State Lehigh Valley students. I believe that Justin's outstanding qualities, his can-do attitude, assistance, leadership, and his willingness to offer help to all students has had a very positive impact on our students," Baker said.
Honer credits a lot of his success on campus to being able to have a great working relationship with the faculty and staff on campus. He mentioned how multiple faculty and staff on campus provided an avenue to advice and learnings, whether that was Bob Wolfe, lecturer in economics, and his random stopping by, Liz Keptner, director of the Multimedia Innovation Center (MIC), and their time spent in the MIC while he was a student worker, or his work with Melissa Baker and former Director of Student Affairs Tiffany Cresswell-Yaeger with his leadership in the Adult Learners program.
Honer said creating a positive dynamic and culture throughout his work in the SVA and the Adult Learners program was the most important thing he could contribute to his time on campus.
"I wanted a place where adult learners could go and have a community around them to help them succeed," Honer said.
Fatima Alba, who just graduated with a Corporate Communication degree this spring, is the recipient of the Heart of the Lion Award. This award recognizes a Penn State Lehigh Valley student who has overcome notable obstacles and has demonstrated grit, gumption and sheer determination.
Alba's nominators wrote that she has been a shining light on campus, showcasing a level of resilience that students on campus could feed off.
"This award is such an honor and a representation of all my hard work and dedication through the years. It also represents a sense of stability for me," Alba said.
Alba was recognized as a hard worker both on campus, and off campus by professors such as Nichola D. Gutgold. 
"Fatima Alba is a remarkable young woman who self-funded her education while working full-time on the front lines during the Coronavirus pandemic as an assistant manager at CVS," said Gutgold, professor of communication arts and sciences at Penn State Lehigh Valley.
Gutgold also said how Alba, regardless of her out of class commitment, made sure to put forth effort not only in the classroom, but also by being a student body representative of the LaunchBox Ladies initiative and completing the process of becoming a U.S. citizen while attending school.
To view the virtual Student Award Ceremony, visit the PSU-LV YouTube page.
Contact
Dennille Schuler
Public Relations Specialist
Penn State Lehigh Valley