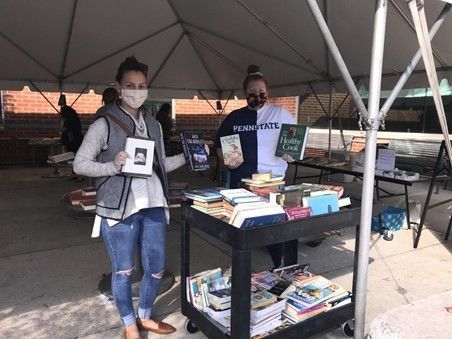 The Penn State Lehigh Valley (PSU-LV) Benefiting THON organization's fundraising efforts for the fight against pediatric cancer are underway for the fall semester. THON's mission, in connection with Four Diamonds, is to provide emotional and financial support, spread awareness and ensure funding for critical research—all in pursuit of a cure.
Penn State Lehigh Valley Benefiting THON raises awareness and funds through various efforts on and off campus. So far this semester, the group has collected money from a Pura Vida bracelet sale during the Involvement Fair on Sept. 16, a virtual 5K from Sept. 26-27, a ribbon sale during the Star Wars Under the Stars event on Oct. 2 and a book drive on Oct. 8.  
Upcoming events on campus include a THON drink and continued ribbon sale at Crave in Bethlehem from Nov. 4-15 and volunteers ticket collection during Allentown's Lights in the Parkway Dec. 22-24 and 26-27. 
"Our DonorDrive has been the most successful platform we've seen for donations thus far; it is a peer-to-peer fundraising platform that allows THON Volunteers to create personalized fundraising pages to share with their family and friends," said Brianna Peters, primary chair for Penn State Lehigh Valley Benefiting THON, and a sophomore business management and marketing major at PSU-LV. 
In addition to the THON's events, there are donation boxes placed at the Nazareth Diner, Ecco Domani Italian Restaurant and eventually in the PSU-LV Bookstore. 
Students, faculty and staff are welcome to attend and participate in all events, and friends of Penn State are invited to donate funds in support of the organization's mission. The group's yearlong efforts will culminate in a 46-hour, no-sleeping, no-sitting dance marathon held in February 2021 known as THON weekend, which is being organized as a virtual celebration. Those interested in contributing to the cause can visit Penn State Lehigh Valley's Benefiting THON donation page to donate and spread the word.
Contact
Dennille Schuler
Public Relations Specialist
Penn State Lehigh Valley