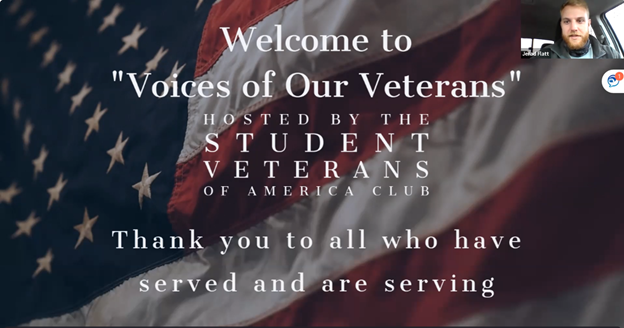 CENTER VALLEY, Pa. — A Veterans Day celebration was held for Penn State Lehigh Valley (PSU-LV) students on Nov. 11 via Zoom. The PSU-LV Student Veterans of America (SVA) held their annual event led by students and faculty associated with the club.
Jerad Flatt, the president of SVA and a PSU-LV senior majoring in biobehaviorial health, led the event for the association. He began with a playing of the national anthem, and then turned it over for a message from Chancellor Tina Q. Richardson.
Flatt and four other student veterans spoke about their experiences in the military and how it shaped who they are and their experience and work ethic.
Jeff McConnell, PSU-LV senior majoring in information sciences and technology, shared his experience with overcoming issues and making sure to keep pushing for better.
"Don't dwell on the past, keep moving forward," McConnell said. "If you dwell on the past you'll live there. Learn the lesson and keep moving forward."
Francis Kuklis, a PSU-LV student studying geosciences, also spoke about his time in the Marine Corps and about how it affected him as a person both during and after his service.
"My time in the Marine Corps gave me a lot of positive experience and a lot of growth, and absolutely made me who I am today," Kuklis said. "I utilize the things I learned in the military to be a better civilian."
Isaac Martine, a junior majoring in rehabilitation and human services, and Emma Shubzda, a sophomore majoring in forensic science, also had an opportunity to share their story of service and how the military had helped them grow and adapt to their life.
The event provided the Lehigh Valley campus community the opportunity to honor veterans who have dedicated their lives to service, listen to the experiences of these students and get to know the student veterans that are on campus. This event also promoted the Ruck 'N Walk, the virtual 5K charity competition with other colleges in the area.