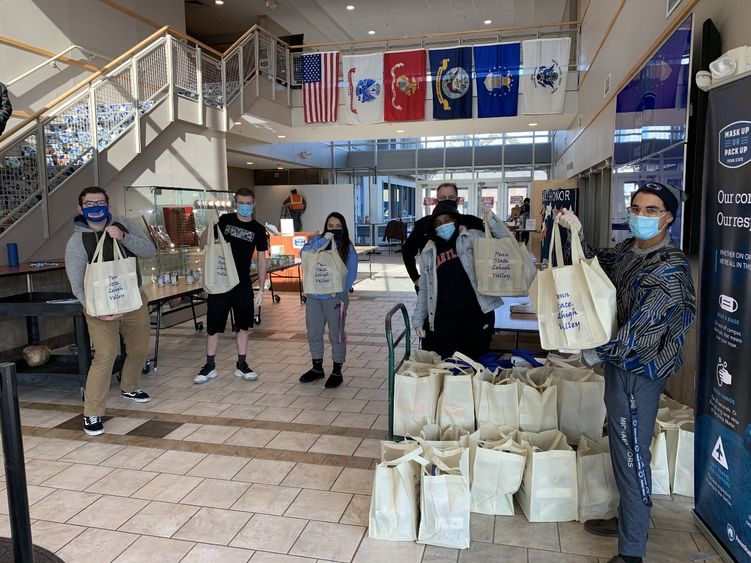 Penn State Lehigh Valley (PSU-LV) prioritizes service activities for students to help grow leadership skills and instill a desire to give back to local communities. This past semester, the Office of Student Affairs, Rehabilitation Human Services, HDFS faculty and a variety of student clubs have organized their own ways to give back through donation drives, volunteering and sending cards to health care workers. PSU-LV service efforts for Fall 2020 included:
Handmade cards for health care workers at St. Luke's
In late October, PSU-LV's Honors Club and Health and Human Services Society (HHSS) club collaborated to make cards for health care workers at St. Luke's. More than 30 cards were written to the staff of St. Luke's thanking them for their hard work and dedication during the pandemic. Honors and HHSS Club President Sherina Suthakar personally delivered these cards to the hospital to express the campus's gratitude for their continued service.
Take What You Need Bulletin Project
Also in late October, members of the Community Heroes Service Club met on campus to write notes of encouragement on index cards for the Take What You Need Bulletin Board project. For this project, club members wrote a single word on one side of the card and on the other side, a positive message in relation to the word on the front. Students who passed by the board are encouraged to "Take what you need." Each day, the Community Heroes replenished the cards on the bulletin and noticed the students carrying them with them in the halls for inspiration. This gesture of service was a way for students to support their peers during this difficult time.
Miracle League of Lehigh Valley Halloween Bash
The Miracle League of the Lehigh Valley is a nonprofit organization that helps children and young adults with special needs enjoy baseball and other activities. For some children, trick or treating is a challenge; they are not able to walk great distances and many houses have steps that make it difficult for them to participate. For the past three years, rehabilitation and human services students at PSU-LV have participated in this event. This year it was held on Oct. 28 at Jaindl Family Park in Schnecksville. The RHS students decorated a Penn State table to hand out treats to over 300 Trick-or-Treaters, all of which was donated by the PSU-LV community and friends.
The Office of Student Affairs, Community Heroes Service Club, Campus Christian Fellowship and Health Policy Administration Club partnered with Campus Engagement Committee (CEC) on Operation Shoebox on Nov. 11, to assemble and donate shoeboxes full of supplies to children in need worldwide. Volunteers assembled in the second-floor lounge at PSU-LV to fill more than 400 shoeboxes for Samaritan's Purse representative Nelson Randolph.
The annual Thanksgiving Food Drive for the Sixth Street Shelter is in its ninth year this fall, running from Nov. 1-19. The drive is a full campus community collaboration, where student club members rally to bring in canned goods, gravy and stuffing donations and faculty and staff offer generous monetary donations to purchase turkeys and the remainder of the trimmings to create an entire Thanksgiving feast.
This year, PSU-LV Student and Lambda Pi Eta Communication Honor Society member Dillon Lee graciously reached out to his employer, Wegmans, and received an abundance of donations to help PSU-LV reach its overall goal quickly. Students came together on campus on Nov. 19 to help assemble the donations to be delivered to the Sixth Street Shelter later that day. COVID guidelines were followed to ensure health and safety. This drive was an opportunity for our campus community to continue to help others during this challenging year. Over the years, the PSU-LV community has helped hundreds of families to enjoy the blessings of a fulfilling dinner. This year more than $750 was raised to purchase the turkeys, potatoes and rolls and 500 nonperishable food items were donated.
Each fall semester, Sandy Kile, assistant teaching professor of communication arts and sciences includes a service project for students in her HDFS first year experience course to complete from start to finish. This year, her students initiated the Lions Lend a Hand drive to benefit the Allentown Rescue Mission, Turning Point of the Lehigh Valley Women's Shelter and Sixth Street Shelter.
The donation drive centered around COVID-19, with a theme of hygiene and snacks. Collected items included hand sanitizer, face masks, toilet paper, paper towels, combs, Chapstick, cotton balls, Q-Tips, bandages and single serve snacks. The Lions Lend a Hand collection ran through the first two weeks of November and generated three carloads of donations to support three different nonprofits.
In addition to the contributions from the campus community, PSU-LV alumnus Tyler Gehris coordinated the donation of 12 cartons of packaged snacks from Factory, LLC in Bethlehem, where he now works. PSU-LV faculty and staff have also donated hundreds of dollars' worth of supplies to the cause.
Lambda Pi Eta (LPH), the honor society for communication students, hosts a Day of Service each semester for members to work toward the organization's service requirement. On Nov. 18 and Nov. 20, LPH students volunteered to stain bridges on the Ironton Rail Trail in Whitehall. Students wore masks and remained six feet apart while staining the bridge for safety and adherence to COVID-19 guidelines.
"Despite all the challenges and restrictions of COVID-19, we've been able to continue helping others. It is so important because community service allows students to give back to others in need, while helping them build empathy and compassion. Through their experiences, students learn the value of collaboration and gain problem-solving and leadership skills. These have brought about positive experiences in a very challenging year," said Pam Fleck, assistant director of student affairs.
Contact
Dennille Schuler
Public Relations Specialist
Penn State Lehigh Valley