Penn State Lehigh Valley Benefiting THON participate in Bethlehem's Christkindlmarkt and Allentown's Lights on the Parkway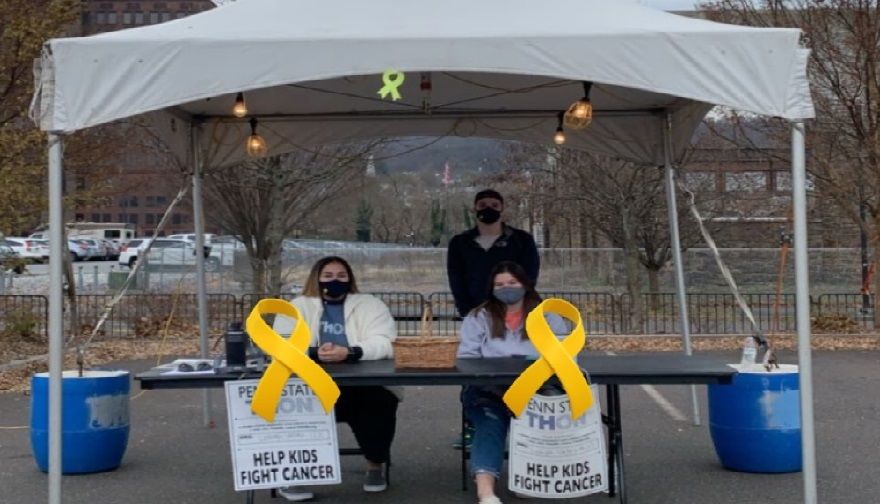 The Penn State Lehigh Valley (PSU-LV) Benefiting THON organization's fundraising efforts for the fight against pediatric cancer are underway for the holiday season with two new events. THON's mission, in connection with Four Diamonds, is to provide emotional and financial support, spread awareness and ensure funding for critical research—all in pursuit of a cure.
Penn State Lehigh Valley Benefiting THON raises awareness and funds through various efforts on and off campus. Over two weekends in November, the group staffed a small tent at Christkindlmarkt in Bethlehem and raised more than $800. While they were there, they visited with many Penn State alumni, prospective students, former dancers and even a Four Diamonds family. 
"These students are amazing representatives of our campus and PSU overall as they are out in the community. I am so proud of them!" said Pam Fleck, assistant director of student affairs, Penn State Lehigh Valley.
Brianna Peters, a sophomore who serves as primary chair for PSU-LV Benefiting THON, spearheaded the new holiday fundraising efforts. From Dec. 22-27, the group will volunteer at Allentown's Lights in the Parkway and receive $300 per night toward their fundraising efforts.
In addition to Peters, this year's executive board for Penn State Lehigh Valley Benefiting THON includes sophomores Creyn Muthard and Stephen Botek, juniors Alexis Matlack and Brooke Imboden, and seniors Georgia Gonzalez, Mary Williams and Simon Tomaszewski.
"We are very thankful to the generous donors at Christkindlmarkt who told us their stories and cheered us on. These types of events keep feeding our motivation to find more opportunities to raise money for children with cancer. We're looking forward to volunteering at Lights in the Parkway," Peters said.
Students, faculty and staff are welcome to attend and participate in all events, and friends of Penn State are invited to donate funds in support of the organization's mission. The group's yearlong efforts will culminate in a 46-hour, no-sleeping, no-sitting dance marathon held Feb. 19-21, 2021, known as THON weekend, which is being organized as a virtual celebration. Those interested in contributing to the cause can visit Penn State Lehigh Valley's Benefiting THON donation page to donate and spread the word.
Contact
Dennille Schuler
Public Relations Specialist
Penn State Lehigh Valley