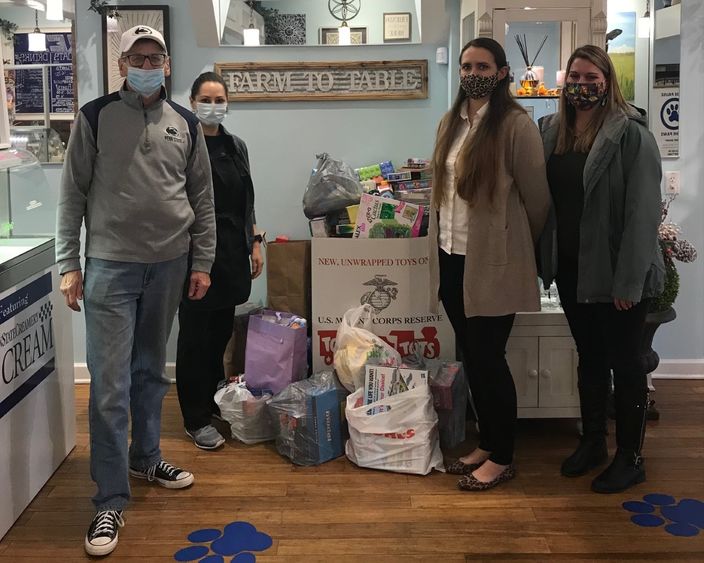 The Lehigh Valley Chapter of the Penn State Alumni Association (LVCPSAA) decided to participate in Toys for Tots this year to help bring toys to children whose parents cannot afford to buy them gifts for Christmas, said Joe Huxta, membership chair with the alumni chapter. The Hotel B Ice Cream Parlor, across the street from Hotel Bethlehem on Main Street in Downtown Bethlehem, served as the drop off point for the alumni chapter's first Toys for Tots collection.
Instead of running their own toy drive, the Liberty High School Interact Club also brought toys they collected to the alumni chapter's collection box.
"The toy drive exceeded my expectations. Lucy Soriano from the Hotel B Ice Cream Parlor had to put toys in the back of the shop because the collection box was overflowing," Huxta said.
Terry DeGroot, chapter president, and Huxta needed to make two trips to deliver the toys to the central collection point. In addition to toys, the chapter collected monetary donations. The chapter collected more than 150 toys and $550 in donations, including a $100 donation from the chapter. The monetary donations will be used by Toys for Tots to buy more toys for children this Christmas. Toys for Tots is a program that started in 1947 and is run by the United States Marine Corps Reserve.
"I'm thrilled that we can help hundreds of kids have a happier Christmas," Huxta said.
All Penn Staters in the greater Lehigh Valley area are invited to join the PSU-LV Alumni Chapter and get involved. The events they sponsor help the chapter raise money to provide scholarships for Penn State students in the Lehigh Valley. Visit the Lehigh Valley Chapter of the Penn State Alumni Association (LVCPSAA) website for more information.
Contact
Dennille Schuler
Public Relations Specialist
Penn State Lehigh Valley