PSU-LV places third for amount raised among Commonwealth Campuses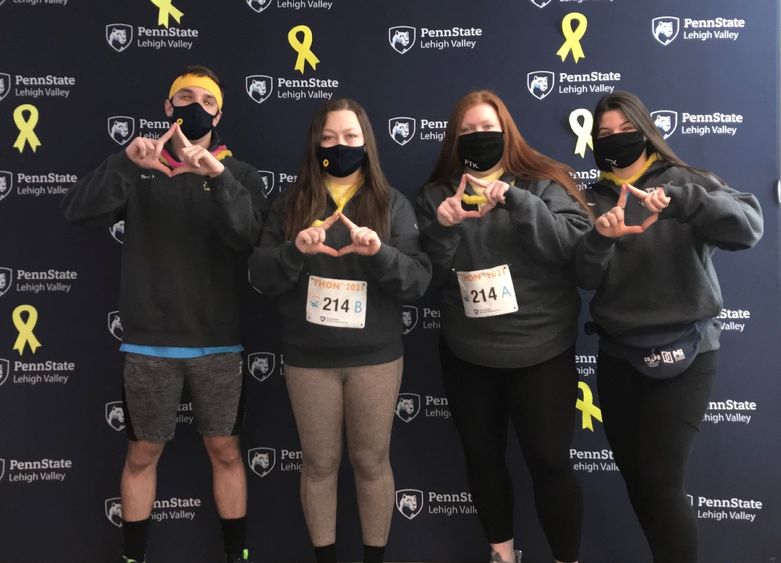 Despite the many effects of the past year's pandemic, the Penn State Lehigh Valley (PSU-LV) Benefiting THON student organization demonstrated dedication and resilience as they achieved third place among all Commonwealth Campuses for their fundraising efforts. Penn State Lehigh Valley team efforts raised almost $29,000. The collaboration of student volunteers, the campus community, alumni and local networks made this outcome possible.
Of significant note, are the following alumni contributions: Kenny Rampolla of Lost Tavern Brewing in Hellertown, Pennsylvania, presented a check for $5,000 and the local alumni team, including society, chapter and Dance for a Cure committee, worked together to raise an additional $5,435.
Howard Kulp, a consistently generous alumni and THON supporter, donated $2,000 as part of his Reading Rocks program. For over eight years, Kulp has offered a donation of $1 per book collected for the Reading Rocks programs at St. Luke's. Through the years, Kulp has donated close to $20,000 and the children who benefit from Reading Rocks have received thousands of books. This partnership is truly a win/win.
This year's event was held virtually for the first time in THON's 40 plus year history. The three dancers representing the Lehigh Valley campus danced in their homes, following the live stream from University Park to stay connected to the over 700 dancers from across the University. Dancers, Rhea Kochhar, Alexis Matlack and Brianna Peters were all leaders and actively involved in this year's fundraising efforts. All three students devoted their weekend to participating in each segment of the annual tradition.
The final four hours are always a special part of the event and were celebrated this year with a small, socially distanced group of student supporters and dancers on campus. Attendees shared in the emotional family hour, listening to stories of families of those who did not survive their cancer. This was followed by several line dances and a final hour of celebration.
Two PSU-LV seniors, Mary Williams and Simon Tomaszewski, were selected as THON dancer relations representatives to support the dancers throughout the weekend. For Williams, this was her fourth THON experience. She started as member and later served as family relations chair, dancer and overall chairperson for PSU-LV Benefiting THON.
"THON 2021 was unique to say the least, but it definitely proved that nothing could stop Penn State from raising money for pediatric cancer! To be able to gather with a small group of students on campus after almost a year of isolation was amazing and it added to the magic of THON," Williams said. "Although the year had a lot of difficulties, PSU-LV was able to rise above and raise enough money to be top three! Our small but mighty campus was able to overcome so much this year and I have never been prouder."