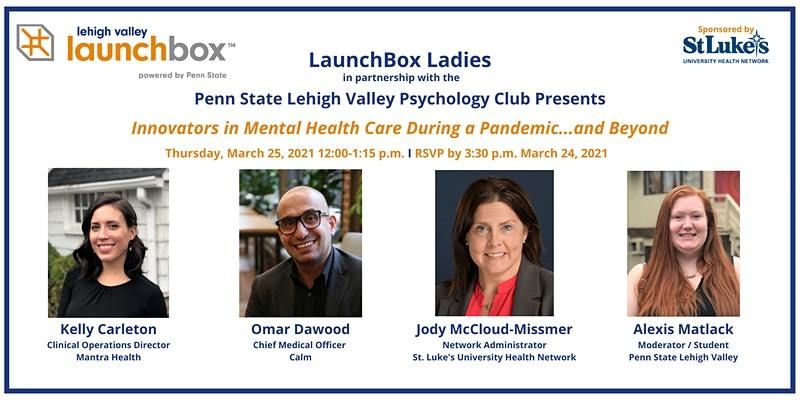 CENTER VALLEY, Pa. — Lehigh Valley LaunchBox (LVLB) and LaunchBox Ladies, in partnership with the Penn State Lehigh Valley student-run Psychology Club, is presenting a virtual program on Thursday, March 25. "Innovators in Mental Health Care During a Pandemic…and Beyond" will take place from noon to 1:15 p.m. and is sponsored by St. Luke's University Health Network.
The event will feature industry experts from the popular app Calm, Mantra Health, and St. Luke's University Health Network. During this program, the speakers will discuss game-changing entrepreneurial solutions their companies have developed for addressing pressing mental health care issues that have become prevalent because of the pandemic.
Omar Dawood  — chief medical officer, Calm
Kelly Carleton  — clinical operations director, Mantra Health
Jody McCloud-Missmer  — network administrator, Behavioral Health, St. Luke's University Health Network
Moderator — Alexis Matlack , student, Psychology Club president, Penn State Lehigh Valley
At the end of the program, attendees will be invited to stay on for Q&A and networking opportunities. The event is open to the public and registration is required online. For more information on LaunchBox Ladies, email [email protected] or call 610-285-5208.