Physician-in-chief of Lehigh Valley Cancer Institute and 1982 alumnus will speak this year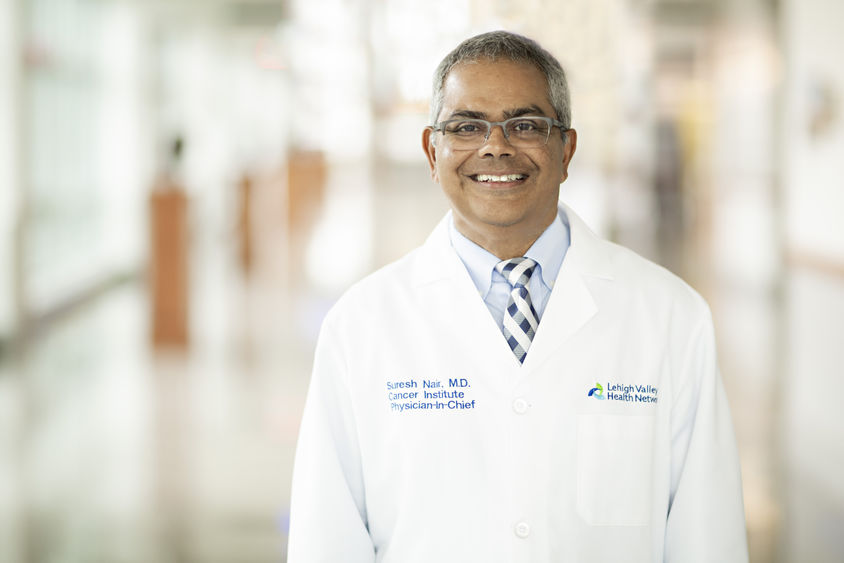 Penn State Lehigh Valley's (PSU-LV) 2021 commencement ceremony will be held on May 8 with Physician-in-Chief of Lehigh Valley Cancer Institute Suresh Nair, medical doctor, as the featured speaker. The event will be held outdoors on the PSU-LV campus and abide by strict social distancing guidelines.
In addition to serving as the physician-in-chief of Lehigh Valley Cancer Institute, Nair leads the health network's academic programs in the Cancer Institute. He is the medical director of the Lehigh Valley Cancer Institute membership in the Memorial Sloan Kettering Cancer Center Alliance and has practiced oncology in the community setting for 30 years. Dr. Nair is also the initial holder of The Auxiliary of Lehigh Valley Hospital Endowed Chair in Cancer.
Nair received his medical degree from Jefferson Medical College. He completed his residency at Geisinger Medical Center, his fellowship at the University of Pittsburgh, and earned a bachelor of science in biology from Penn State.
"Given Dr. Nair's place in the medical field during a pandemic, and the timing of our campus expansion/STEM wing addition, I am thrilled the selection committee chose the esteemed doctor as our keynote," Chancellor of Penn State Lehigh Valley Tina Q. Richardson, said. "Beyond his insight into the topics most relevant to all of us over the past year, he is the father of two recent PSU graduates. With that perspective, I know his message will not only offer tremendous depth and inspiration, it will be relatable … and from the heart."
With clinical expertise in melanoma, kidney cancer and immunotherapy, Nair's focus is to provide the highest quality cancer care, including standard and research treatments.  He leads a variety of clinical trials at LVHN to provide leading-edge options to patients. Nair started the hematology/oncology fellowship at LVHN and served as the initial program director.
Nair has been a site principal investigator in the National Cancer Institute Cooperative Group Program for more than 25 years and was the first Chair of the NCI Early Phase Central IRB. He has been a site principal investigator of more than 50 T-cell checkpoint inhibitor trials at Lehigh Valley Cancer Institute.
"I look forward to celebrating with the Class of 2021 at Penn State Lehigh Valley, a class that has shown resiliency and optimism to get to this moment, and discussing how resiliency and engagement will take the latest generation of Penn Staters to great heights in the Lehigh Valley and beyond," Nair remarked.
Also speaking at the event is Student Marshal Savannah Malesky, a corporate communication major who completed her studies in December 2020. This year's Campus Marshal is Roger Egolf, associate professor of chemistry, and Beth Michalec, assistant professor of communication, is the Faculty Marshal.
Students will be provided two guest tickets for the event which will be live streamed so that additional family and friends may take part.