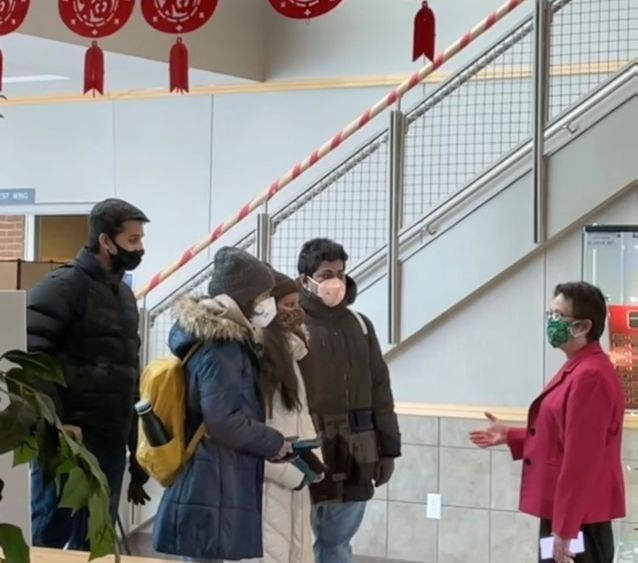 As part of an existing articulation agreement with the University of Vidyalankar, located in Mumbai, India, Penn State Lehigh Valley (PSU-LV) welcomed four new transfer students. The students joined the Information Science and Technology (IST) program as part of a two-plus-two program, which means the students will complete two years in India and two years at Penn State. PSU-LV is one of two commonwealth campuses hosting students from India.
The students were scheduled to arrive in the fall of 2020 however, due to the global pandemic, their trip was delayed until January. The cohort arrived on Jan. 12, 2021, a week before spring semester classes began. Each student was arranged to be picked up at the airport, offered a swag bag and tour upon their arrival to campus and encouraged to get involved by participating in THON in February.
The four students, who reside in South Bethlehem, are: Vaishnavi Ajila, Suryanarayanan (Surya) Subramanian, Harsh Desai and Pallari Mujumdar.
When asked what he was most excited about, Subramanian explained that since it is a new education system, he's excited to learn and experience a new style of teaching and training and looking forward to diving deeper into the IST course. He believes Penn State has a great reputation for its IST program and is thrilled to join it. "My goal is to gain more knowledge in my area of study and to learn many new things that I'm not aware of," said Subramanian. It was his family and friends who encouraged him to pursue a degree in IST because Subramanian was always fascinated by computers and business since he was a child.
For Mujumdar, the curriculum of the IST program has everything of interest for her. She explained that she loves to explore new things, learn about new technologies and is thrilled to be part of the PSU-LV community. "I want to enjoy my campus life to its fullest. I want to participate in as many events as I can to gain experience and increase my networks," said Mujumdar. When Mujumdar enrolled in the transfer program in India, she had five universities in which she could choose to attend. After receiving good feedback about the IST program at PSU-LV, Mujumdar knew that she should not miss the opportunity to become a Penn State student.
Penn State is opening the doors to students from the University of Vidyalankar over the next year and is hoping to attract more students to the IST program. For more information about the program, visit the IST website.