Artist David Gothard to be spotlighted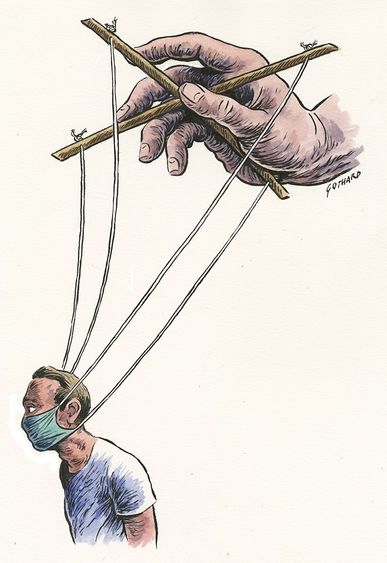 This fifth and final event in the Essence of Democracy series will be held from 2 to 3 p.m. Friday April 23 and feature artist David Gothard for a webinar titled, "Who Owns the Message." Penn State Lehigh Valley faculty Robert Wolfe and student Olivia Howe, whose discipline, life experiences and interests align with the artist's message and concept, will join Gothard in this event.
The Essence of Democracy is an Arts Project ONLINE series which amplifies voices that are often stifled through racism, gender discrimination, homophobia, ableism, etc. Often fear or ignorance allow the perpetuation of suppression through systemic oppression. Ann Lalik, gallery director and arts coordinator at Penn State Lehigh Valley, will moderate the panel. "Gothard will offer us insight to the voice of the artist and share his experience of times when images he created have gone viral and, on occasion, have been misused," offered Lalik.
Gothard graduated with a bachelor of fine arts in drawing from Pratt Institute (1978). He has been a regular contributor to major national and international publications. His clients include The New York Times, Wall Street Journal, Los Angeles Times, Boston Globe, International Herald Tribune and Time magazine.
Gothard has exhibited his sculptured books at The Nathan Cummings Foundation and Center for the Book Arts (New York). His works have toured internationally and are in the permanent collection of the Skillman Library at Lafayette College. He has also created a series of children's books for Harper Collins and, early in his career, worked for Sesame Street, drawing Muppets. Gothard is on faculty at The New York Academy of Art, Penn State and Pratt Institute, where he is an adjunct associate professor of fine art. He works from his studio in the woods in Pennsylvania.
All Arts Project ONLINE events are hosted via Zoom and are free and open to the public. Each session is held in webinar format with a Q&A opportunity at the end of the program. Visit the Essence of Democracy registration page to sign up and receive the Zoom information. Live captioning will be provided by Penn State Lehigh Valley Virtual Education Dept.
This series is supported by the Dr. Ann Williams Visiting Innovator Program Endowment, Student Activity Fee and the PA Council on the Arts.
Contact Ann Lalik with questions at [email protected] or by calling 610-285-5261.