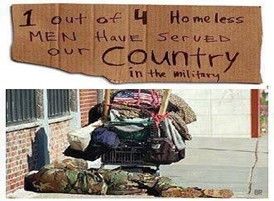 The Rehabilitation and Human Services (RHS) Club at Penn State Lehigh Valley ​is launching a donation drive to benefit homeless veterans at the Victory House of the Lehigh Valley. The drive is part of HERO's (Housing Emergency Response to Opioids program) and is being coordinated alongside the RHS alumni lecture series that has been spotlighting some of the graduates who work with local homeless populations.  
Tom Carson, a recent speaker in the series, is a graduate of Penn State Lehigh Valley and is currently the director at Victory House.  For over 35 years, Victory House of the Lehigh Valley has been a recognized leader in providing local homeless veterans and homeless men with opportunities to transition to independent, affordable housing and to begin new lives. Victory House is a not-for-profit organization committed to addressing the challenges faced by men and veterans in their transition. They are provided shelter services and supportive resources to move toward independence in the community.
"Our goal for this donation drive is to provide each ​veteran with a bucket of cleaning supplies as they move into their new home and begin a new chapter in their life," Teri Kistler, program coordinator and lecturer of rehabilitation and human services at PSU-LV, said. Donations can easily be made by creating a gift list through Amazon. Simply type in Victory House of the Lehigh Valley and the HERO's program gift list will appear. Donations can be mailed (via Amazon) to the ​Penn State Lehigh Valley campus, c/o Teri Kistler​, 2809 Saucon Valley Road, Center Valley, PA 18034, or can also be dropped off at the front desk. Recommended items are disinfecting wipes, Pledge, paper towels, rags/sponges, dish soap, toilet bowl cleaner and brush set, buckets, brooms and mops.
Donations are being accepted March 29 to April 15. Any/all donations are appreciated as we help give back to our veterans! For more information, contact Teri Kistler at [email protected].