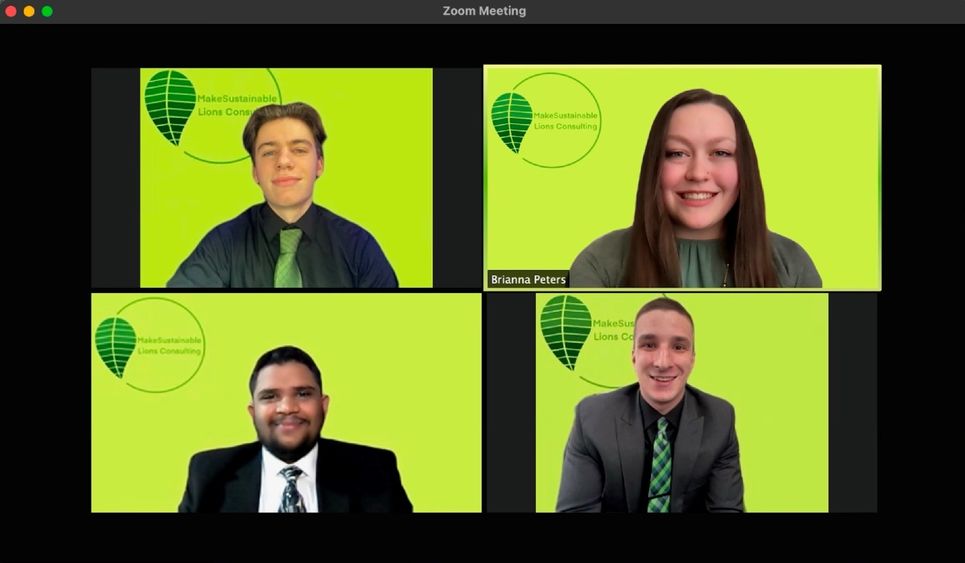 A team of four Penn State Lehigh Valley (PSU-LV) students took home a $3,000 prize for winning first place in the Smeal Undergraduate Sustainability Case Competition held on March 27. Twenty-seven teams from the Penn State network were challenged to use business and markets to solve real-world social justice and environmental conservation challenges. This year participants were tasked to work at the intersection of clean energy, climate change, urban renewal and/or rural economic development to address climate change while simultaneously providing economic benefits to low-income communities. 
PSU-LV Professor of Marketing Denise T. Ogden, served as faculty mentor for the winning team (MakeSustainable Lions Consulting) that included:  Hemil Patel (project and supply chain management), Simon Tomaszewski (health policy and administration), Brianna Peters (business management/marketing) and Ben Stratz (finance and pre-med). 
The term "community solar" was a foreign concept to the students prior to the competition and they were allotted only one week after the case was released to educate themselves, conduct research and interview experts.  After making it to the final round, the team presented their strategy to a panel of judges that included some of today's leading sustainability and social impact executives.  "I was amazed at how quickly the students learned about solar energy projects and were able to put together a professional presentation in such a short time.  I am very proud of their accomplishment," Ogden said.   
"Team MakeSustainable Lions Consulting did extensive research to develop their ideas," Christa Duelberg-Kraftician, AIA LEED AP BD+C, of Spillman Farmer Architects said. "They were very interested in the existing PSU-LV building structure and new addition and asked detailed questions to the concepts that are being integrated into the expansion project." Spillman Farmer is the architectural firm leading the current PSU-LV campus expansion project.
The Business Office at PSU-LV also assisted the team with data collection on present-day electric usage for the campus by providing statements from PPL. Helene Miksitz, campus business manager, assisted the team. "Their extraordinary research focused on four pillars of sustainability and they are most deserving of this prestigious prize," Miksitz said.
Team member Hemil Patel is no stranger to competing in this type of competition. In fact, he's partnered with Stratz and Tomaszewski to win several other collegiate challenges over the past couple years. "I am grateful for each opportunity that Penn State presents to me and allows me to become even more creative in my problem-solving approach. I would like to thank Dr. Ogden who helped us find many different resources without which this success would not have been possible," Patel noted.
This was the first Undergraduate Sustainability Case Competition sponsored by the Smeal Center for the Business of Sustainability and PSU-LV was one of two Commonwealth College teams to compete in the competition. In addition to the cash prize, the team is offered an opportunity to complete an internship with an organization which supports community solar power access and will deliver their presentation to various groups, including the Smeal Alumni Association.