More than 330 attendees heard from artists whose work gives voice to those often unheard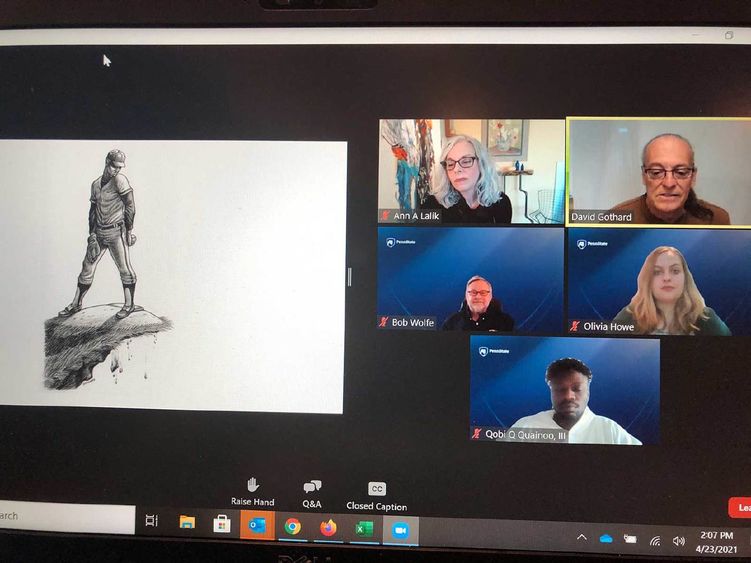 What was originally planned to be an in-person exhibit about freedom of speech, turned into a widely attended webinar series. Essence of Democracy was a new Arts Project ONLINE virtual event series featuring conversations with artists whose work gives voice to those often unheard. Ann Lalik, gallery director and arts coordinator at Penn State Lehigh Valley (PSU-LV), curated and moderated the panels which included the artist, PSU-LV faculty or staff and a student whose discipline, life experiences and interests align with the artist's message and concept.
"Last year I was exploring an in-person exhibit featuring artists whose work has to be brave because they're often speaking about populations who are marginalized. We wanted to get the students and the community thinking about our responsibility to vote and be involved to represent all voices," Lalik said. "I was having conversations with 12 different artists when it was clear we were still going to be remote in the fall, so I thought about how to bring them to fruition without a live exhibit and that's how the webinars were created. The virtual format made it possible for people all over the country to attend and get involved which made each event dynamic and impactful."
The webinar series included five unique events that amplified voices which are often stifled, through racism, gender discrimination, homophobia, ableism, etc.  The series drew interest beyond the campus, with many attendees joining from across the commonwealth and the country.
"Wearing My Burden" featuring Iranian Artist Kiana Honarmand's interdisciplinary practice exploring cultural identity was held Oct. 15

"So(sew), America Cares" featuring Miami Artist Aurora Molina's fiber art practice that is dedicated to social change was held Nov. 12.
"Dying to Dream" featuring Ifeatuanya Chiejina, a visual artist born and raised in NYC, who's series symbolically illustrates the black experience through times of slavery, colonialism, and racial discrimination, was held Feb. 11.

"Linda Stein's Profile Series Addressing Sexuality and Averting the Gaze" featuring Artist, Activist, Educator and Performer Linda Stein was held April 8. This webinar drew interest far and wide with attendees from the Republic of Korea, Germany, United Kingdom, plus curators from museums and students from colleges across the country.

"Who Owns the Message?" featuring David Gothard who is a regular contributor to national and international publications was held April 23.
This series was supported by the Dr. Ann Williams Visiting Innovator Program Endowment, Student Activity Fee and the PA Council on the Arts.
Contact Ann Lalik for more information or questions at [email protected] or by calling 610-285-5261.