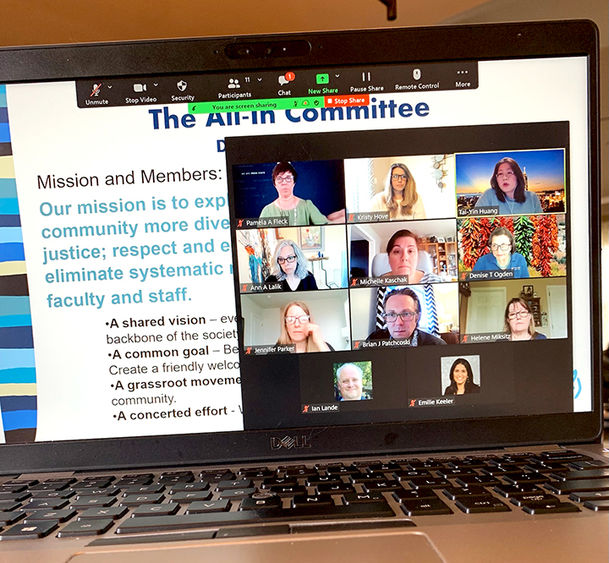 Brian Patchcoski, assistant vice president of diversity, equity and inclusion, in Penn State Student Affairs at University Park, was the featured guest for the Penn State Lehigh Valley All In Committee monthly meeting on April 16. Patchcoski shared background on his role within the University, heard updates on the team's progress and offered guidance for the future including opportunities for cross-campus collaboration.
The All In committee is made up of faculty and staff who came together last June to focus on furthering diversity and inclusion efforts on campus. Several initiatives were developed by the team throughout the year. Tai-Yin Huang, chair of the All In team and professor of physics at Penn State Lehigh Valley, guided the group toward several priority areas. Additionally, groups of faculty and staff worked to further efforts in their specialty areas and areas of interest.
One of the first campus initiatives was a book club. Across the summer and fall semesters, participants read "Blindspot: Hidden Biases of Good People" and "How to be an Anti-Racist" and met for regular discussions. The Essence of Democracy series, organized by Art Gallery Director Ann Lalik provided conversations with artists whose work gives voice to the often unheard. During the academic year, Jennifer Parker, associate professor of sociology at Penn State Lehigh Valley, joined with several other faculty members to provide learning communities. Two successful outcomes resulting from this collaboration were sessions with local Black Lives Matter Founder Justan Parker and another with Danny Meyer, CEO of the Union Square Hospitality group. Meyer's session was a culmination of a case study project that crossed many disciplines and had several elements of equity and inclusion evaluated during the pandemic. The Schreyer Honors college was instrumental in securing this learning experience.
Denise Ogden, professor of marketing at Penn State Lehigh Valley and instructor of business and diversity, spearheaded five diversity and inclusion staff/faculty training sessions from February-April. Topics included Introduction to Diversity and Inclusion, Understanding Gender Identify and Social Change, Microaggressions, Developing Cultural Competency and Workplace Civility.
As the Student Affairs staff member responsible for DEI programming in the department, Pam Fleck coordinated a variety of events and activities celebrating diversity and the many cultures represented on campus. Fleck has assisted students with the formation of affinity clubs on campus including the Black Student Union, HOLA: Hispanic Organization and Latino Association, and the Muslim Student Association. The Global Students Organization has also been active in growing cultural awareness and increasing education.
"These student clubs provide opportunities to foster a sense of belonging while offering a united front for sharing pride in culture and faith and assisting to dispel myths and stereotypes," Fleck said.
During the year, Kristy Hove, director of planning and analysis at Penn State Lehigh Valley, guided the All In team on how DEI fits into the campus strategic plan. One of Hove's top priorities in her role is retention. Having seen the impact of the pandemic on the first-year students' ability to become connected, Hove suggested an enhanced focus on a positive sophomore experience. Together with Fleck, Hove applied for and was awarded an EOPC grant titled SOARSS: Structured Opportunities for Achieving Resilience and Success with Sophomores. This grant and accompanying work will specifically concentrate on improving the experiences of sophomore students who are black and those who are Hispanic. The All In team offered direction and support as this grant process progressed and it is another highlight of the team's success.
Following the team's overview of initiatives, Patchcoski shared positive feedback on the outcomes and progress the group had made in a short time and across a very challenging pandemic year. He provided highlights of the University's focus on an inclusive environment and emphasized the climate survey results as key areas of priority as the team moves forward. Patchcoski offered details on the status of the University's policy related to chosen identity. He also encouraged inclusive design for coursework and emphasized equity in structures and processes.
Patchoski reminded the team of the importance of not being one dimensional, but instead being culturally agile. He applauded the team for successes and involvement.
"It appears that you have foundations of knowledge created, and now it is the time to apply that knowledge," Patchoski said.
For any PSU-LV faculty or staff member interested in joining the All In committee, email Huang at [email protected].