Dr. Suresh Nair, Physician-in-Chief of Lehigh Valley Cancer Institute and Penn State alumnus, was the featured speaker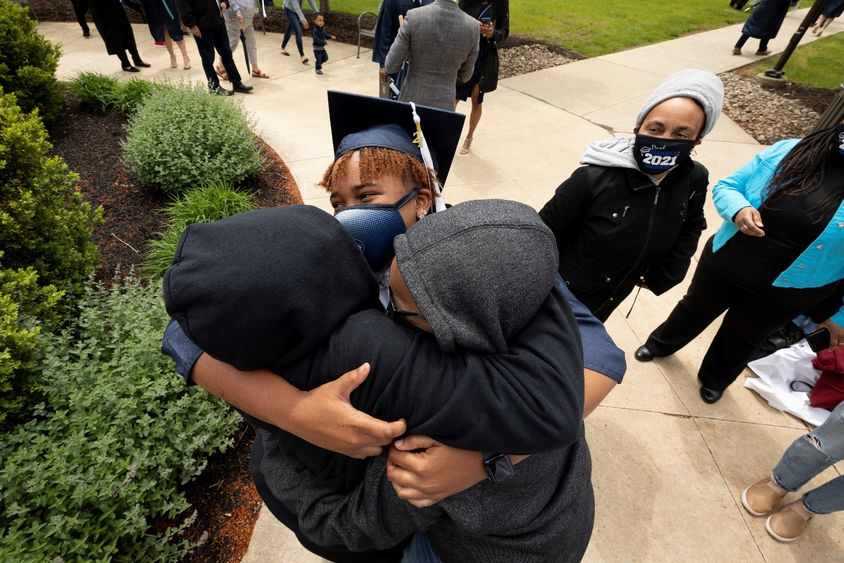 Penn State Lehigh Valley held its annual commencement ceremony on Saturday, May 8, at the Lehigh Valley campus in Center Valley. The campus awarded associate and bachelor degrees to 72 students.
The featured speaker for the event was Dr. Suresh Nair, physician-in-chief of Lehigh Valley Cancer Institute, Penn State alumnus.
Dr. Nair celebrated the graduates and reminded them to keep connecting the dots throughout their lives.
"I think the real magic to a Penn State education is the We Are spirit --- socialization skills where we accept each other and our differences, but celebrate how we all fit into a beautiful whole -- it's the tailgating, and the football games, and giving back highlighted by THON!" Nair said. "Keep connecting the dots through our Alumni Association, and celebrate your accomplishments and your life on this special day with your loved ones."
Other remarks were given by Tina Q. Richardson, chancellor of Penn State Lehigh Valley; Savannah Malesky, 2021 student marshal; and David Livert, associate professor of psychology and chair of the Penn State Lehigh Valley Faculty Senate, who introduced the featured speaker, Dr. Nair.
Malesky was selected as the student marshal for the class of 2021. She graduated in December 2020 with a bachelor of arts in corporate communication.
"Your learning does not, should not stop when your formal education comes to a close. I encourage all of you to continually seek out new and exciting possibilities to learn and grow," Malesky said to her fellow graduates.
After the presentation of the candidates and conferring of degrees, the graduates were inducted into the Penn State Alumni Association by Todd Dietrich, president of the Penn State Lehigh Valley Alumni Association.
Professional photos were posted to Penn State Lehigh Valley's Facebook page during the ceremony and more will be available later this week on  the Graduation Information webpage. The ceremony was live streamed for family and friends who could not make it to campus on May 8. A recording of the full ceremony can be viewed on YouTube.
Contact
Dennille Schuler
Public Relations Specialist
Penn State Lehigh Valley