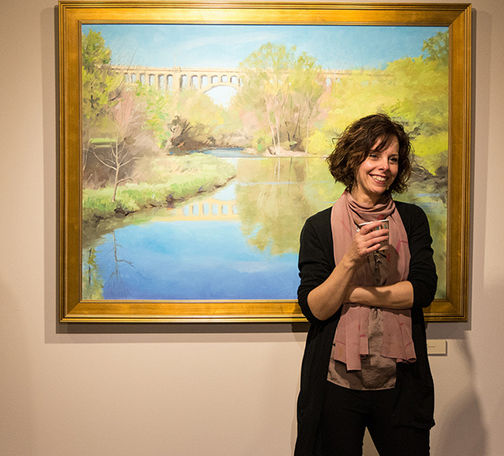 CENTER VALLEY, Pa. — Ann Lalik, artist, gallery director and arts coordinator at Penn State Lehigh Valley, was a recent guest on the new Lehigh Valley Arts Podcast.
In the episode "Desirable Burdens — A Conversation with Ann Lalik," Lalik was interviewed by Penn State Lehigh Valley alum Elise Schaffer. Their wide-ranging discussion focused on the exhibitions from the Ronald K. DeLong Gallery at Penn State Lehigh Valley, Lalik's own wearable art, and some of the community programs she's done on campus.
The opportunity came about through Lalik's connection with Schaffer, who graduated from Penn State Lehigh Valley with an arts administration degree. As a student, Schaffer worked for Lalik on campus in the gallery and interned with the Lehigh Valley Arts Council. Schaffer is now the Arts in Access Always Program Administrator at the Lehigh Valley Arts Council.
"A whole wing of the arts council is sponsoring accessibility programming for patrons," Lalik said. "[Schaffer] asked me if I'd be one of the interviewees [on the podcast] — that's how I got involved. It's really interesting from a Penn State Lehigh Valley perspective — how Elise is a recent alum and worked part-time with me. She's extremely talented and is really going to go places."
The Lehigh Valley Arts Podcast was started by local creative Ben Orr and is produced by Steel Pixel Studios. It focuses on the local arts scene — primarily young and emerging local artists. Lalik was the eighth guest on the podcast and first arts administrator. She said she feels this podcast fills an important niche.
"Podcasts are the new thing, and I think it's really exciting that this group [Steel Pixel] is using this format — this is what a lot of people are listening to," said Lalik. "It's important that they're focusing on the local arts scene. We in the Lehigh Valley don't really have an outlet specifically for podcasting local artists working in our community. The arts are what talks about our humanity — it shows our human-ness. Having this informal conversation helps us connect. In the times we're in now, this is important."
"Desirable Burdens" first aired on May 25. To hear the full episode for free, visit the podcast link here.