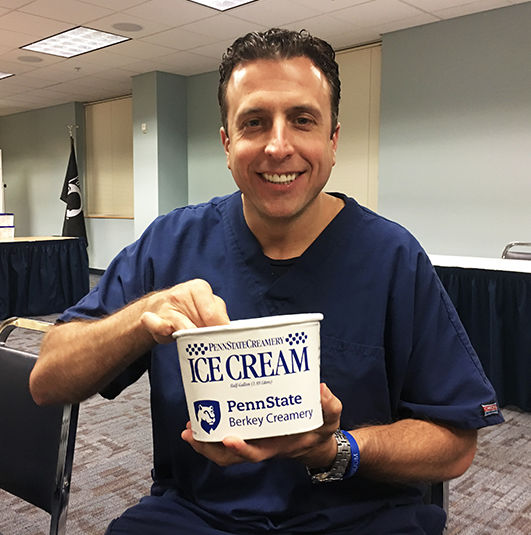 CENTER VALLEY, Pa. — Penn State Lehigh Valley Alumni Society is accepting orders now through Friday, Oct. 1, for its annual Berkey Creamery Ice Cream Sale.
Proceeds from the sale benefit the Alumni Society First-Year Scholarship Fund, which provides financial assistance to outstanding students who are enrolled or hoping to enroll at Penn State Lehigh Valley (PSU-LV).
The sale marks the only time of year when the Creamery's famous ice cream can be ordered locally.
"The Alumni Society's First-Year Scholarship is important to our campus so that we can provide access and affordability to a Penn State degree," said Kate Ginnard, PSU-LV interim director of development. "Gifts to this fund will help us ensure our campus continues to represent opportunity for future generations. The ice cream sale is always a popular and successful fundraiser whose proceeds go a long way toward providing those opportunities for future Penn Staters."
Larry Trubilla, PSU-LV Alumni Society events committee chair, said the sale is one of the group's most highly anticipated fundraisers of the year.
"For many, it provides a delish dessert for their Thanksgiving celebrations. It is our largest scholarship fundraiser each year," Trubilla said. "Our Penn State Lehigh Valley Alumni Society is proud to channel our Penn State pride in order to support our campus and its students."
The sale offers 14 popular Creamery flavors for purchase: Alumni Swirl, Bittersweet Mint, Butter Pecan, Chocolate, Chocolate Chip Cookie Dough, Cookies 'n Cream, Death by Chocolate, Happy Happy Joy Joy, Keeney Beany Chocolate, Peachy Paterno, Peanut Butter Swirl, Strawberry, Vanilla Bean, and WPSU Coffee Break.
Half gallons are $10 each, and payment is due at time of order. Checks and credit cards are accepted.
Order forms must be sent to the Alumni Relations office by Friday, Oct. 1. Forms can be downloaded,  picked up on campus, or by contacting the Alumni Relations office at 610-285-5159 or [email protected]. Additional donations are also accepted for the scholarship fund.
Order pick-up is Thursday, Nov. 18, from 5 to 8 p.m. at the PSU-LV campus.