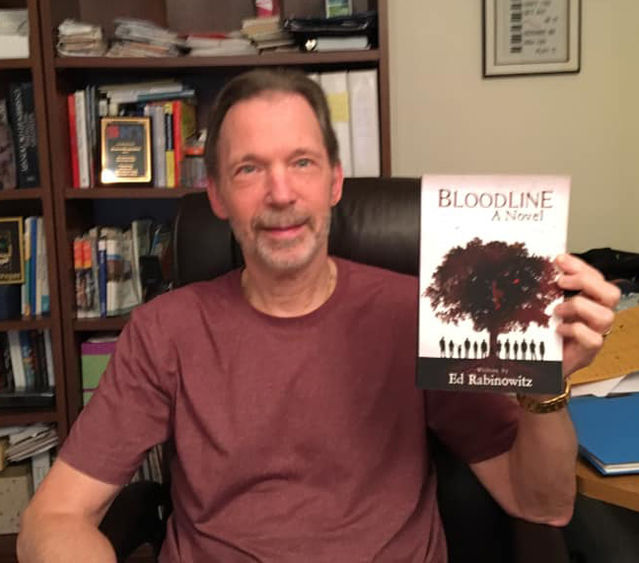 CENTER VALLEY, Pa. – Penn State Lehigh Valley adjunct communications lecturer Ed Rabinowitz had what he would describe as an idyllic childhood, thanks to the tender love and care of his adoptive parents.
Still, he could never quite shake the urge to find out more about his biological family. Eventually, he would learn the truth, which in many ways proved to be stranger than fiction.
Fittingly enough, Rabinowitz's fascinating family history became the inspiration for his debut novel, "Bloodline." Rabinowitz self-published the book through Amazon, where it can be purchased in Kindle and paperback versions.
"Bloodline" is character-centered fictionalization of Rabinowitz's family history, seen not only through his eyes, but those of his maternal and paternal grandparents, parents and siblings. Each chapter of the book is devoted to a different family member -– including Rabinowitz himself -- and is drawn from his extensive genealogical research, as well as the numerous conversations he's had with his biological siblings and other relatives since meeting them for the first time in 2018.
While Rabinowitz's family reunion has been nothing but joyous, the history leading up to it was "laced with lies, transgressions, anguish and despair" -- all of which he strives to accurately yet humanely capture in "Bloodline."
"Each of us has a story, but some of my siblings' stories are incredible. So, the book traces each of our paths, and eventually brings them together at the end," Rabinowitz said. "It's 95% factual, although names were changed to keep everyone happy, and some gaps were filled in to fictionalize. But otherwise, it's very real."
A former public relations professional who in addition to PSU-LV teaches at Lehigh Carbon Community College and Cedar Crest College, Rabinowitz was raised in the Bronx by his adoptive parents.
It was a happy home, and young Ed was blissfully unaware of his parentage until the age of 10, when word began to spread among close family friends. Afraid he would hear the news from one of his friends, his parents told him he was adopted.
"I always thought that if that incident hadn't come up, they wouldn't have told me," Rabinowitz said.
While the news didn't diminish the tight bond he had with his parents, Rabinowitz nonetheless became increasingly interested in finding out his biological roots. "It burned a hole in my pocket. I needed to know," he said.
As a young adult, he began investigating his origins, but in the pre-internet 1970s and '80s, it just amounted to countless false starts and dead ends.
A few years ago, though, Rabinowitz finally latched onto some breadcrumbs that eventually led him to who he thought were two nieces and a half-sister.
Instantly, he hit it off with the would-be nieces, who regaled him with stories of colorful descendants with links to the Catskills and the Jewish mafia. However, when he contacted the supposed half-sister, she was distant and skeptical of the whole notion of being related.
"She didn't think her father would have given me up for adoption," Rabinowitz said.
In early 2018, one of the nieces convinced Rabinowitz to take a 23andMe DNA test to prove once and for all whether they were related.
"Guess what? We were not related," Rabinowitz said.
Nonetheless, the DNA test proved highly beneficial. With it, Rabinowitz received a list of blood relations, and at the top of the page was a woman's name along with the designation "half-sister."
Once he was able to wrap his head around this staggering revelation, Rabinowitz reached out to the woman, who was friendly and receptive to building a relationship. From there, he said, "the dominoes just dropped like flies," and over the next 10 months the 23andMe listings helped him connect with his full-blood brother and six half-siblings, whose ages range from 45 to 72. In addition, he met his 81-year-old aunt, as well as numerous nieces and nephews.
Despite the fact that his siblings live all over the country, Rabinowitz has managed to meet each one in person.
"It truly has been an amazing, life-changing couple of years. We correspond regularly, and have gotten quite close, actually," Rabinowitz said. "None of us look that much like each other, but there are resemblances. One of my sisters, who lives on Long Island, could see a resemblance with my mom and me."
Through hours of conversations with his relatives, Rabinowitz learned plenty about the tumultuous history that bound them together -- tales of dysfunction, infidelity, divorce and even sexual molestation.
Rabinowitz's biological parents -- his father died in 2002, his mother in 2011 -- had him while each was in the process of getting divorced, which led them to give him up for adoption. Eventually, they got married, and three years later, Rabinowitz's brother was born.
"My brother was initially angry that he was never told about me. But, now we have this terrific relationship," Rabinowitz said.
Rabinowitz also learned that he and his wife were living in Somerset County, New Jersey, at the same time as his father in the late 1990s. "We could have passed each other in a Walmart and not have known it," Rabinowitz said.
The more he found out, the more Rabinowitz realized he had "dodged a bullet," as his one half-sister put it. At the same time, he also knew he had the makings of a great book.
He spent about nine months doing research, then another seven to eight writing "Bloodline." Most of the chapters are written in the third person, while the ones centered on him switch to first person.
"My sister said to me, 'You're the glue.' So, that's the way I pulled the book together," Rabinowitz said.
Rabinowitz is extremely grateful he had the opportunity to tell his family's story, warts and all. And the satisfaction he's gotten from completing "Bloodline" has given him the confidence to continue writing novels.
"I don't have any crazy ideas about making a fortune from this. I just want to see some people reading and enjoying the book," he said. "This whole experience has exceeded any of my wildest dreams."
More information about "Bloodline" is available on Amazon.