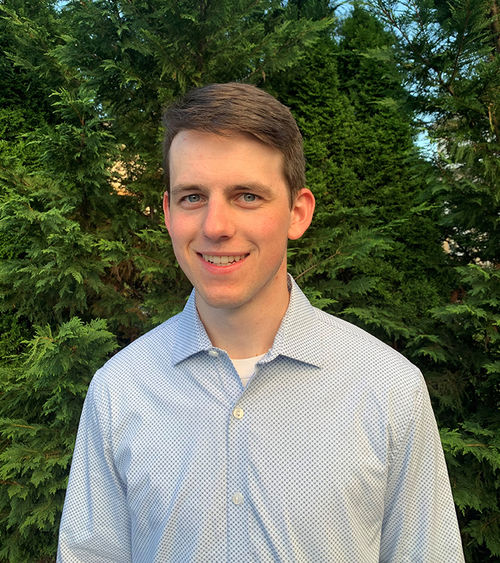 CENTER VALLEY, Pa. – When Dan Jalosinski enrolled at Penn State Lehigh Valley in the fall of 2016, he admittedly had a few gaps when it came to his information technology knowledge base.
"I went to a Catholic high school that didn't have much in terms of those types of classes, so the opportunity just hadn't really presented itself," he recalled. "But, despite not having much of the hardcore technical knowledge, I did know that many of the current real-world and business problems can be solved through technology — you need a huge IT infrastructure. So that's what I was excited by — the opportunity to go out and try to solve these challenges."
The Perkasie resident ended up finding the perfect training ground within PSU-LV's Information Technology program (formerly Information Sciences and Technology), which provided him with the skillset to land a coveted position with a prestigious global health care company nearly a full year before his Spring 2020 graduation.
Currently part of the company's leadership development program, Jalosinski, 24, is working as a Cybersecurity Operations Center analyst. Given how crucial cybersecurity has become for any large corporation's operations, it makes for challenging yet exhilarating work, said Jalosinski, who minored in security risk and analysis at PSU-LV prior to the campus starting its new baccalaureate degree program in cybersecurity analytics and operations.
During his first year with the company, Jalosinski was part of a team tasked with securing data between its vast product line and its many high-level clients. Currently, he's doing automation and analytics within the Security Operations Center, which responds to security incidents.
"One of the great things about coming into this job was that I was able to minor in security risk and analysis at Penn State Lehigh Valley. That gave me a taste of what cybersecurity had to offer and really gave me a passion for it, which I didn't realize I fully had," Jalosinski said.
"The tricky thing about this job is you need to be good at a lot of different things, including data management, coding and security. It can be stressful, but I'm really enjoying the work. And I'm learning a ton," he continued. "And I like that it's a very global company with a strong company culture and strong employee development program. It's a culture that sets you up for success."
Of course, Jalosinski's path to success started at PSU-LV.
His initial interest in IT came through his father, who has worked in that field for years. From that perspective, it looked like an appealing career to pursue.
"I just took a look at the future of the workplace, and I figured it was a good field to go into," Jalosinski said. "Technology just allows you to pivot to so many different places. You'll always be learning and always be challenged."
When the time came for him to pick a college, Jalosinski initially set his sights on University Park, where he was accepted. But, after a tour of the PSU-LV campus, he decided to start his Penn State career there.
"I just loved the feel of the campus. And I wanted my education to be as cost effective as possible. So, I figured, 'I'll go here for a year and move on,'" Jalosinski said. "I enjoyed the campus so much my first year, and then received some scholarships for my second year, so I decided to stay. Really, it was a no-brainer."
Jalosinski quickly became a fixture in campus life, from serving as an assistant coach for the men's basketball team to being heavily involved with Student Government Association and New Student Orientation. He even became a member of the debate team, "which is hilarious because I had a crippling fear of public speaking," he said.
Most importantly, he found his passion within the IT program. Looking back, he has nothing but positive things to say about the program's curriculum and faculty, including Lecturer in IT and Program Coordinator Kermit Burley, who went out of his way to help Jalosinski line up the needed courses for his minor.
"Dan was an outstanding student and one of the very best I have had the pleasure of working with during my time at Penn State Lehigh Valley," Burley said. "He frequently took the lead in class projects and always did more than was expected. And he is always willing to go the extra mile to help someone. That is why he is so successful, and I know that we will hear more from him in the future."
"You don't have to be some sort of tech guru to be successful in the program, although I had to work harder than some of my classmates," Jalosinski said. "I loved that the class sizes were small and very personalized. That way, the professors have time to answer your questions. And the faculty is awesome. They're either people working in the industry or those who have worked in the industry. They could show many real-world examples and point me toward internships and opportunities."
Indeed, Jalosinski had the chance to do two co-op internships his junior year, which directly led to his current job, "making my senior year much easier," he said with a laugh.
Given his career outlook, Jalosinski wouldn't hesitate to recommend PSU-LV to anyone. That includes members of his family — his sister, Claudia, is currently a first-year student at the campus. Meanwhile, he is now working with his company to recruit Penn State students from a variety of degree programs, particularly those who have a strong passion for technology.
"Because of my time at the Lehigh Valley campus, I am doing all I can to make the students at PSU-LV and other satellite campuses aware of the different opportunities we have to offer," Jalosinski said. "So many professors on campus went out of their way to set me up for professional opportunities, so trying to keep some of their students engaged in current opportunities is the least I can do. … I owe the people at Penn State Lehigh Valley a whole lot. Great people, great leaders. I can't say enough good things about the campus."