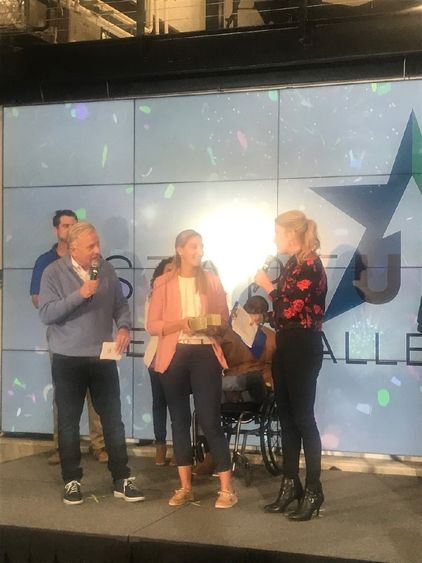 CENTER VALLEY, Pa. ­– On Wednesday, Oct. 27, Lehigh Valley LaunchBox powered by Penn State once again partnered with Factory LLC to provide a primetime showcase for the region's next generation of entrepreneurs at the third annual StartUp Lehigh Valley pitch competition.
Nicole Chinnici, owner of Organtick, the startup behind an all-natural tick repellent, was the night's big winner, winning both the $5,000 grand prize and $1,000 Audience Choice award over her nine fellow competitors, who made their pitch to a panel of judges and a live audience at Factory's Bethlehem headquarters. The event was broadcast live by WFMZ-TV 69 News.
As the event's primary sponsor, Lehigh Valley LaunchBox presented a total of $10,000 in prize money at the competition, which was hosted by Richard Thompson, managing partner at Factory, and Liz Keptner, director of PSU-LV's Multimedia Innovation Center and an Emmy Award-winning producer and host.
"Here's what we're looking for -- an original idea, something that differentiates your product from others," Keptner said. "We're also seeking market viability -- is this something that solves a problem people have? And then, of course, how well they pitched the product. That's important."
"Pitching is important because you've got to pitch for money all the time," Thompson added.
The 10 finalists all had two minutes to make their pitch. From there, they were asked a round of questions by the four judges: Sue Yee, founder and CEO of Active Data, a digital products and services company focused on event commerce and online ticketing; Dan Bosket, entrepreneur and owner of several small businesses, and an adviser for Lehigh Valley LaunchBox; Tony Ianelli, CEO and president of the Greater Lehigh Valley Chamber of Commerce; and Roly Nesi, founder of ROAR Organic, an electrolyte beverage enhanced with vitamins and antioxidants.
Chinnici made an immediate impression with her product, given the significant health hazards posed by ticks.
"One in three people have been affected by a tick-borne illness, not only in Pennsylvania but across the United States," Chinnici said. "It's a growing public health crisis that I'm here to solve."
The competition's $2,500 runner-up prize went to Amberlee Venti, CEO and co-founder of Pippy Sips, which produces Maia, an all-in-one system that stores, cools and monitors breastmilk.
"I am absolutely passionate about giving women freedom in their daily lives, including breast-feeding and pumping moms who often feel weighed down and restricted by the needs of breastfeeding and pumping," Venti said.
PSU-LV alumnus and LaunchBox graduate Kenneth Keitt received one of the competition's three $500 LaunchBox Boost awards for his company, ParaPer4mance, a health tech company whose product line includes health and fitness programs and a mobile app. The other Boost award recipients were FuelCred, a mobile app that automates the claiming of federal fuel tax refunds/credits; and DN Organics, a creator of natural hair care products for women started by former Penn State Berks students Cory Dahlia Varona Corniel and Nicol Varona Cancelmo.
Other startups that competed in Startup Lehigh Valley were: ProjectMOVE, a personal organizing and decluttering service started by 2021 Lehigh Valley LaunchBox Idea TestLab winner Jevata Crawford; Car to Camp, which builds sleeping platforms and storage systems allowing people to camp out of their SUVs; Finco, a virtual environment where K-12 students can learn about investing and trading; Ideas Novel LLC, producer of a sandwich ingredient organizing and storage device; and Nort Port, The Cheese Ball Company, which specializes in gourmet cheese balls.
All of the participants had the opportunity to network at the event, and they can now take advantage of LaunchBox's comprehensive startup services, including free legal counsel, access to grant funding, coaching and more.
"From the first person to rub sticks together to start a fire to those who sparked the industrial age, innovation has lit our pathway to progress," said PSU-LV Chancellor Tina Q. Richardson. "But an idea, no matter how bright, is just an idea until an individual with talent, support – and gumption – captures, creates, packages and successfully promotes it for profit: the entrepreneur. They are the backbone of our workforce, the root of all business and the reason we formed LaunchBox – to double down on our commitment to foster innovation in our region. We are so pleased to be part of this exciting event and look forward to helping these aspiring entrepreneurs gain exposure and traction through this partnership with Factory, and by connecting them to Penn State's massive network of startup resources moving forward."
About Lehigh Valley LaunchBox
Lehigh Valley LaunchBox is a Penn State- and community-sponsored business accelerator program created as part of the Invent Penn State initiative. The Lehigh Valley LaunchBox program awards micro grants to budding entrepreneurs. Partners of Lehigh Valley LaunchBox link micro grant-recipients to alumni, business leaders, and academic partners to provide mentorship and to help launch ideas and turn them into useful products. All Lehigh Valley community members and Penn State faculty, staff and students who have a scalable business idea are welcome to apply for affiliation with the Lehigh Valley LaunchBox.