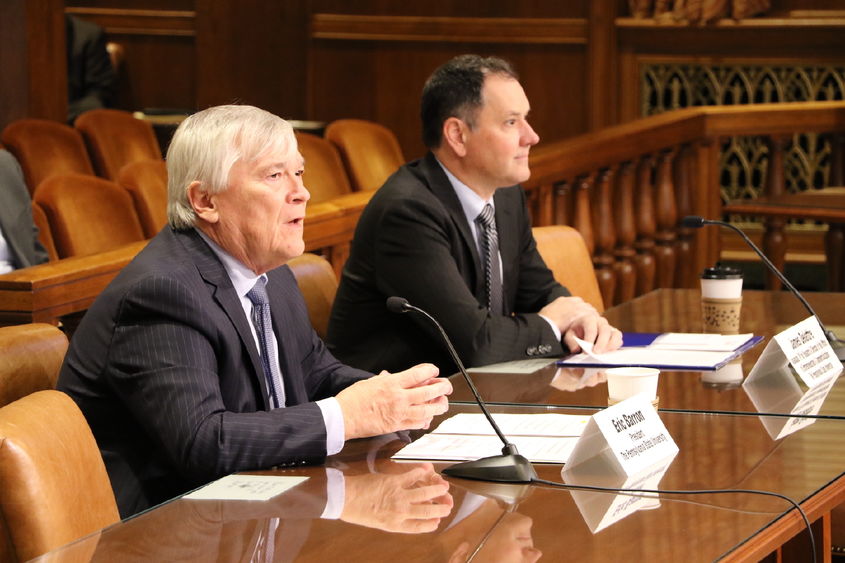 UNIVERSITY PARK, Pa. — When Kenneth Keitt had a vision for a new digital platform to connect wheelchair users with wellness programs and to one another, the Lehigh Valley LaunchBox had the resources and know-how to help him get his venture off the ground.
Keitt, a former Marine and founder and CEO of ParaPer4mance, was inspired to start his business and help others with limited mobility find the resources they need after a 2012 car accident left him paralyzed from the waist down.
"The resources through the Lehigh Valley LaunchBox were a big factor in my success and allowed me to properly build a business," said Keitt, a 2019 Penn State alumnus who started ParaPer4mance while he was a student at Penn State Lehigh Valley. "I had the drive in me — it was Penn State that fueled it. Invent Penn State gave me the structure I needed to make it official."
Keitt joined Penn State President Eric Barron and a panel of local and industry leaders and fellow entrepreneurs in Harrisburg on Nov. 9 for a hearing of the Pennsylvania Senate Community, Economic and Recreational Development Committee. Titled "Improving Pennsylvania's Innovation Economy: Invent Penn State," the hearing focused on Penn State's efforts to drive economic development, job creation, entrepreneurship and innovation, and student career success through the Invent Penn State initiative.
"We have taken a comprehensive approach to economic development that goes from end to end," said Barron. "We begin with entrepreneurial educational opportunities and then create the path to get the ideas to the marketplace. This involves attracting funding, providing mentoring and legal support, and fostering the partnerships to make investment possible. Seeing our graduates begin and grow Pennsylvania-based businesses has been very gratifying."
Invent Penn State is a commonwealth-wide initiative with a network of 21 LaunchBoxes and innovation hubs embedded in Penn State Commonwealth Campus communities, with each hub tailored to meet the challenges and needs of the region it serves. The innovation hubs are designed to be accessible — 96% of Pennsylvanians live within 30 miles of a hub — and they are open to anyone, not just members of the Penn State community.
Since launching in 2015, Invent Penn State has assisted nearly 5,000 Pennsylvania entrepreneurs; engaged with more than 13,000 Penn State students, faculty and staff; helped to launch 218 new Pennsylvania companies; and created more than 300 new jobs and almost 500 internships.
"I believe we now have the most accessible entrepreneurship programs in the world associated with any university," said Barron, adding that state support is needed to continue to grow the University's efforts and expand the number of people and businesses Invent Penn State is able to serve.
In its state appropriation request for the 2022-23 fiscal year, Penn State has asked for $2.35 million in new funding from the commonwealth to strengthen and grow the LaunchBox and Innovation Hub Network and expand established entrepreneurship training programs and startup pitch competitions.
"Penn State's investments in the LaunchBox and Innovation Hub Network are supporting the revitalization of commonwealth communities by providing more resources to further the state priorities of economic development and workforce development, directly impacting community change-makers, creating jobs, and introducing constituents to the principles of entrepreneurship," said James Delattre, Penn State associate vice president for research and director of the Office of Entrepreneurship and Commercialization.
"We need to be a 21st-century economy — to do that we need partners in our universities, and Penn State has been the best partner for the commonwealth when it comes to innovation."

—State Sen. John Yudichak
State Sen. John Yudichak, chair of the committee and a Penn State alumnus, said that Invent Penn State is a program that can be used as a model to spur economic growth and recovery in Pennsylvania.
"Invent Penn State is an exciting new concept that is growing very rapidly," Yudichak said. "It continues to need new partners and new funding to help it grow. It is a remarkable program that is generating entrepreneurs in all of Pennsylvania's 67 counties. We need to be part of an innovation strategy, so that Pennsylvania does not lose the innovation race. We need to be a 21st-century economy — to do that we need partners in our universities, and Penn State has been the best partner for the commonwealth when it comes to innovation."
Modeled after Penn State Extension, Invent Penn State and its innovation hubs offer no-cost services and programs at every step of the business process for budding entrepreneurs and startups. This includes entrepreneurship-focused academic programs, business startup training and incubation, funding for commercialization, co-working space, makerspaces for prototyping and fabrication, legal and intellectual property advice, and collaboration and mentorship to help turn discoveries and new ideas into products and services that benefit Pennsylvania.
As a result of the pandemic, many Invent Penn State programs also have transitioned online, making them available to entrepreneurs anywhere in the state. One of those entrepreneurs, Krista Schneider, who is executive director of the Downtown Hazleton Alliance for Progress and also serves on the steering committee for the Hazleton LaunchBox supported by Pasco L. Schiavo, Esq., was able to take part in a virtual accelerator program offered by Happy Valley LaunchBox powered by PNC Bank and ended up launching her own startup, called Shared Roots.
Invent Penn State's services are offered in partnership with regional economic development authorities, chambers of commerce, Pennsylvania Small Business Development Centers, and Ben Franklin Technology Partners to develop customized support for entrepreneurs.
Rob Wonderling, president and CEO of the Chamber of Commerce for Greater Philadelphia, Penn State's Grow PA partner, told the committee that the statewide infrastructure already in place through Invent Penn State makes the University a valuable partner in helping to grow the state's innovation economy and stem declines in population and job growth.
"We believe Penn State is well poised to lead in this private-public partnership going forward," said Wonderling.
Industry has taken note of the University's entrepreneurship ecosystem, which has quickly grown to become a national model within higher education. In 2018, PNC Bank committed $1 million to support the Happy Valley LaunchBox, which was renamed "Happy Valley LaunchBox powered by PNC Bank," as part of PNC's partnership with Penn State to help drive economic development in central Pennsylvania.
"Our relationship with Penn State spans decades precisely because we've seen how the innovation and entrepreneurship ecosystem they've created — over the last few years, specifically — has been transformative to our region," said Jim Hoehn, regional president of PNC Bank in central Pennsylvania. "For PNC, this is vital to our long-term success. We are an expanding national bank, headquartered in this commonwealth, and it's critically important to our business that a vibrant marketplace steeped in innovation and entrepreneurship is developed and maintained. From my perspective, there is no better organization than Penn State to spearhead that work."
By leveraging the University's size, expertise and world-class research enterprise, Invent Penn State is helping to accelerate the transfer of new ideas and innovation into products and services that span a range of fields, including energy, food security, environmental protection, health care, manufacturing, educational technologies, medical devices and pharmaceuticals. This is translating into new businesses and economic activity across Pennsylvania.
One of those new businesses is ConidioTec, co-founded by Nina Jenkins, a research professor in Penn State's Department of Entomology. Jenkins helped to develop Aprehend, an Environmental Protection Agency-approved biopesticide that is transforming the market for bedbug control and prevention. Aprehend, which launched in the fall of 2017, is now available in all 50 states and Canada and has completed more than 275,000 bedbug treatments to date.
ConidioTec, the company Jenkins and former Penn State postdoctoral scholar Giovani Bellicanta co-founded to bring Aprehend to market, is based in Centre Hall, Pennsylvania, and today has six full- and part-time employees and is grossing more than $4 million in annual revenue.
Jenkins said ConidioTec owes its success to Invent Penn State and the University's entrepreneurship infrastructure. She cited the assistance she and Bellicanta received from Penn State's Office of Technology Management, which assisted in the preparation of their patent application and facilitated the process for licensing their technology; the College of Agricultural Sciences' Research Applications for Innovation grant program, which helped to remove some of the financial barriers to commercializing the Aprehend technology; and the TechCelerator @ State College business boot camps offered by Ben Franklin Technology Partners, which provided entrepreneurship training and funding support, as being instrumental in the company's rapid growth.
"This enabled us to transform our thinking from being research scientists to entrepreneurs and enabled us to explore and develop a sound business model," said Jenkins. "This invaluable training ensured that ConidioTec began turning a profit within 12 months of product launch."
In addition to providing support to help researchers move their discoveries from the lab to the marketplace, Invent Penn State is making a difference on main street in communities across the commonwealth, helping to spark revitalization and economic development by supporting small businesses and aspiring entrepreneurs.
"The LaunchBoxes have an impact on students, staff, faculty and the community," said Jackie Edmondson, chancellor of Penn State Greater Allegheny, which administers the Mon Valley LaunchBox. "One thing we hear consistently is that residents in our region want hope, and we believe Invent Penn State is part of what is needed to provide this hope."
The Mon Valley LaunchBox is collaborating with the city of McKeesport to engage students and the community to encourage economic development and bring businesses back to the city, which has been working to reinvent itself since the collapse of the steel industry in the 1980s.
"The results that we've seen from day one with this partnership, I can't say enough about it," said McKeesport Mayor Michael Cherepko. "In a city like McKeesport, we're dependent on small businesses to see the city thrive again. … With the leadership of Penn State on economic development and partnerships like that, it truly exemplifies what it means to work together for a better McKeesport."