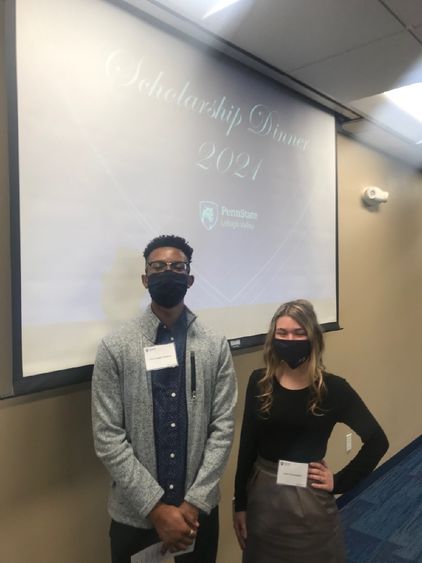 CENTER VALLEY, Pa. – Penn State Lehigh Valley celebrated its student scholars and beneficiaries at the campus's annual Scholarship Dinner on Tuesday, Nov. 9.
In attendance were numerous student scholarship recipients and their family members, as well as a number of campus donors who made the scholarships possible. Guests were treated to a catered dinner and live music, as well as remarks by Chancellor Tina Q. Richardson, Director of Academic Affairs Anibal Torres Bernal, Assistant Teaching Professor of Mathematics Maryam Kiani, Director of Enrollment Management Denise O'Neill, and student scholarship recipients Lexis Brownstein and Christopher McBean.
Richardson thanked the donors for their commitment to the campus, and warmly acknowledged the campus Advisory Board, Alumni Society Board and Alumni Association Board members in attendance.
"I have to say, it is always a sincere pleasure to join in this celebration and honor some of our most promising students while also acknowledging the incredible generosity of our donors," Richardson said. "And as we come together to recognize the vast array of student scholars, I would also like to thank the faculty who guide their journey and the staff who support them along the way, as well as the families and friends who do their own significant part to inspire, guide and applaud their progress."
Recalling her own firsthand experience putting herself through college, Richardson noted the scholarships are a truly integral part of the campus's mission, given the financial needs of the student body.
"Most of them have a financial need, and many are awarded aid. But it's often only a portion of their expenses," Richardson said. "So, they work – 64% of our students have jobs, and 40% are putting in at least 20 hours per week while enrolled full-time. Many take out student loans and hope for scholarships. Which is why scholarships are a true priority at our campus, and the focus of the University Park-led campaign, "A Greater Penn State for 21st Century Excellence." So, to you, our donors, again, I want to thank you again for your contributions and for choosing to invest in and transform the life of a student through your generosity. You truly are making a difference every day."
In her remarks, Kiani stressed the important role faculty mentorship plays in student success.
"Faculty embrace mentorship as part of their job title. And it is my pleasure to be one of the faculty mentors at Penn State Lehigh Valley," Kiani said. "True mentorship opens the door to future possibilities for students."
The student speakers used their time to discuss the importance of the scholarships in their own lives.
Brownstein, the recipient of the McGee Undergraduate Scholarship, will graduate a full semester early in the spring with her bachelor's degree in biobehavioral health. She and her significant other already run four businesses together, including a real estate company and private equity fund.
"Thanks to the McGee Undergraduate Scholarship and others, I was able to focus on my academics and introduce balance to my life," Brownstein said. "I always knew I was going to have to pay for college myself, and scholarships have been incredibly important for that."
A second-year student majoring in biobehavioral health with a kinesiology minor, McBean received both the Ghelardi Open Doors Scholarship and Fatzinger Haines Open Doors Scholarship. He currently holds a job and is a member of the campus's Sports Watchers, Flag Football and Fitness clubs.
McBean said getting to meet his scholarship donors in person was an extremely gratifying experience.
"Meeting them and being able to personally thank them for their contribution to my education has meant more to me than they'll ever know," McBean said. "Helping others has always been a sizable part of my life, and all the help I've received from all the wonderful donors as well as my professors and the Penn State staff has only pushed me to be the best I can be. My dream is to give back to the world as much as I can, and attending Penn State allows me to pursue this dream, as well as the opportunity of a lifetime. I cannot wait to see what the future has in store."
"As we reflect on this evening, I think we can all agree, these students are incredibly special and meritorious," Torres said in his closing remarks. "And thanks to you, our donors, our board members, faculty, staff and especially the family and friends of these individuals, they will continue to achieve and inspire generations to come."