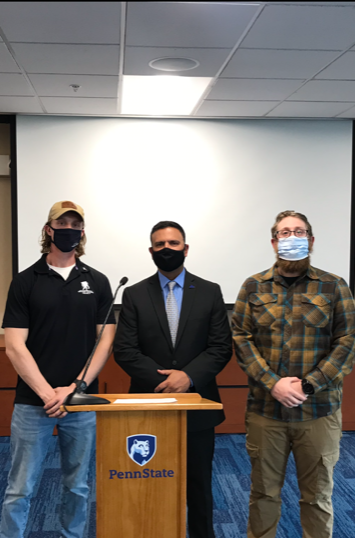 CENTER VALLEY, Pa. – Penn State Lehigh Valley's Student Veterans of America Club observed Veterans Day with a solemn, thoughtful program on Thursday, Nov. 11.
A strong showing of campus community members turned out for the event as student veterans members paid homage to the sacrifices made by the campus's veteran and active-duty military student population, as well as their families and all veterans in general. Rocco Zegalia, an Air Force veteran who now works as the director of sales at TWG Security in Emmaus, served as guest speaker.
In addition to the speeches, the program featured several displays, including a Wall of Honor recognizing the service of student veterans and active-duty military, as well as family members serving in the Armed Forces. Also, a special table was set aside for POW and MIA soldiers. Each item on the table carried its own specific symbolism, from the white tablecloth representing the service member's purity of response to the country's call to arms, to the empty chair depicting all service members not home with their families, to the yellow candle and ribbon hopeful of a joyous reunion one day.
Opening the program, Director of Academic Affairs Anibal Torres Bernal said members of the Armed Forces serve a critical role in defending the academic freedoms enjoyed by those in higher education.
"Your service has enabled us to serve our core function. We are grateful for it, and we thank you for it," Torres said.
Zegalia shared his insights on making the transition from military to civilian life. After serving four years in the Air Force, he enrolled at Mansfield University of Pennsylvania as a 25-year-old adult learner.
"I was labeled a nontraditional student. I don't think they referred to us as veteran students at that point," Zegalia said. "As a veteran, I felt like I really stood out – like students were staring at me."
Nonetheless, Zegalia persevered, and the discipline and resolve he gained serving in places like South Korea and the Philippines allowed him to thrive in the classroom. He also found his place socially, playing football and joining a fraternity.
Today, colleges are much more attuned to the needs of their student veteran populations, and Zegalia noted he was highly impressed with the high level of services veterans receive at PSU-LV.
"I want to thank Penn State Lehigh Valley for all you do for veteran students," Zegalia said. "Being a veteran means everything to me. It's the greatest fraternity in the world."
For more information on Penn State Lehigh Valley's veterans services, visit lehighvalley.psu.edu/student-life/veterans-services.