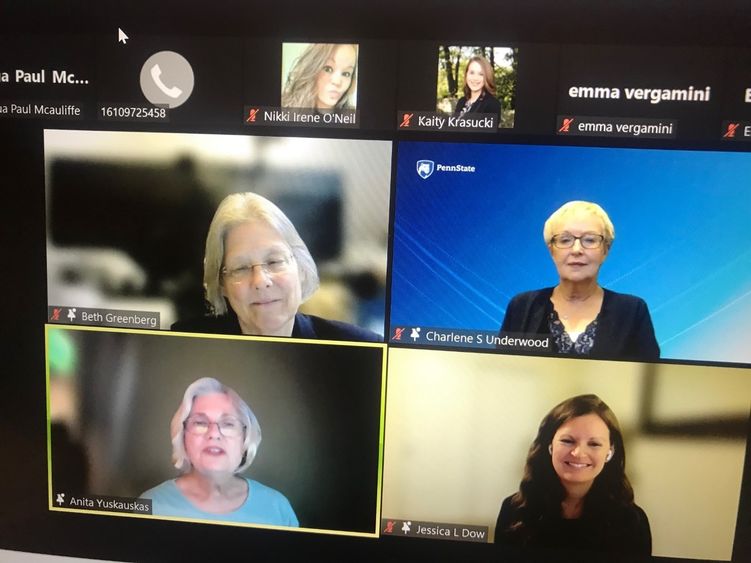 CENTER VALLEY, Pa. — Penn State Lehigh Valley's Health Policy and Administration program recently hosted a Careers in HPA Night that clearly demonstrated the abundant job opportunities existing within the field.
The virtual event featured insights from five professionals working in the HPA field: Susette Benedick, executive director, Kidney Care Specialists LLC; Penn State Hazleton Lecturer and HPA Program Coordinator Beth Greenberg, former senior director, regulatory affairs, LeadingAge PA; Sharon Scheirer, senior coordinator, human resources, St. Luke's University Health System; Charlene Underwood, former senior director, government HIT strategy, Siemens Medical Solutions; and PSU-LV Assistant Teaching Professor and HPA Program Coordinator Anita Yuskauskas, former technical director, Centers for Medicare and Medicaid Services, U.S. Department of Health and Human Services.
Each panel member took turns discussing various aspects of their respective careers.
Originally a music education major, Greenberg found her way into the field by accident when she took a government position.
"It was really the result of the opportunities presented, and for me it was health care," she said.
Throughout her career, Greenberg has found that having a good foundation in writing, economics and finance has been extremely beneficial to her success.
"The desire to keep learning is essential, because in health care everything is always changing," she said.
Underwood spent the better part of her 40-year career working on the technology end of health care, developing along the way "a passion for combining health with information technology."
"You need to understand how new systems work. And, you need to be able to condense hundreds of pages of complex technical information into something that people can understand," Underwood said. "Also, the ability to network is so important."
Yuskauskas started her health care career as a personal care aide, then eventually went on to government positions in Pennsylvania and Hawaii. For her, "communication skills are so important," she said.
Scheirer listed problem solving and relationship building as two more critical skills in the HPA toolbox.
"And curiosity. It's really important to have a curious mind," she said.
For students getting ready to head out into the job market, the panelists offered a number of suggestions to help them be better candidates.
"I think it's important to do some good volunteer work — preferably an opportunity with skills you want to learn," Greenberg said. "Also, informational interviewing is a great way to learn what a person does in their job on a day-to-day basis. And it could be a great resource for expanding your network, which could benefit you down the road."
"You've got to have that really impressive resume, because health care is ever changing. So, make sure it looks great," Benedick added. "And, when you're interviewed for a job, make sure you get the contact information for the person interviewing you. Because you definitely want to send them a thank-you note afterward."
Looking down the road, Yuskauskas said career opportunities within the HPA field are only going to continue growing.
"As baby boomers are going into old age, there are going to be a lot of jobs in policy and management in long-term care," she said.
"There are so many opportunities in the medical industry," Benedick said. "You just need a degree and a good network to get those opportunities."