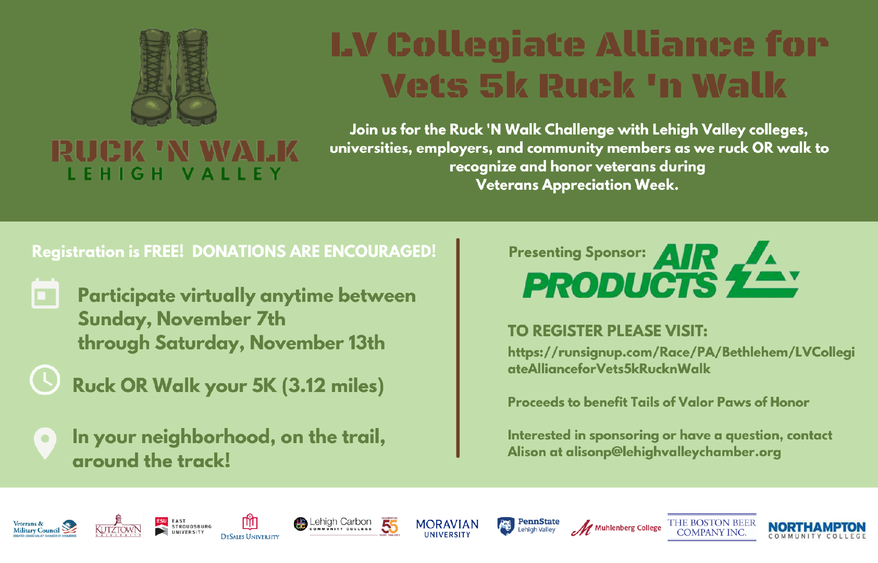 CENTER VALLEY, Pa. — Penn State Lehigh Valley's (PSU-LV) Student Veterans of America (SVA) Club emerged triumphant as the top team in the second annual Lehigh Valley Collegiate Alliance for Vets Virtual 5K Ruck 'n Walk.
The campus placed first among eight local colleges participating in the event, which was hosted by the Lehigh Valley Chamber of Commerce's Veteran and Military Council, of which PSU-LV is a member.
Melissa Baker, PSU-LV coordinator of student services, said the campus had the most participation, with 60 individuals competing and submitting their times. Among them were campus SVA President Chris Adams and his wife, Sophie, also a PSU-LV student.
"Most walked on their own when they could and submitted their miles to take us to the top of the leader board," Baker said.
Participants could ruck or walk on a trail, track or around their neighborhood. The goal is to help connect student veterans to their university, campus and community by coming together virtually and collectively in a friendly competition, while also raising money for a cause selected by the student veteran clubs from the participating schools.
More than $2,000 was raised for Tails of Valor, Paws of Honor, a Coopersburg-based nonprofit that trains service dogs for veterans with PTSD and traumatic brain injuries in the Lehigh Valley. Air Products, the event's sponsor, added $1,000 to the cause, bringing the final contribution to $3,000.
PSU-LV SVA Vice President Trevor Faust won the overall best time for the ruck, clocking in at 22 minutes, 52 seconds.
Faust, a business administration major, was discharged from the U.S. Marine Corps in January 2021 after serving four years of service. He said his military training helped him in the competition.   
"I was a machine gunner, and it was common to be hiking with packs that were 90-plus pounds," he said. "I did a lot of ruck runs and distance mobility training. Physical fitness has always been a hobby of mine, and I enjoy the outdoors in general."
Faust said events like the Ruck 'n Walk are a great way to bring like-minded people together.
"It's an important event because it brings veterans together," he said. "This year was tough because it was virtual. If we could do it in person together, it would be a great opportunity for veterans and civilians alike to meet each other, come together, share similar experiences and use it as a bonding experience."
To see the results and pictures from the Ruck 'n Walk, visit: https://runsignup.com/Race/PA/Schnecksville/LVCollegiateAllianceforVets5kRucknWalk.