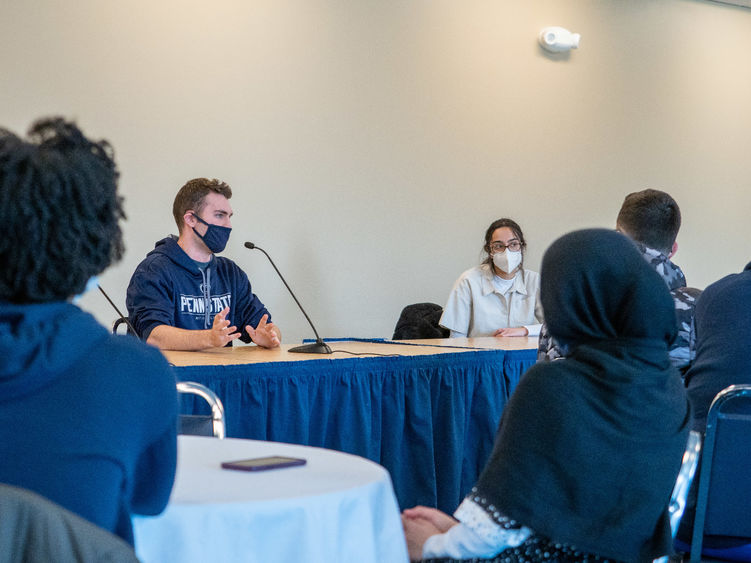 CENTER VALLEY, Pa. — Penn State Lehigh Valley students looking to conduct undergraduate research projects but unsure of where to begin have a host of helpful resources right on campus.
The Undergraduate Research Committee, consisting of several faculty members and two student representatives, recently held a panel discussion about undergraduate research. There, second-year students Tobey Field and Aemen Ali, student representatives on the committee, facilitated discussion and answered questions from the students in attendance.
The event served as a nice preview for the campus' upcoming Undergraduate Research Symposium, an annual spring showcase for faculty-mentored students to display their original research. This year's symposium will take place April 8 from 8 a.m. to 2:30 p.m. in room 135, with student posters on display in Centre Hall beginning April 4. The deadline for students to register their projects is Monday, Feb. 28.
"It was an informal peer-to-peer panel," said Ali, a computer science major, of the panel discussion. "We covered the basic process — approaching a research topic, how to get started. Tobey and I talked about our own experiences, and the students had questions about how to get started."
The idea of undertaking an intensive research project can seem intimidating and overwhelming at first, but the earlier a student gets started, the more comfortable they will be with the whole process, the students noted.
"Doing research early as a first-year student makes a big difference," said Field, a civil engineering major. "What we're trying to do with the committee is allow people who haven't done research to take baby steps to do research. It is time consuming, but the idea is to break it down into small chunks and get the scope of the research."
Jacqueline McLaughlin, associate professor of biology and CHANCE founding director, currently serves as a member of the Undergraduate Research Symposium Committee. She noted the campus has ample resources available to students interested in undertaking a research project, from the Undergraduate Research Committee, to experienced research-oriented faculty, to Head Librarian Jennifer Jarson and her staff.
"At this event, students share their research addressing an authentic question of societal value to the PSU-LV community at large," McLaughlin said of the symposium. "They display their research in the form of a professional poster and give an oral presentation of their work. There is a Q&A by faculty judges, and the projects are juried."
Research can be in any discipline, although students in arts and humanities programs are also encouraged to submit their work to the larger Penn State Exhibition, which will be held virtually April 6-8. "We want all of our students to have a venue," McLaughlin said.
Besides the student projects, the symposium includes a presentation by keynote speaker Cory Scherer, associate professor and coordinator of the Undergraduate Research Center at Penn State Schuylkill.
"Dr. Scherer is a respected researcher in the field of evolutionary psychology and social cognition," McLaughlin said. "He is an experienced and valued undergraduate research mentor — that is why my colleagues and I chose him. He can not only talk about the value of undergraduate research, but the positive attributes of being a mentee. That relationship brings so much to the table — that is why undergraduate research is considered a high-impact practice in teaching and learning in higher education. The skills the students get out of it are invaluable. Undergraduate research exemplifies transformative experiential learning."
Students who place at PSU-LV's symposium are invited to be part of the Penn State Regional Undergraduate Symposium, scheduled for April 23 at Penn State Schuylkill.
"It's also juried and a professional arena that allows students the opportunity to garnish additional skills needed to be top researchers," McLaughlin said. "And, if not to be a top researcher, then to further understand the process of research."
Ali said she hopes more students consider research projects.
"Although it may seem intimidating, I think it's important because it opens up a lot of doors you wouldn't have seen if you hadn't overcome what fears or obstacles were holding you back," Ali said. "It helped me narrow down what I want to do with my major when I graduate. In terms of summer applications, it's helpful to put it on your resume. Employers like to see you took interest in your major — that you went above and beyond what other students are doing."
For more information on the PSU-LV Undergraduate Research Symposium, visit  lehighvalley.psu.edu/undergraduate-research-symposium.