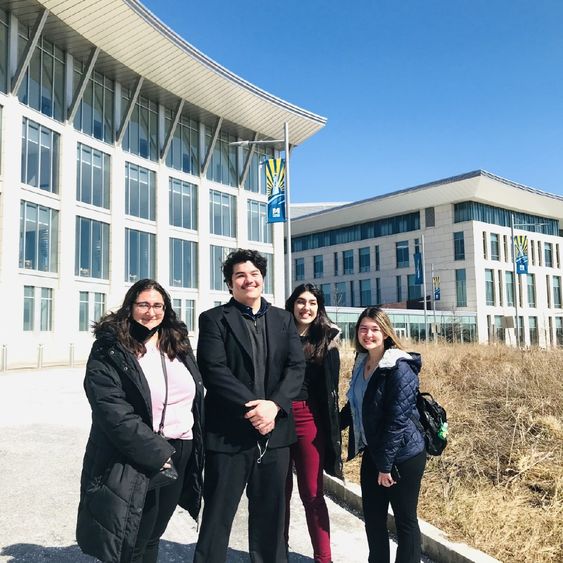 CENTER VALLEY, Pa. — Five students in Penn State Lehigh Valley's Biobehavioral Health (BBH) program recently traveled to Boston to present some timely research on student mental health.
The students — seniors Fatima Said, Lexis Brownstein, Chelsea Lopez, Dillon Trenge and Sabrina Sleiman — were part of a peer-reviewed "Health Inequalities" panel along with four other colleges and universities at the 92nd annual Eastern Sociological Society conference in Boston.
There, the students presented their paper, "The psychology of neoliberalism and rising mental health crisis in the return to normal college life during the COVID-19 pandemic."
"This was a prestigious professional opportunity on a topic of immense public concern. Their paper was accepted into a regular panel session, where they joined graduate students and professors of sociology from four other universities across the Northeast. They did a great job," said Associate Professor of Sociology Jennifer Parker, who served as the students' research adviser. "This is something they can put on their resume and could lead to other scholarly opportunities to develop their interests in the field of mental health."
The students' research focused on COVID-19's impact on mental health among college students during the past two years.
"COVID was everywhere, and we were all thinking about how it affected mental health," Said said. "I remember my sister was trying to get into counseling, and every place had a waiting list. I personally wondered how people were coping with this. I think that's what everyone was thinking — what are people doing about mental health right now?"
Brownstein added, "It's definitely something that was personal to all of us. That was the motivation for every single one of us in the group. We all picked up something new or dug deeper into a hobby we already had during the pandemic. For our research, we focused on college students. [For example] I remember the anxiety I felt taking a test in person after doing it online for two years."
The students completed their research during the fall 2021 semester. As part of Parker's Research Methodology course, they went through the entire research process, from conceptualization and seeking IRB approval to data collection and analysis to compiling and presenting their results.
"They were very interested in mental health and how it was for students to come back after being isolated for so many months," Parker said. "We tended to think, 'All we need to do is get students out of isolation and the mental health problem will disappear,' but that's not what was found. Some of their findings were deeply alarming, such as how 'self-blame' was the biggest predictor of psychological distress. Institutions of higher learning may want to be attentive to this, as it points to the furtive and destructive ways in which individuals in neoliberal societies internalize societal problems, even when they have no control over them — in this case, the COVID-19 pandemic."
This was the first professional conference for the PSU-LV students. As chair, Said was responsible for keeping the panel organized and on time.
"I really enjoyed it. I got to see how it all worked," she said.  
"One thing I gained was a greater appreciation for studies and the research that is done for them," Trenge added. "It's very difficult work. It takes a lot of dedication to see it through like this."
For Said, the conference provided a glimpse into her future, she said. She intends to pursue a master's degree in public health and epidemiology, with ultimate plans of attending medical school.
"I want to help people with their overall health," she said. "I was interested in this before the pandemic, but the pandemic made me realize I can do it. If I can continue college through a pandemic, I think I can do medical school."