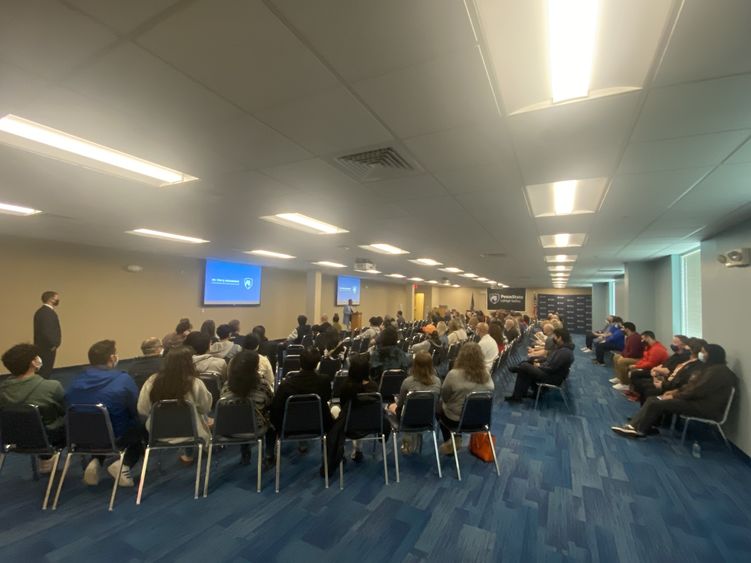 CENTER VALLEY, Pa. – Penn State Lehigh Valley will host its next Accepted Student Program for prospective students and their families on Friday, April 8, beginning at 3 p.m. on campus.
Specifically designed for newly admitted students and those who have already accepted their offer of admission for summer and fall 2022, the program will include presentations covering such topics as next steps, financial aid, academics and student resources. In addition, there will be a student panel Q&A, as well as tours of the campus provided by student Lion Ambassadors.
This year's first Accepted Student Program, held on March 19, drew 140 guests and 50 families. All told, 79% of registrants attended, according to Director of Enrollment Management Denise O'Neill.
"Which indicates that students and families are prepared to be fully engaged in person to receive information about Penn State and commit to Penn State Lehigh Valley for the fall," O'Neill said. "Many faculty, staff and students attended as well, and they personalized the program to the individual needs of participants. The program's highlights included breakout sessions on academic pathways, the 2 + 2 program, financial aid and the student experience panel. Tours and an information fair were offered, as well."
The Accepted Student Programs serve a critical purpose considering many prospective students make their final decision by spring, even though colleges like Penn State offer flexibility into the summer months, O'Neill noted.
"Hosting Accepted Student Programs on campus allows students and families to ask important questions before making a commitment and get a feel for the campus," O'Neill said. "For most students, Penn State is their top choice, so it's important for us to showcase our strengths -- over 285 majors, the advantages of the 2 + 2 experience, brand recognition, the largest alumni base in the world -- while also maintaining affordable price points."
O'Neill said the campus is trending in a positive direction with applications and commits, and enrollment will likely be higher this fall than it was for Fall 2021.
"Our plans to expand academic offerings over the next three years, including Criminal Justice beginning as a new major this fall, will only support this trend," O'Neill said.
For registration information on the Accepted Student Program, email [email protected] or call 610-285-5035. Or, visit lehighvalley.psu.edu/admission.