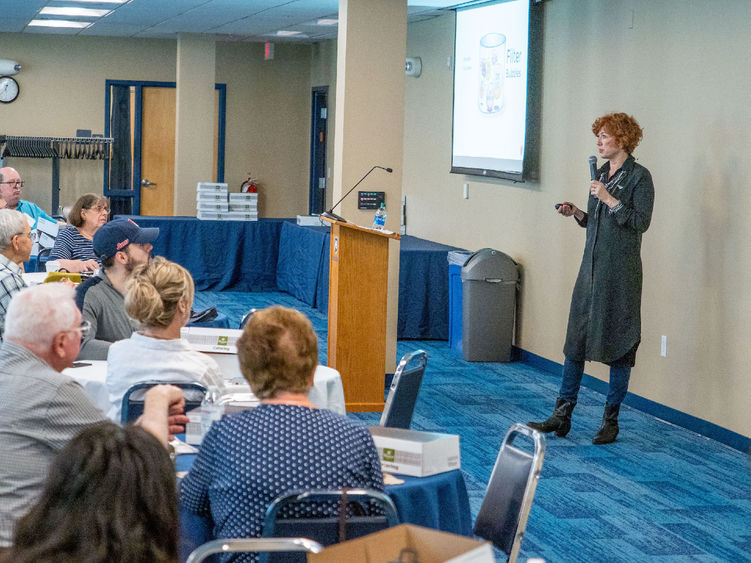 CENTER VALLEY, Pa. — Internationally recognized scholar Marijana Grbeša Zenzerović of the University of Zagreb in Croatia recently returned to Penn State Lehigh Valley (PSU-LV) to deliver a lecture centered on several timely topics, including the COVID-19 pandemic and the Russian invasion of Ukraine.
A large crowd of campus community members and local residents turned out for Grbeša Zenzerović's talk, "Communication in Times of Crisis: A Critical Take on the Pandemic and War in Ukraine," which was hosted by PSU-LV's Lambda Pi Eta communication honor society and SAGE program, with support from both academic and student affairs.
The campus' first visiting scholar and professor during the fall 2018 semester, Grbeša Zenzerović returned to PSU-LV as an Erasmus Scholar. In addition to giving the lecture, she met with students of Professor of Communication Arts and Sciences Nichola D. Gutgold and Assistant Professor of Corporate Communication Beth E. Michalec.
An associate professor at the Faculty of Political Science, University of Zagreb, Grbeša Zenzerović teaches courses in media, communication research methods, political marketing and strategic communication in politics. She was the head of the School of Journalism and vice dean for international relations at the Faculty of Political Science in Zagreb, a member of the negotiating team for Croatia's accession to the European Union, and a representative of Croatia to the European Science Foundation.
Grbeša Zenzerović has authored more than 30 books, chapters and scientific articles on media, political communication and populism. A media consultant and election campaign strategist in several countries, she is the editor-in-chief of the peer-reviewed Media Studies journal, and is the recipient of several academic and professional grants and awards.
During the lecture, Grbeša Zenzerović addressed communication aspects of both the war in Ukraine and the pandemic, specifically the use of propaganda devices, the role of social networks in creating pandemic and war narratives, and the rise and spread of misinformation and disinformation.
"A lot has changed in the world since I was at this campus in 2018," Grbeša Zenzerović said as she greeted the crowd. "We are in a permanent state of crisis."
Polarization is a deeply entrenched problem today, and one Grbeša Zenzerović has been examining closely. She discussed the effects populism, social media "echo chambers," mainstream media bias, and normalization of radical ideas are now having on society, and how it has resulted in the politicization of nearly everything, including the pandemic.
"People are now more comfortable staying in their own 'filter bubbles.' They don't feel the need to reach across the aisles. And they ignore any facts that might prove themselves wrong," Grbeša Zenzerović said. "We've been empowered by technology, but it's enabled radicalization and led people to staying in their own bubbles."
Right now, she said, the two warring factions in Ukraine are using social networks and propaganda to frame their own narratives.
On one side, there's the "Zelensky phenomenon" revolving around Ukrainian President Volodymyr Zelensky, who has earned widespread respect for his courage and leadership skills. Grbeša Zenzerović said the former TV star has been extremely skillful in projecting authenticity and using videos to effectively get his message out to the world via social media.
While the Ukrainians are sustaining their narrative, the Russians are using propaganda — much of it delivered through TikTok — to create their own narrative that has proven effective not just in Russia, but among countries outside of the West, according to Grbeša Zenzerović.
So, what to do about this dire state of affairs? Among other things, Grbeša Zenzerović said, we need to find better ways to promote fact checking, media literacy and regulation of social media platforms.
"But I do think it's necessary to design new paradigms," she said. "It's our obligation to assimilate the new technologies and incorporate them in better ways."