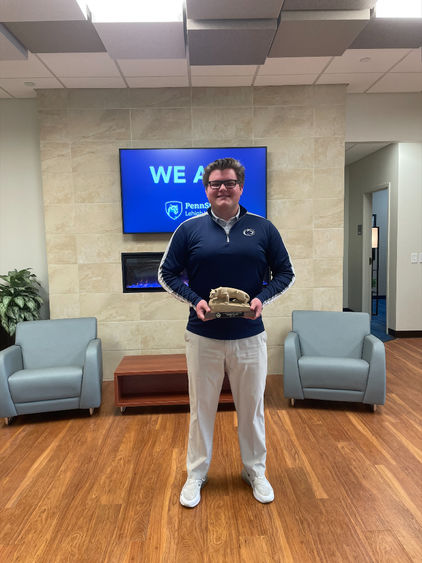 CENTER VALLEY, Pa. — Penn State Lehigh Valley Student Government Association (SGA) President Matt Cascioli's dedication to the campus was recently recognized by the University-wide Council of Commonwealth Student Governments (CCSG).
Cascioli, a second-year law and society major, was the recipient of the Dwayne A. Hilton Illumination Award, an honor given to a campus SGA president who goes above and beyond expectations in their role as an advocate for their Commonwealth Campus. Hilton himself presented Cascioli with the award at the April CCSG meeting.
In his remarks, CCSG President Aakash Viramgama commended Cascioli for his commitment to campus governance.
"Matthew has been an avid example of what student advocacy at Penn State should look like. He has gone above and beyond in his role as the president of Lehigh Valley SGA to ensure that his constituents are represented by the highest of standards," Viramgama said. "Throughout his time in CCSG, he has challenged every norm that was set forth and been brutally honest about his opinions. It has been my pleasure to have him as one of the council members during my administration."
Cascioli was humbled to receive the award, taking pains to note that being part of SGA is really a team effort.
"To me, the best of Penn State and who we really are is rooted in service to others before yourself. My family has deep ties to this amazing University and I'm glad I get to leave some record of my efforts here and that Lehigh Valley would be well respected and recognized," he said. "I've had a tremendous amount of help behind the scenes from CCSG executive board members and my own SGA members here. This award, while I'm honored to receive it, makes me sincerely hope that when I'm gone people know I tried to make Penn State a better place, not just that I was a good president."
Cascioli looked back on the last year as a time of "unprecedented growth" for SGA.
In addition to the group's financial support of the campus' expansion project, SGA supported the use of Student Facility Fee funds towards the partnership with the currently under-construction YMCA that will provide brand-new courts for PSU-LV's basketball and volleyball teams.
"I hope I put us on the radar among the smaller PSU campuses with CCSG — sometimes it's a struggle to get noticed and get some of the financing we need, as well," Cascioli said.
The annual Advocate Penn State Capital Day in Harrisburg was another standout moment for him.
"That was one of my favorite days of the year," Cascioli said. "A few days before it, I got to meet Lt. Gov. John Fetterman, and I went to an event at Rep. [Mike] Sturla's house. With COVID, we were limited to four reps for the day, but I got to make some appointments with local reps to discuss funding for PSU and a few personal opportunities, as well."
PSU-LV Director of Student Affairs Tom Dubreuil said Cascioli has done an admirable job representing the campus at CCSG.
"He not only represented students from our campus but was a strong voice for students at Commonwealth Campuses throughout the entire state," Dubreuil said. "We appreciate everything he has done in his role as president of the Lehigh Valley student government and as an active and engaged member of CCSG."
And Cascioli is continuing his commitment to SGA. Next year, he'll serve as its vice president.
Looking further down the road, he said politics could be a potential career path.
"The landscape is pretty far and wide open," he said. "I'm not ruling out any political interests, whether it's an internship or lobbying for a candidate I like. I am hoping to secure an internship in government."
Until then, he'll be urging other students to take an interest in campus government.
"Obviously, I have a bias that everyone should get involved with SGA," Cascioli said. "It creates healthy citizenship. The other thing I've learned is there's a difference between government and politics."