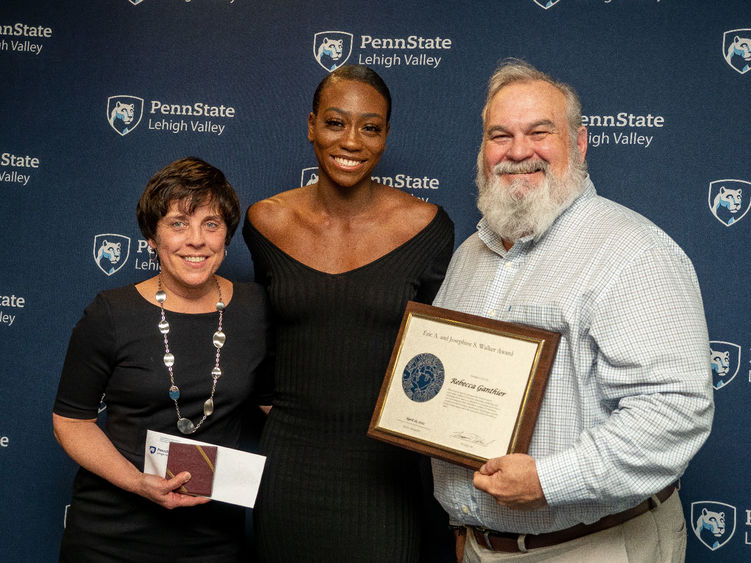 CENTER VALLEY, Pa. — Penn State Lehigh Valley celebrated undergraduate excellence at the campus's annual Student Awards Ceremony on Tuesday, April 26.
A large crowd of students, faculty members, staff and family members turned out for one of the marquee events of the academic year.
"In the audience tonight, we have our outstanding students and other honorees who will be awarded plaques, certificates and other memorabilia to celebrate academic excellence, notable service and exceptional leadership," said Director of Academic Affairs Anibal Torres Bernal as he led off the ceremony.
Associate Teaching Professor of Mathematics Maryam Kiani delivered an inspiring keynote address on the topic of "cinnamon moments." She told the story of a former student who struggled to pronounce the word "cinnamon," but who said they used that embarrassing moment as a motivator to succeed in life.
Kiani urged the crowd to use their own "cinnamon moments" as an opportunity "to be born again and live with our best potential."
"Cinnamon moments are moments when the sun is lost, and we see nothing but darkness. The moments that we may feel alone, poor, helpless, or even worthless," Kiani said. "Each of us has had or will have cinnamon moments in our life because it is impossible to live without failing at something. … My message for tonight is: Do not be afraid of adversity since it helps you to know yourself, and such knowledge is a true gift. Yes, it might be painful, but it has worth more than any degree you may earn."
In her remarks, Chancellor Tina Q. Richardson praised the students, as well as their on- and off-campus support systems, for their exemplary work.
"It is a wonderful and warming moment when we get to celebrate the accomplishments of our students. They impress, excite and motivate me to do my job as well as I can," Richardson said. "And I can't tell you how proud I am of the faculty and staff here. They truly become a part of your networks in the years after you graduate. And to the friends and family here tonight, I salute you on a job well done."
The night's student achievement award recipients were:
Alexandria Downing Outstanding Student in Sociology Award: Ryan Carpenter
First-year Chemistry Achievement Award: Bethany Dominguez
Outstanding Student in Biology Award:  Aliabbas Naqvi
Outstanding Student in Psychology Award: Justin Lebon and Kayla Vega
Outstanding Student in Rehabilitation and Human Services Award: Samantha Meeker
Outstanding Student in Health Policy and Administration Award: Kelly Bossert
Outstanding Student in Biobehavioral Health Award: Jerad Flatt
Mathematical Excellence Award: Fouad Awwad
Outstanding Engineering Student Award: Fouad Awwad and Alex Boshnakov
Outstanding Student in Marketing/Management Award: Jenna Kurtz
Outstanding Student in Project and Supply Chain Management Award: Victoria Stopper
Information Technology Achievement Award: Alex Macri
Outstanding Student in Cyber Analytics and Operations Award: Daniel Wissing
Outstanding Student in Corporate Communication Award: Megan O'Donnell
English Department Award for Exceptional Achievement in Expository Writing: Bethany Dominguez
Creative Writing Award: Awad Ulhaq
Excellence in Public Speaking Award: Kayla S. Trenge
Outstanding Art Student Award: Delilah Jabbour
Outstanding Arts Administration Student Award: Allyshia Mohr
Outstanding Tutor Award: Josiah Johnson
Outstanding Peer Mentor Award: Lara AbdelAhad
President Walker Award: Austin Mark Bentzinger, Thomas Jay Chromiak, Nicholas Coleman, Rachel Lorraine Costello, Connor Luke Dagon, Bethany Elizabeth Dominguez, Cameron R. Echevarria, Marjaan Zeeshan Khan, Max Lawson, Zachary E Mello, Mary Adel Mikhael, Sabina Isabella Rosin, Madalyn Elizabeth Saylor, Cassandra Alexis Schmidt, Sarah Seibert and Alyonna Valerie Vitulli
President Sparks Award: Fouad Awwad, Jason Lee, Garret Andrew Pavlacka and Angelica Pirog
Evan Pugh Scholar Award: Jenna Kurtz, Josiah W Johnson and Samantha Meeker
Heart of the Lion Award: Ian Riccelli
Eric A. and Josephine Walker Award: Rebecca Ganthier