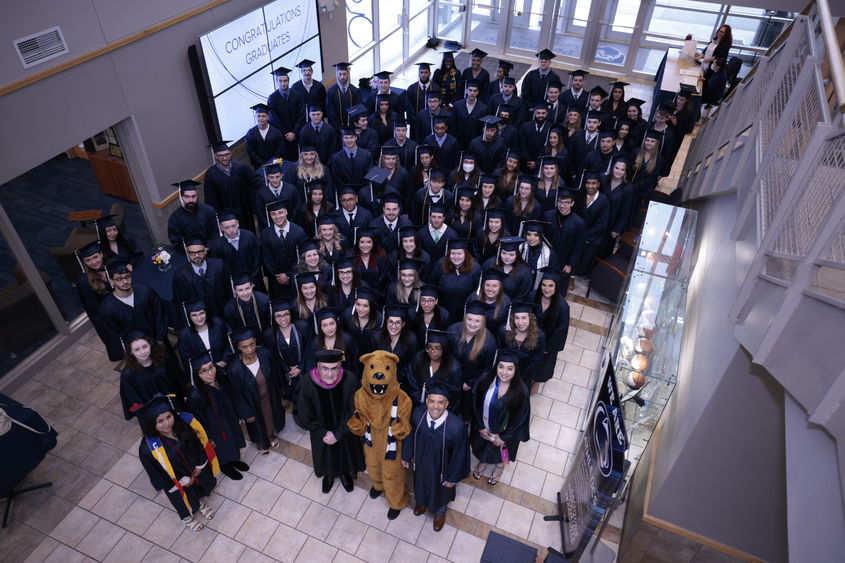 CENTER VALLEY, Pa. — The weather may have been cold and rainy, but the mood was jubilant Saturday, May 7, as Penn State Lehigh Valley held its spring 2022 commencement ceremony.
A total of 120 students completed their associate or bachelor's degree during the academic year. Of those, 92 walked at the ceremony, which was held on the campus grounds and presided over by Chancellor Tina Q. Richardson and Director of Academic Affairs Anibal Torres Bernal.
This year's keynote speaker, Penn State alumnus Dr. Hussam A. Yacoub, a board-certified vascular neurologist affiliated with Lehigh Valley Health Network, shared some of the accumulated wisdom he's gained throughout his life and career.
"Success is not something that is typically achieved in a short period of time, and how you define that word — success — likely varies for each of you," Yacoub said. "Regardless of how you define it, success is simply determined by and is a reflection of what you do. And it almost always requires perseverance, determination and sacrifice. … And each day — each year — you will continue to develop, because there is no end stage or last day of success. You are not finished when you graduate or get a job … or when you start a family. It is a lifelong process — and each of those achievements may, in fact, mark a new beginning."
Kayla Vega, who received her bachelor of arts in psychology, was chosen to serve as student marshal. She delivered a powerful, optimistic message that touched on the perseverance she and her fellow graduates gained while pursuing their degrees during the many uncertainties of the COVID-19 pandemic.
"We shared feelings of isolation and stress. With no physical interaction with our classmates and our professors, we constantly second-guessed ourselves, especially on how to complete assignments. Then, the clouds lifted. We entered our senior year on campus, and we finally felt our lives begin to normalize," Vega said. "But, during that difficult time, we all developed a whole other set of skills. We learned coping skills. We learned discipline and resilience. We learned how to accept, deal with and overcome challenges. We also learned the importance of not only our family and friends, but also of faculty and staff. These skills that we've added to our tool belts will deeply enhance our future success, as we move forward in our lives."
In her remarks, Richardson struck a similar note of students triumphing over adversity.
"Let me start by expressing to the graduates how truly proud I am of all of you, for not only completing your degree, but for the incredible perseverance you've demonstrated throughout the course of this entire pandemic," Richardson said. "These past two years have certainly been difficult, ever-changing times for higher education, but you have met every challenge thrown your way, so it cannot be overstated how impressed I am personally with you. Please trust me when I say that when you confront adversity, it definitely has the ability to make you more prepared for the bright future awaiting you."
Also at the ceremony, Steven Kuchera, vice president of the Penn State Lehigh Valley Alumni Society, welcomed the graduates into the Penn State Alumni Association. In addition, Richardson announced that a new campus scholarship for corporate communication students has been established in honor of Lecturer in Business and Economics and Corporate Communication Program Coordinator Bob Wolfe, who will retire this summer after more than a decade of service to the campus.
"Bob has been such a force of positivity and inspiration for so many of us that we couldn't let him leave without something truly special to mark his time here," Richardson said.
Associate Professor of Chemistry Roger Egolf served as this year's commencement campus marshal, and Associate Teaching Professor of Psychology Kevin Kelley was chosen by Vega to serve as faculty marshal.
The 2022 Penn State Lehigh Valley graduates are:
Associate in Science in Business
Ilianna Garcia
Fadi N. Giacobbe
Patrick William Rivers
Associate in Arts in Letters, Arts, and Sciences
Robert Shoemaker
Bachelor of Science in Biobehavioral Health
Ruasl Latteef Attaa Aldhaheri
Jeanette Bautista
Lexis M. Brownstein
Jerad Flatt
Ivanna Hanna
Chelsea K. Lopez
Justin A. Sackey
Fatima Said
Esther Santiago
Sabrina Sleiman
Julie Elizabeth Stout
Kristina Lynn Streit
Avery Taylor
Dillon Trenge
Bachelor of Science in Business
Sophie Adams
Diego Avalos
Bryce Mark Bachman
Peter Banak
Anthony Belsky
Michelle Bosques
Austin Brooks
Anthony Caiazzo
Sara Deberardinis
Abby Feichtel
Guanyun Feng
Katheryn Fernanda Garrido Carrasco
Nicholas Zachary Herman
Sideris Karakatsanidis
Kiranpreet Kaur
Michael Stephen Kielar
Bryce Alan Kolbe
Andre Peele
Jacob Powers
Leonardo Rafael Rivera
Trevor James Rockwell
Nathan Salukas
Philip Todd Schwartz Jr.
Meaghan Sheehan
Elysa Stout
Allison C. Toth
Zachary Unger
James Waterstradt
Bachelor of Arts in Chinese
Qobi Quainoo
Bachelor of Arts in Corporate Communication
Timothy Cashman
Hayley Lyn Guzzo
Olivia B. Howe
Leanna Koutsoumbis
Sierra Morgan Mamay
Jennifer Morales
Jasmine M. Morocho
Megan O'Donnell
Madison Reed Shupp
Bachelor of Science in Finance
Fadi Matar
Bachelor of Science in Health Policy and Administration
Kelly Anita Bossert
Rebecca Ganthier
Brooke Lindsey Imboden
Maria Mahfoud
Jacqueline Sarah Mohr
Nadine Sabbagh
Kacie Snyder
Bachelor of Science in Information Technology
Amir Al-Sahsah
Dawson Binder
Kameron Dangleben
Mansi Desai
Joseph T. Jabbour
Khushminder Jassal
Basel Walid Kaskas
Zachary Morehouse
Maxwell Naughton
Nam Hoai Pham
Miguel A. Sanchez
Michelle Zachmann
Bachelor of Science in Project and Supply Chain Management
Sophie Adams
Tyler Bonsall
Ytzelk Carbuccia
Patrick Gleason
Conor Heitzer
Sundeep Kaur
Jordan Mann
Joshua Marchak
Quinn J. Munro
Leonardo Rafael Rivera
Nicholas Silvaggio
Zakary V. Spess
Victoria Rose Stopper
Zachary Dillon Wojcik
Bachelor of Arts in Psychology
Taylor Hughes
Gabrielle Hyppolite
Christina Kamel
Morgan Krause
Wisleidy A. Plasencia
Michael James Reif
Skye Luna Soto
Ana Jaymeth Truty
Kayla S. Vega
Bachelor of Science in Psychology
Karalyn Elizabeth Binder
Jade Ashleigh Buskirk
Justin Lebon
Alexis Matlack
Celeste Nunez
Melissa Saca
Bachelor of Science in Rehabilitation and Human Services
Sabrina E. Alvarez Pajes
Kristin Naja Curry
Isatu Deen
Giovanna Erie
Nicole Hamoui
Juliane Elizabeth Haussmann
Alexis Lorraine Hoffman
Aliyah Major
Isaac Newton Martinez
Samantha Meeker***
Katarina Rose Mondillo
Cara Marie Rocchino
Taylor Rae Styles
Anaya Celest White
Corey Nicole Wilson
Enterprise Resource Planning Certificate with SAP 
Sophie Adams
Aimee Allen
Ytzelk Carbuccia
Conor Heitzer
Joshua Marchak
Leonardo Rafael Rivera
Non-Credit Certificates:
Assisted Living Administrator
Wendy Ballick
Stephanie Wanner
Digital Marketing Institute
Vaishnavi Ajila
Jerson Batista
Dylan Brad
Harsh Desai
John Langdon Harris
Viacmely Jimenez
Michelle Madeleine Moore
Pallari Mujumdar
Aaryan Patel
Brianna Peters
Don Phan
Qofi Quainoo
Suryanarayanan Sayeesubramanian
Nursing Home Administrator
Ruth Amoah-Koomson
Shanice Clarke
Tina Hangey
Darwin Mitchell
Andrew Nicholas
Karli Rooney
Reshawn Shipe
Alexa Shrecengost
Lori Simons
Personal Care Home Administrator 
Christine Engelhardt
Renee Gibson
Stephanie Shumbris
Lori Simons
Practical Nursing 
Kelli Barker
Kristin Bartz
Danielle Braswell Nelson
Ruth Cortes-Luciano
Cindy Cruz
Madeline Deschler
Monique Dullivan
Vanessa Foster
Stacey Heckman
Shaylynn Jones
Marie Martinez
Sierra Mazac
Emily Medellin
Jamie MoDavis
Jasmin Nelson
Monesha Nimmons
Samantha Ortiz
Kathlynn Painter
Ashley Ritz
Dorothy Salako
Olivia Smith
Ann Marie Watson
Project Management Class 
Eric Allison
Frank Babarsky
Michael Bonno
Jeffrey Burrell
Carmen Canaii
Robert Canova
AJ Ceccacci
Nicholas DeAntonio
James Dominick
Katlin Edmunds
Damian Edwards
Holley Evans
Donald R. Gilchrist Jr.
Kevin Jayne
Jared Kavalow
Mark Landmesser
Mike Lombardo
Joe Lynn
Ryan Matthews
Amanda Mayer
Ryvers McGlone
Robert McPhillips
Roni Nawrocki
Sean Richards
Walter Rohan
Jessica Rollyson
Dominick Silvetti
Bradley Snyder
Tracy Stender
Tom Sweeney
Stacy Taylor
Stephen Voyton
Jim Watkins
Steve Wiltz
Society for Human Resource Management 
Adam Beani
Stephanie Behrends
Erica Burrows
Jordan Marie Chandler
Gina Marie deLauretis
Tawanda Montes Lighty
Alexis Gates
Kelly Sue Guerrero
Magdieh Juleika Hernandez
Aislinn Kari
Elizabeth Mary Kelly
Lawren Konschnik
Eric Ronald Madison
Loriann Mulvey-Barbato
Priya Nair
Barbara Philips
Jackie Warren
Rand R. Yazji