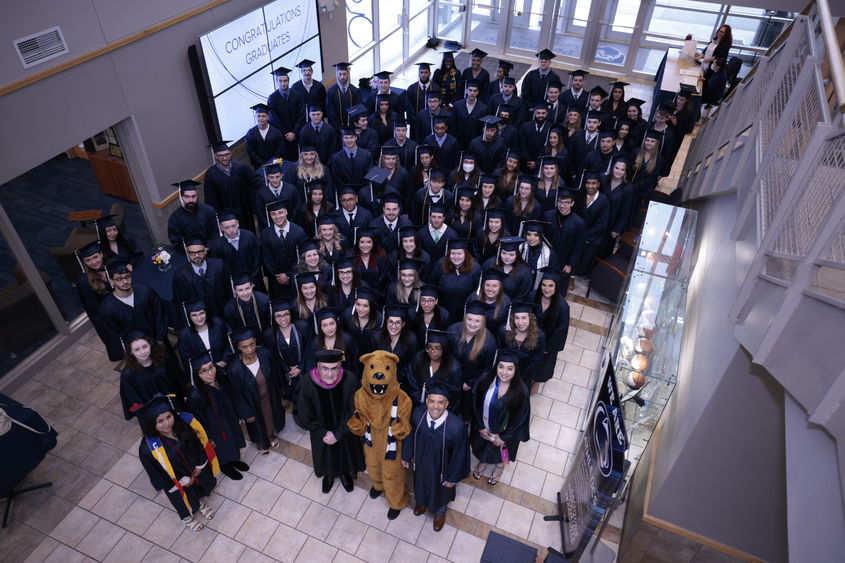 CENTER VALLEY, Pa. — Penn State Lehigh Valley recently announced its dean's list for the spring 2022 semester. The following students have been named to the list:
Lara AbdelAhad, Allentown; Carmen Abu Junb, Allentown; Christopher Adams, Alburtis; Ameer Ahmed , Allentown; Vaishnavi  Ajila, Mumbai, India; Ayesha Ali Allentown; Onur Alici, Bethlehem; John Alvarado Toro, Bethlehem; Sabrina Alvarez Pajes, Basking Ridge, New Jersey; Yvonne Andia Silva, Allentown; Ruasl Attaa Aldhaheri, Whitehall; Diego Avalos, Allentown; Fouad Awwad, Allentown; Jenna Ballerini, Bethlehem; Mihir Bapat, Mumbai; Jacklyn Barakat, Allentown; Drew Bartos, Bethlehem; Steven Basic, Freemansburg; Kevin Batista, Whitehall;  Finn Beck, Schwenksville; Austin Bentzinger, Nazareth; Thomas Bielecki, Coopersburg; Karalyn Binder, Wind Gap; Jamaal Bokhari, Stewartsville, New Jersey; Jenna Bonker, Bangor; Matthew Bonner, Northampton; Angela Bonopane, Mount Bethel; Tyler Bonsall, Easton; Alex Boshnakov, Bethlehem; Michelle Bosques, Bethlehem; Kelly Bossert, Wescosville; August Bottiger, East Greenville; Dylan Brad, Quakertown; Lexis Brownstein, Hellertown; Bridget Budde, Breinigsville; Baseel Burnham, Bath; Jacob Busch, Whitehall; Elaine Byers, Sellersville; Nathan Cantwell, Easton; Ayshe Capecci, Pen Argyl; Sean Caponigro, Easton; Giuseppe Carbone, Saylorsburg; Kaitlyn Carlin, Whitehall; Nathaniel Casey, Bath; Timothy Cassidy, Upper Black Eddy; Gabriela Cavalheiro, Macungie; Haydn Child, Macungie; Alyssa Chirumbolo, Center Valley; Sage Christopher, New Tripoli; Sierra Chromiak, Schnecksville; Thomas Chromiak, Schnecksville; Amanda Clayborn, Bethlehem; Tiara Cole, Bethlehem; Esmeralda Concepcion, Catasauqua; Claudia Corcino Olivera, Somerset, New Jersey; Rachel Costello, Bethlehem; Stephanie Cotter, Laurys Station; Kendall Craig, Perkasie; Jaden Crudup, South Plainfield, New Jersey; and Kristin Curry, Baltimore, Maryland.
Also, Connor Dagon, Easton; Alexis Damiano, Allentown; McKenna Darrell, Bethlehem; Julie Davis, Allentown; Frank Dazzo, Schnecksville; Cathryn De Mesa, Bethlehem; Isatu Deen, Allentown; Andrea DeJesus, Bethlehem; Nicholas DeLorenzo, Catasauqua; Dante DelVecchio, Easton; Nicholas DeMarco, Quakertown; Gabriella DeMaria, Allentown; Aaron Denker, Bath; Harsh Desai Navi Mumbai, India; Brandon Deutsch, Whitehall; Giuliana Di Placido, Coopersburg; Scarlet Dilone Pichardo, Allentown; Mackenzie Dipasquale, Dublin; Bethany Dominguez, Easton; Olivia Dorko, Nazareth; Cameron Echevarria, Wind Gap; Leenah Elsayed, Easton; Dane Enck, Emmaus; Kaili Enslin, Albrightsville; Johnathan Erickson, Emmaus; Trevor Faust, Bethlehem; Abby Feichtel, Allentown; Destiny Feliz, Allentown; Guanyun Feng, Anshan, China; Tobey Field, Bethlehem; Nicole Fix, Whitehall; Jerad Flatt, Reading; Trinity Flores, East Stroudsburg; Luke Foehrkolb, Allentown; Joseph Fontana, Nazareth; Andrew Freuler, Telford; Madison Fuehrer, Apollo; Grace Fuscellaro, Quakertown; Vince Gallagher , Northampton; Elizabeth Gallo, Quakertown; Jennifer Garcia, Allentown; Katheryn Garrido Carrasco, Allentown; Fernando Gaton Bido, Allentown; Isabelle Geiger, Bethlehem; Helen Genoe, Macungie; Allanah George, Catasauqua; Gianna Gomes, Easton; Antonio Gonzalez, Emmaus; Caleb Goodman, Coopersburg; Brooke Graniere, Easton; Victoria Grosse, Center Valley; Jeffrey Guo, Breinigsville; Nirvaan Gupta, Mumbai; and Hayley Guzzo, Bethlehem.
And, John Hahalis, Bethlehem; Emily Harcharan, Macungie; Juliane Haussmann, Macungie; Alexis Havlicsek, Allentown; William Hawley, Slatington; Aziz Hazim, Whitehall; Nathaniel Hendricks, Riegelsville; Yasmine Herrera, Bethlehem; Miranda Hersh, Macungie; Matthew Hilbert, Whitehall; Logan Hoffman, Coopersburg; Olivia Howe, Pennsburg; Kyle Hughes, Macungie; Joshua Huyssen, Emmaus; Benjamin Iacobelli, Breinigsville; Hannah Irwin, Pen Argyl; Oscar Isaula, Allentown; Delilah Jabbour, Allentown; Joseph Jabbour, Allentown; Jesse Jagpal, Easton; Laudia Jalosinski, Perkasie; Paul Jensen, Bethlehem; Viacmely Jimenez, Easton; Josiah Johnson, Coopersburg; Bridget  Jones, Philadelphia; Michaela Kahn, Allentown; Lotte Kastelein, Pennsburg; Hannah Kaufman, Sellersville; Sundeep Kaur, Easton; Mariah Keeler, Quakertown; Catherine Kentopp, Coopersburg; Christopher Kern, Orefield; Hayya Khan, Orefield; Huda Khan, Allentown; Michael Kielar, Easton; Benjamin Kobrin, Allentown; Rhea Kochhar, Pittstown, New Jersey; Alexander Kociuba, Tatamy; Bryce Kolbe, Easton; Jonathan Kopchak, Bethlehem; Shloka Kulkarni, Mumbai; Jenna Kurtz, Trumbauersville; Aleksander Kwiatek, Nazareth; Ian Langsdorf, Northampton; Justin Lebon, Bethlehem; Chanelle Lee, Brunswick, Maryland; Christopher Lee, Northampton; Jason Lee, Allentown; Matthew LeMaitre, Kintnersville; Chudong Liang, Macungie; Ian Lim, Orefield; Zakariya Limani, Center Valley; Riggie Lin, Allentown; Liam Lloyd, Bethlehem; John Locascio, Easton; Chelsea Lopez, Bayonne, New Jersey; and Izik Lowrey, Jacksonville, North Carolina.
Also, Kaitlin MacAdam, Coopersburg; Alex Macri, Orefield; Aliyah Major, Bethlehem; Natalie Mamary, Whitehall; Jordan Mann, Coopersburg; Mihir Manohar, Mumbai; Tyler Mantz, Bethlehem; Emily Marrero, Coopersburg; Isaac Martinez, Whitehall; Jason Matos, Allentown; Tyler McCluskey, Perkasie; Anissa McCray, Bethlehem; Scott McFetridge, Coplay; Peter McGibbon, Easton; Samantha Meeker, Hunlock Creek; Zachary Mello, Center Valley; Juliet Mercado, Allentown; Leona Mercer, Bethlehem; Marissa Michalik, Lehighton; Aidan Miller, Bethlehem; Jenna Miller, Macungie; Nicholas Miller, Slatington; Jonalys Miranda Sanchez, Breinigsville; Allyshia Mohr, Coopersburg; Jacqueline Mohr, Allentown; Jack Montesdeoca, Easton; Megan Moore, Macungie; Jennifer Morales, Allentown; Abigail Morris, Easton; Christopher Morris, Easton; Daniel Mosebrook, Doylestown; Faiza Mowlana, Allentown; Kaitlyn Mueller, Easton; Kirstianna Mueller, Easton; Toseef Mughal, Allentown; Pallari Navi Mujumdar, Mumbai; Sophia Mumbauer, Orwigsburg; Quinn Munro, Fogelsville; Cadeyn Muthard, Alburtis; Brandon Myung, Coopersburg; Yaroslav Naumenko, Stroudsburg; Nooreen Naveed, Bethlehem; George Nemeh, Whitehall; Kevin Nguyen, Quakertown; Luan Nguyen, Allentown; Alexander Noga, Allentown; Kevin Noneman, Coopersburg; Kirsten North, Quakertown; Jamie Nothstein, Allentown; Celeste Nunez, Fountain Hill; Bronson Ny, Quakertown; Liam O'Connor, Nazareth; Zoe O'Grady, Quakertown; Jah'nel Oliver, Easton; Sydney Olivieri, Quakertown; Carmen Ortiz, Laurys Station; and Jake Ouyang, Bethlehem.
And, Parth Pandya, Breinigsville; Aaryan Patel, Easton; Deep Patel, Breinigsville; Om Patel, Whitehall; Shail Patel, Northampton; Garret Pavlacka, Macungie; Jonathan Perez, Nazareth; Brianna Peters, Easton; Skyler Peters, Fogelsville; Nam Pham, Northampton; Don Phan, Allentown; Kelee Phan, Allentown; Wisleidy Plasencia, Allentown; Amber Porter, Tannersville; Jaden Pound, Easton; Staush Przyuski, Kintnersville; Alexandra Quinn, Easton; Justin Quintero Franco, Allentown; Rory Rafferty, East Greenville; Charleen Rahman, Nazareth; Faith Readinger, Blandon; Briana Redrovan, Bethlehem; Christina Reid, Quakertown; Michael Reif, Easton; Julian Renner, Quakertown; Melanie Reyes, Hellertown; Alexander Rivera, Nazareth; Derek Rivera, Breinigsville; Patrick Rivers, Whitehall; Cara Rocchino, Macungie; Kaitlyn Rodriguez, Walnutport; Yesenia Rodriguez-Reyes, Easton; Daniel Roose, Allentown; Sabina Rosin, Hellertown; Assad Rowashda, East Stroudsburg; Kyra Rumfield, Allentown; Colton Ruschman, Stroudsburg; and Brayden Ruth, Sellersville.
Also, Hafsah Saeed, Whitehall; Fatima Said, Northampton; Carmen Saloum, Whitehall; Miguel Sanchez, Macungie; Julius Rian Santos, Easton; Suryanarayanan Sayee Subramanian, Navi Mumbai; Madalyn Saylor, Allentown; Cassandra Schmidt, Emmaus; Jared Schuster, Emmaus; Jacob Schwartz, Northampton; Philip Schwartz, Phillipsburg, New Jersey; Felix Seeler, Allentown; Ara Seibert, Emmaus; Muhammadmahdi Shivji, Allentown; Ryan Shollenberger, Allentown; Donevan Shum, Bridgewater, New Jersey; Maisie Singer, Wind Gap; Arshdeep Singh, Easton; Erin Smeraldo, Saylorsburg; Tyler Snow, Bethlehem; Mika Spangler, Alburtis; Achyutan Srinivasan, Macungie; Sean Stainer, Quakertown; Noah Steirer, Bethlehem; Samuel Stewart, Center Valley; Victoria Stopper, Allentown; Julie Stout, Easton; Bailey Streeter, Easton; Garrett Stull, Easton; Jacob Szajkovics, Allentown; Nathan Szydlow, Bethlehem; Kelly Ta, Whitehall; Kristine Taveras, Allentown; Emma Thomas, Nazareth; Victoria Toro, Chatham, New Jersey; Michael Torres, Macungie; Dillon Trenge, Allentown; Kayla Trenge, Allentown; Ana Truty, Belvidere, New Jersey; Awad Ulhaq, Quakertown; Devlin Ursu, Bethlehem; Alexander Vargas, Easton; Kayla Vega, Emmaus; Laura Veras, Allentown; Emma Vergamini, Allentown; Vedat Veziroglu, Bethlehem; Christopher Vidoni, Schnecksville; Sothanun Vuthy, Battambanag, Cambodia; David Waite, Quakertown; Nafisa Waseqa, Easton; Samuel Wassel, Macungie; James Waterstradt, Quakertown; Ahd Wezza, Allentown; Nicholas White, Allentown; Jordan Williams, Easton; Corey Wilson, Bethlehem; Zachary Wojcik, Royersford; David Xie, Bayside, New York; Kenisha Yeboah, Breinigsville; Ahmed Younes, Allentown; Jerod Younes, Wind Gap; Raynah Young, Frederick, Maryland; Stefan Zarkov, Macungie; Carlos Zayas-Tatis, Hokendauqua; Haojie Zhang, Green Lane; and Ryan Zheng, Bethlehem.