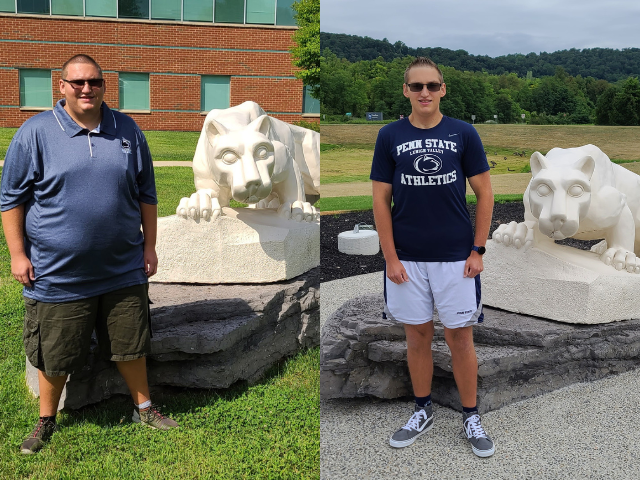 CENTER VALLEY, Pa. — Losing weight is a personal achievement anyone can be proud of. Losing a significant amount of weight, however, takes a special combination of willpower, perseverance, and self-discipline. Penn State Lehigh Valley student Zachary Johnson admits the journey was not easy, but his commitment to getting in better shape and improving his overall health was a major driver for his incredible 175-pound weight loss over the past year.
Johnson, a civil engineering major, resides in Bethlehem. He said he had a very difficult time during COVID. "With online school, I wasn't active, and not in the best state of mind. I like interacting with people and being face-to-face. It was not a great time for any of us. It took a toll on me. I had no motivation or drive to do anything in my life. I just kind of let myself go," he said. "Coming back to school from COVID — I wasn't in the proper mindset. You feel like you're out of touch with the world."
Returning to in-person classes full time helped his mental and emotional well-being, which he applied to improving his physical well-being. He took a hard look at his habits and decided to take control of his health. "I can either continue to gain weight and have a lot more problems later in life, or I can get my act together and clear up my physical and mental health. They kind of play off each other."
Because he is so social and understood he would probably stay motivated working out with a buddy, he asked his friend and fellow PSU-LV student Tobey Field to join him in the gym. "Without one of my friends, I wouldn't have gotten as far as I have. Tobey is big into health, and he kept me motivated to go to the gym during the first part of my journey," Johnson said. "I said to him at the start of the semester, 'I want to start going to the gym. Will you help me stay on track?' We did that for two to three months. I can't thank him enough for that. He gave me a lot of motivation at the beginning. As I started seeing results, my motivation came from seeing the results. I wanted to see where it led."
Johnson was happy with his results, but wanted to take his workouts to the next level. He reached out to Lorie Khalil, PSU-LV coordinator of athletic programs, for some suggestions.
"I introduced myself to Lorie. I'm kind of a shy person, but I explained my progress thus far — 'Hey, I lost 60 pounds, and I want to take this to the next level. What can I do?' She introduced me to the Peloton on the treadmill. We did that and it was a major help. She brought her speaker out and we did walk/run for 30 minutes. When I first started, I couldn't even borderline jog for a minute. Now I can run a full-on 5K in 34 minutes. On the treadmill, it's something like 29 minutes."
Johnson said he owes a lot to Coach Khalil. "She led me down the path that helped me out. She's helped me every step of the way," he said. Khalil encouraged him to move off the Peloton and train for his first 5K, which he completed in May in 34 minutes. (He completed a second one in July with a time of 29:38). "Honestly, it was a lot different running it in real life than on a treadmill. My goal was just to complete it. I was pretty happy with my time. It felt amazing to finish it," he said.
In addition to Field and Khalil, Johnson said his mother, Jodie Johnson, has been his biggest supporter. "She's been through this whole journey with me, and has been supporting me in everything. She's a single mother; it's been us for the past 18 years of my life. She's been through everything with me. She's my rock; without her I wouldn't be able to do what I do. She endured the dieting, exercising, all of that. She's been there to support me," he said.
Besides exercising more, Johnson made better food choices. "I cut out a lot of sugary foods. I haven't had anything sweet in a long time. For me, once I have something sweet, I'm going to want it more," he said. "I also focus on calories from fluids. I cut out soda. I mostly drink water. Occasionally I'll have a Neo. But [I'm] just making better diet choices — knowing what I'm consuming and how it affects me. Lots of lean meats. Much less starch and potatoes, without eliminating [them] completely. The biggest change for me were the calories from fluids. Not just weight-wise, but physically I felt better. I had more energy. I made [coffee] way more sugary than it should be. I still drink coffee, but use much less creamer, and use reduced fat creamer."
With so much weight lost, Johnson is focusing on maintaining his current weight. "Realistically, I'd like to lose another 10-15 pounds, but not much more than that. I want to eventually start putting some weight back on, but as muscle," he said.
His physical change has affected other areas of his life. "I'm more confident. I have more discipline and drive behind my day-to-day activities. My grades improved, too. [I've learned] that if you are willing to put in the time and work and make sacrifices — because without sacrifices you don't have progress — you can do anything you put your mind to. I've not only improved physically in the gym, but mentally and academically throughout the whole process. That motivation and drive transfers over into real world applications. That's probably the biggest takeaway," he said.
Johnson will transfer to University Park this fall to continue his studies in the civil engineering program. "I'm excited, and also nervous by the not knowing what's going to happen. I will miss the campus. I liked the smaller classes because there is more personal attention. I like when teachers build bonds with their students, because it makes it more real. It brings a different experience to it. All the [PSU-LV] teachers and professors are great."
Johnson hopes his experience inspires others. "I want people who are in my shoes to see that you can do this. Stay with it and you'll get through it. That's my motivation." He is willing to offer his support to any other student facing a similar challenge. "I've had such a tremendous support system at PSU-LV I'd like to pay it forward at University Park over the next two years and be there to help anyone that reaches out to me," he said.