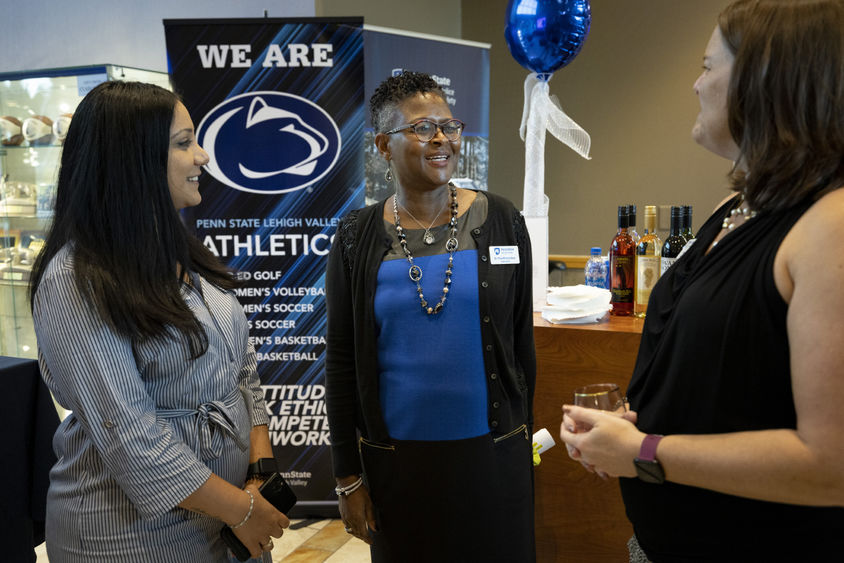 CENTER VALLEY, Pa. — Five years ago, hundreds of Penn State Lehigh Valley supporters came together to celebrate the early accomplishments of a University-wide campaign, "A Greater Penn State for 21st Century Excellence," and officially launch efforts in the Lehigh Valley. On June 30 of this year, "A Greater Penn State" concluded, breaking University records.
Back in 2017, the campus campaign effort was immediately jumpstarted by former PPL Corporation CEO Bill Spence, class of 1979, who, along with his wife, Denise, made a significant contribution — one of many made by the couple over the course of "A Greater Penn State." At the kickoff event, Spence shared his motivation, acknowledging the impact Penn State had on his life and his desire to ensure that students in the region had the same opportunity.
Penn State Lehigh Valley Chancellor Tina Q. Richardson also defined her vision for the campus, which included the addition of an organic chemistry lab, a LaunchBox hub for innovation to support next generation entrepreneurs and the cultivation of Collective Impact Scholarships for local students.
On September 19, the Penn State Lehigh Valley community came together again to mark the close of the campaign and thank its many donors for helping the campus to meet or surpass every financial and strategic objective.
"I'm proud to share that as a university, we raised nearly $2.2 billion, in addition to exceeding our campus campaign goal," said Shane McGee, chair of the Penn State Lehigh Valley advisory board and campaign co-chair. "We raised more than $3.46 million from over 1,000 distinct donors on this campus alone — and despite the pandemic."
McGee went on to thank his co-chair, Howard Kulp, who was unable to attend, joking that though they held the same title, he was definitely co-chair to Kulp. "Howard's been through multiple campaigns, was the chair [for our campus in] the previous campaign and knows Penn State Lehigh Valley's friend base, alumni base, the Valley's businesses and this campus. He's an invaluable asset."
"I'd also like to mention Kate Ginnard, who joined the campaign as the development director in the last phase," McGee said. "If you look at the monthly donation totals on a graph, our donations look like the upswing of a hockey stick as soon as she started."
"The response to this campaign was exceptional," said Richardson, "because we have the benefit of people like you — people who are involved, invested and enlightened members of the community who believe in our land-grant mission and support it generously. None of us could fathom that a pandemic would impact the global landscape. But your support was unwavering. Those who could, increased their giving and support for our students, especially those who had emergency needs due to the pandemic."
The event was held in the campus' new $14.5 million, 20,500-square-foot expansion completed last year thanks, in part, to campaign funding and a $1.6 million contribution from the Penn State Lehigh Valley Student Government Association (SGA). The three-story building includes a state-of-the-art organic chemistry lab located in the Charles W. Dent STEM Wing, a student lounge, a prayer room, the Veteran and Adult Learner Lounge and a full-service cafe.
During the campaign, the goal to create Collective Impact Scholarships was also met, and the campus now includes a highly active LaunchBox, as well as a LaunchBox Ladies initiative.
A multitude of students also gathered to share their gratitude and stories of impact through panels led by Nicola Gutgold, doctorate, associate teaching professor, and Liz Flaherty, doctorate, lecturer and Liz Keptner, director of the Multimedia Innovation Center.
Penn State Lehigh Valley Student Government Association (SGA) President Kriday Sharma spoke on behalf of the student body before the audience proceeded to engage in a series of student panels.
"Your philanthropy helps strengthen not only Penn State, but it positively impacts so many students, changing their lives for the better," said Sharma. "I personally am one of them. My scholarship saved me so much that I can now spend my time focusing on my academics and on improving student life as SGA president, rather than working weekend jobs and missing out on my assignments."
It was a sentiment shared by many of the students on the panels.
"The value of the scholarship I received was immeasurable as one of my financial goals is to finish my bachelor's without debt — giving myself a running start on graduate school," said Miyeli Vasquez, vice president of the campus Heritage Club and New Student Orientation leader. "Thanks to the financial assistance I receive, I am grateful that I have not yet had to take out a single loan to be able to afford college. It's just such a relief."
"A Greater Penn State" sought to fulfill three key imperatives of a 21st-century public university: keeping the doors to higher education open to hardworking students, regardless of financial well-being; creating transformative experiences that go beyond the classroom; and impacting the world by fueling discovery, innovation and entrepreneurship.
"Each of those imperatives was achieved thanks to so many," said Richardson. "I want to specifically thank the campaign co-chairs Shane McGee and Howard Kulp, as well as Kate Ginnard, for their tireless work. Our heartfelt thanks go out to the entire advisory board, as well as the many faculty, staff and community members who gave so generously."
"I would also like to recognize Charlie and Pam Dent for the STEM Wing on the 3rd floor, as well as our external gala fundraiser committee that included Polly Best, Ilene Wood, Carol Halper and Pam Dent, and our internal team led by Sandy Kile and Eileen Grodziak," Richardson said. "I would be remiss if I didn't also give a shout-out to our own Liz Keptner who emcee'd the gala and also to Kirsten Mears and Mandi Mowrey from my staff who organized tonight's celebration."
The chancellor went on to extend a special thanks to the Spillman Farmer Architect Firm and Butz Construction Company for the outstanding support and work done during the campaign and the pandemic.
"Every student that enters our doors is different," said Richardson. "But they do have this in common — incredible support — thanks to your generosity."
With the record-breaking success of "A Greater Penn State for 21st Century Excellence," which raised $2.2 billion from 2016 to 2022, philanthropy is helping to sustain the University's tradition of education, research and service to communities across the commonwealth and around the globe. Scholarships enable our institution to open doors and welcome students from every background, support for transformative experiences allows our students and faculty to fulfill their vast potential for leadership, and gifts toward discovery and excellence help us to serve and impact the world we share. To learn more about the impact of giving and the continuing need for support, please visit raise.psu.edu.