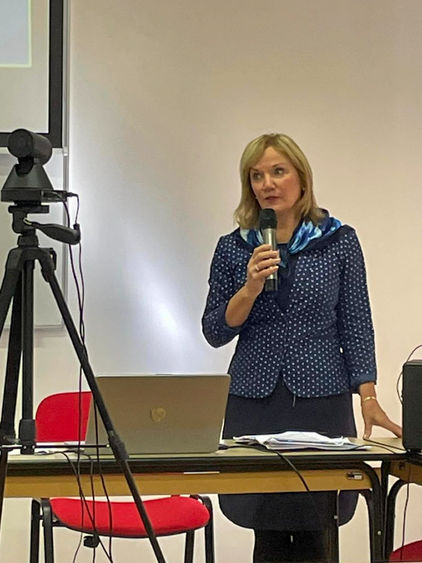 CENTER VALLEY, Pa. — Constructive feedback from faculty doesn't just apply to students' work. Faculty members working on research projects appreciate it, too.
That's the idea behind the new Work-in-Progress Faculty Research Initiative at Penn State Lehigh Valley. A faculty member presents an overview of a current research project, and their colleagues and peers offer suggestions and ask questions to move the draft forward. 
Nichola Gutgold, professor, communication arts and sciences, had the idea for the WIP series to give faculty the opportunity to share their research ideas or projects with a wider audience.
"The 'work in progress' is the most important part. Faculty members may have a lot of works in progress, or ideas, but they don't all get to the publication stage. Faculty may not have enough time or outlets to share their work. We can't all go to all the conferences we would like. This initiative is designed to breathe more life into the research by getting feedback from other scholars. If you only ever work alone, you don't get that feedback," Gutgold said.
"One of the ideas [behind it] is to put what we are doing out there. Someone else might be doing the same thing or know a book publisher. Another may be presenting at a conference. The presenter will get a lot of constructive feedback, and as someone who teaches communication skills, I know how helpful it can be to do a dry run. It might put them a little out of their comfort zone, but it is really valuable. It creates community because we know what others are working on. It's also meant to be a very safe space — the feedback is given with the best of intentions," she added. 
Gutgold was the first of two WIP presenters this fall. Her presentation, "Disinformation: Women and the World" was a draft of her keynote speech for the 27th annual meeting of the International Political Science Association and Information Disorder in Times of Crises in Dubrovnik, Croatia.  
"Doing something like this helps me to improve it [the research]. I can read it all day long and may never see a typo. I definitely got actionable items on my presentation," she said. Gutgold's primary area of research interest is women in leadership; for her speech, she wanted to focus on the ways disinformation about women in leadership positions is shared.  
"I got the invitation to be the keynote speaker [in Croatia] and the more I thought about it, I thought, 'It's possible the reason we haven't had many women in leadership is because they are talked about, reported about, and photographed in ways that are not accurate.' I was not surprised when I started dipping into the topic, others have written about it," Gutgold said. "It's a fertile research area, but still relatively unexamined. I asked the basic question 'Why haven't we reached political parity in the United States and beyond?'"  
She cites examples of women who have run for office, but have their political ambitions sidelined or abandoned due to salacious photos or accusations from their past coming to light.
"Male politicians don't usually face criticism like this," Gutgold said. "For the past six months, I was collecting research and building this PowerPoint and felt it was all over the place. My colleagues helped me organize it a little better. One suggested I re-state the 'disinformation' at the end."
Gutgold said she is grateful to Anibel Torres Bernal, director of academic affairs at PSU-LV, for supporting the WIP initiative.  
D. Edward Malinzak, assistant teaching professor, biology, will give the second presentation of the semester, "Where's the Smoking Gun? Factors Related to the Non-Avian Dinosaur Extinction" on Oct. 25. He will present a hypothesis regarding the possible causes of the dinosaur's extinction that grew out of his dissertation work on paleobiogeography. Malinzak sees the WIP as an opportunity to share his hypothesis and findings with others who are less familiar with the topic.   
"This is my second year of teaching at Penn State, and one thing I like is I can actually talk to my colleagues about things I'm working on," he said. "I'd like to get some ground to develop this further and maybe get it published. It's a foundation to build on, and a chance to speak to the general public, in a sense. I can get some questions from them about things maybe I haven't considered or may have missed in my research. I'm hoping by presenting I will get some feedback from them. It seemed like a great opportunity to do this." 
Two faculty members will also share their works in progress this spring.