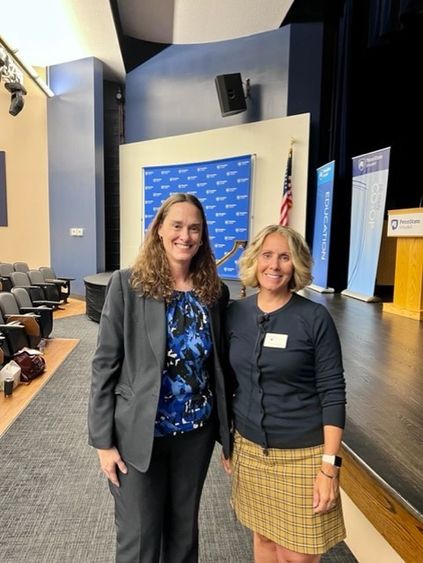 CENTER VALLEY, Pa. — Countless studies have punctuated a simple and well-known fact: College can be stressful. Between juggling classes, extracurricular activities, jobs, family commitments and other environmental factors — anxiety and depression are on the rise, said Teresa Kistler, Penn State Lehigh Valley program coordinator and lecturer, rehabilitation and human services.
"The key is not to let these feelings overwhelm," she said.
Though many are still coping with the after-effects of COVID-19, the pandemic helped people to talk about mental health like never before, said Kistler, who added that this is a step in the right direction to help end the stigma of mental illness.
"COVID put our mental health on the table for discussion," said Kistler. "Many people are no longer struggling silently. Many would talk openly about feeling anxious, or depressed, or scared or sad because they couldn't see their families. People were talking freely about that, and the conversation has continued."
Kistler pointed out that, for Penn State students, faculty and staff, navigating a global pandemic and living life online created a perfect combination of anxiety and unease. To address some of these issues as well as other traumatic events, Kistler was a guest speaker at Penn State Schuylkill's All Campus Day prior to the start of the fall semester. Her presentation, "Trauma Informed Care—What Does It Mean to You?" started a conversation around the issue of trauma and how it affects every aspect of people's lives. The group then discussed coping mechanisms to help move beyond trauma and into healing.
Tammy Yocum Cwienkala, counselor, health services and counseling at PSU-LV, said peoples' mental health is just as important as their physical health.
"It affects so many aspects of your life — school, relationships at work and home, and even your sleep. It's easier to push off getting help because I think there is still some stigma with mental health and getting access to care. But it's just as important as our physical health," said Cwienkala.
When anxiety or depression feels all-consuming, it may indicate a more serious problem, Cwienkala added, with symptoms like changes in energy levels, sleeping too much or not enough, not feeling rested even after the right amount of sleep, trouble with concentration or withdrawing from friends or social events being just some of the red flags to watch for.
"If you are experiencing any of these symptoms, reach out to a counselor or any other supports in your life," said Kistler. "Try to identify stressors. Set boundaries. It's okay to say no — don't feel guilty. And make time for yourself, whether it's a hobby you enjoy, taking a walk, or getting out into nature."
Kistler also pointed out that faculty and staff are not immune to feeling anxious or overwhelmed.
"It's just as important for faculty and staff to practice self-care," Cwienkala said. "Thankfully, more faculty and staff are getting more comfortable coming to me and asking for referrals."
Cwienkala said taking even a short break from phones and computers is another way to maintain mental health.
"COVID made the lines of work-life balance very blurred. Moving back to in-person, everything is still in our back pocket [on our phones]," said Cwienkala. "Allow yourself to unplug. You don't have to respond to every email or social media post immediately. Take a break."
Kistler added, "Self-care allows us to be our best selves. Whether we are students, faculty or staff, it's so important that we practice good self-care. It's how you show up every day. You have to take care of you."