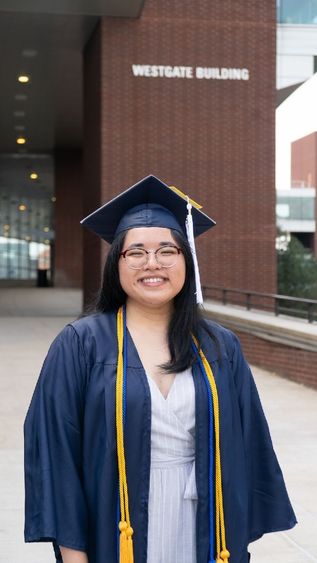 CENTER VALLEY, Pa. — Penn State Global may be based at University Park but the group impacts students and alumni from all points around the world. As of Oct. 24, the office has a new Global Engagement Coordinator who happens to be an alumna of Penn State Lehigh Valley.
Rachel DeMesa, a 2022 magna cum laude graduate of Penn State with a bachelor's degree in media studies and concentration in international communications, will serve in this important role for Penn State. In this position, DeMesa will be working directly with international students. "I can be involved with anything regarding students' stay in the United States — from pre-arrival and international student orientation to engagement programs — that all comes from the Global Engagement office," DeMesa said.
DeMesa, of Bethlehem, Pennsylvania, has a natural curiosity about backgrounds different from her own. Her family is from the Philippines and she speaks English and Tagalog (the Philippines' native language), as well as some Korean, Spanish, and Chinese — her major for two years before switching to international communications.
She was a founding member of the Global Student Organization, a club that started largely to serve as a resource for international students. "It is my opinion that international students are an underappreciated percentage of the student body. Especially at a small commonwealth campus like PSU-LV. At the time, there weren't many opportunities for international students to meet other students or engage with the campus culture," she said. "Along with the other founding members of GSO, I wanted to bring intercultural engagement opportunities to PSU-LV so that our international students had a platform for their voice, as well as share global culture to the campus community."
Likewise, DeMesa is familiar with Penn State Global. She worked in the department as a Global Education Assistant during her senior year after transferring to UP from PSU-LV. "I was assisting the Global Engagement Coordinator, which is the position I have now. [As Assistant] I planned events. I fulfilled a lot of student managerial work — we have students who lead the 'small stuff,' and work directly with the students. Sometimes the international students like to connect with other students rather than staff."
DeMesa's time at PSU-LV gave her a solid foundation for future success. She honed her leadership skills as a student worker in the Admissions office where she saw the importance of relationship building firsthand. "It was extremely rewarding to see previous prospective students at our New Student Orientations in the summer, and it was even more meaningful when they told me they remembered me and the impact I had on their decision. It was around this time when I decided that I wanted to spend my life supporting others and working with a team," she said.
She also learned to take advantage of unique opportunities, like the Global Engagement and Leadership Experience — a 3-day leadership conference that brings together students from across all Penn State to develop global citizenship — as well as the Summer Leadership Conference, both of which DeMesa attended.
In her new position, DeMesa wants to be an asset to the students she works with. "During COVID, international students had a hard time traveling. I'm trying to bring back the resources they had in the past and provide them with more opportunities to engage with Penn State. There's a big gap between domestic students and international students — you need a support system of students who are just like you. I hope to connect them with what we have to offer at Penn State and the U.S. as a whole."