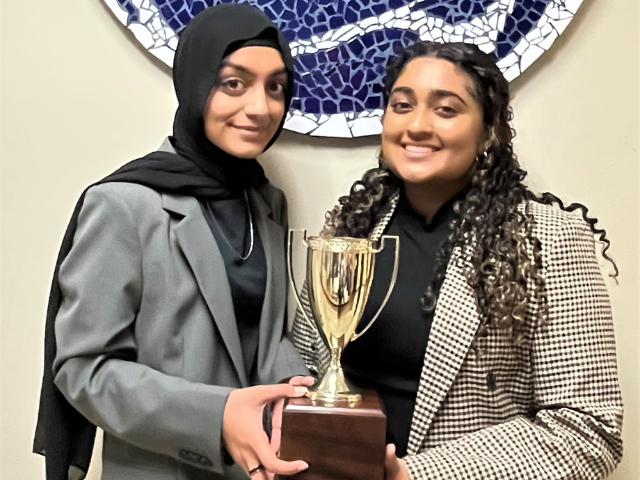 CENTER VALLEY, Pa. — Case competitions are a way for students to apply what they are learning in the classroom to solve real-world problems. On Nov. 13, the team of Sabiha Kermalli and Huda Khan won first place in the Engineering Consulting Collaborative Case Competition held at University Park.
In this competition, a fictitious company wanted to be innovative in the use of technology. Students were given a retail problem and brainstormed workable solutions to solve the problem.
"They tackled the problem by suggesting implementation of RFID tags in the store and an app that would track a customer loyalty program," said Denise Ogden, professor of marketing and case competition adviser.
The case competition moved the students out of their academic comfort zones. Kermalli, a second-year mechanical engineering major, and Khan, a second-year finance major, have never taken a retail course. This was exactly what piqued Kermalli's interest in participating.
"I'm usually stepping into a field I'm not familiar with. This one was business and engineering — I thought it would be interesting to see how they intersect, rather than something not related to my major," she said.
Khan, too, said she liked the challenge of tackling a problem outside of her field. She has been participating in case competitions since last year. Just this semester, she and Kermalli competed in two in the same day — one at DeSales University, and the other at University Park — a few weeks before the engineering competition.
The students are given the problem and have some time to work out a solution. They only had one week to prepare for the engineering case.
"There wasn't much guidance on the prompt, so we went with the typical formula we've used in the past," Kermalli said. "We started with gathering a large quantity of research and coming up with an idea. For this case, we had to design a product and a marketing strategy. It was just a matter of seeing what the industry needed and proving we had a feasible solution."
Kermalli and Khan meet with Ogden to discuss their ideas.
"My role is to encourage and guide them, but not give them the answers. I help them with some of the terminology. They are really good at understanding the big picture," Ogden said. "Sometimes they'll talk to other professors to get their feedback."
For this event, the team enlisted the help of Mark Capofari, lecturer, project and supply chain management.
"This was the first time we reached out to him, and he offered some insight on the solutions we were working with," Kermalli said. "And we always consult with Dr. Ogden."
Khan said the preparation, although daunting, is her favorite part of the process.
"It's really thrilling in a sense," she said. "I feel I've learned a lot from these case competitions. The step by step process of preparing — it's stressful, but it's a good kind of stress." She said they often have "case comp withdrawal" after so many weeks of intense preparation, then the competition itself.
Kermalli urges her fellow students to get involved in case competitions.
"The challenge is really thrilling, and for me personally, they lie outside the coursework I partake in. They help me develop skills which are applicable not just to business, but to all majors. It's interesting to see the process from prompt and problem to solution — it's gratifying to see the results. And the competitive energy — it's something my teammates and I thrive on."
Khan said case competitions are great learning experiences: "Even if you're not a business major, or presentations are not your thing, it's a skill everyone should have. I think it's a learning experience for anyone in any major. The group we work with are all in different majors, so it's not just limited to business. [Problem solving] can help them in their field, as well."