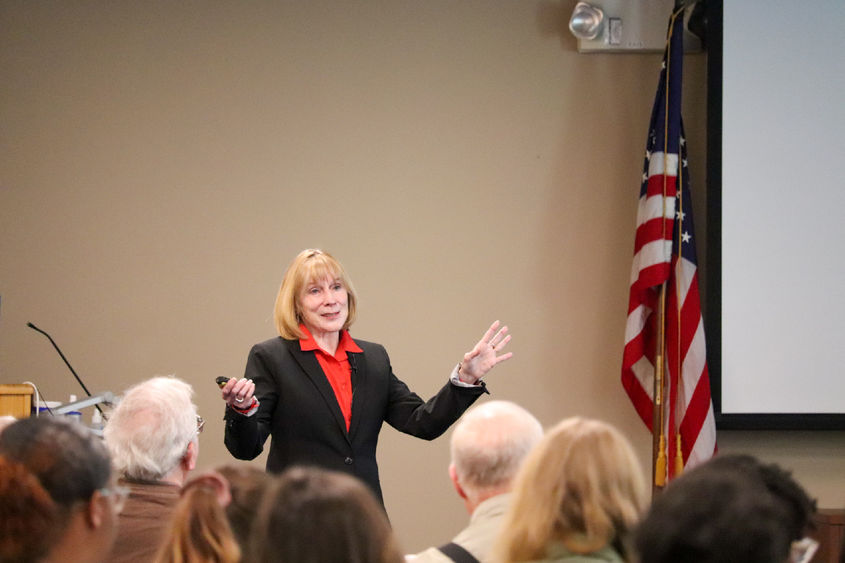 CENTER VALLEY, Pa. — Forensic psychologist, professor, and author Katherine Ramsland has held infamous outlaw Jesse James' skull in her hands during an exhumation. She has taken a deep dive into the mysterious world of the vampire subculture, interviewed serial killers, and worked with FBI profilers. During a recent talk at Penn State Lehigh Valley (PSU-LV), she told the riveted crowd of more than 100 people that none of these opportunities would have been possible without writing.
"I never thought I would be doing this. I had a circuitous career, but writing has led me to many things," she said.
Ramsland was the latest speaker in a series presented by PSU-LV professor of criminal justice Deb Dreisbach that explores the many careers students can pursue with a degree in her program.
"This is just one of the many diverse programs PSU-LV offers the campus and our greater community as part of our land grant mission to create access to meaningful education activities for all the citizens of the commonwealth," said Anibal Bernal Torres, director of academic affairs. "Today is an excellent example. We have nearly 125 people in the room, ranging from our high schoolers from Bethlehem Vo-Tech to our senior citizens from our SAGE program — and of course, all the students from our campus."
In addition to her work as a forensic psychologist and writer of more than 60 books and thousands of articles, Ramsland is a seasoned educator and senior administrator who makes the learning experience as authentic for her students as possible — most notably, re-creating crime scenes to investigate.
"It's time consuming," she said. "But it helps them think about what to pay attention to and what doesn't make sense. Things like blood stains flowing 'uphill' are clues they need to note in an investigation – and from it, deduce that the body was probably moved."
Analyzing the minds and thought processes of serial killers, however, is Ramsland's specialty. She has written dozens of books and taught countless seminars on the subject, in addition to working with the likes of Dennis Rader, the BTK Killer, on his autobiography. Ramsland corresponded with Rader in prison to complete the book, following his one requirement, that they communicate in "code." That meant trying to translate his choice of TV shows and how he related to the characters, for example, or why he made certain moves in chess. She recounted with a chuckle how the serial killer reminded her "not to cheat" during their first game.
She also approached horror writer Dean Koontz about writing a biography on the prolific author, although she had been told he would never agree to it, she said.
"It's better to be told 'no' than not to ask," she told the audience. "I met him at an event and decided to go for it. He asked me if I thought I could drum up any interest and I was able to generate some before I even left the room. I ended up learning so much about writing from him because I took that shot."
Ramsland also authored a biography on legendary author Anne Rice, which sparked collaborative efforts on several other books, and regularly serves as a consultant on TV shows like "NCIS," "Bones," and "The Alienist." Most recently, she ventured into fiction writing with "I Scream Man," the first in a series of novels about a forensic investigator, and branched out into real estate. Her "Murder House Flip" concept for "stigmatized properties" (dwellings where crimes occurred) ran for two seasons.
The presentation went well over the hour planned and extended further with a multitude of audience questions before Ramsland offered her closing advice to the students: "Be ready — you never know when an opportunity is going to come." Her many examples clearly made the case.