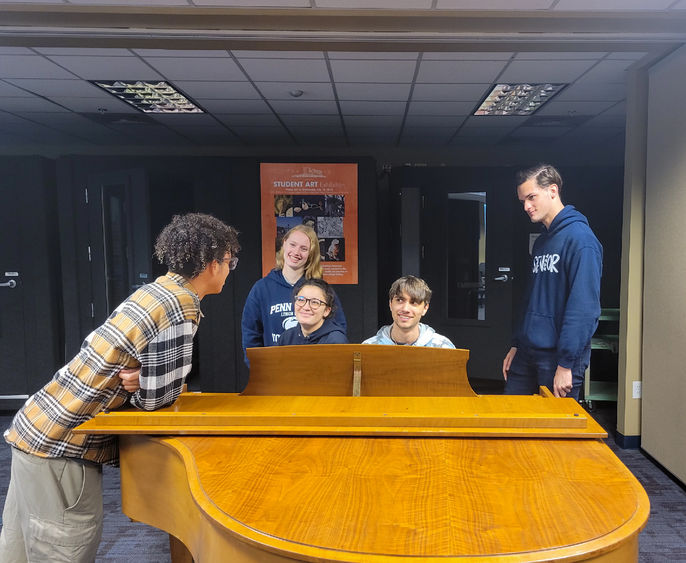 CENTER VALLEY, Pa. — Penn State Lehigh Valley students looking to develop or display their musical talents will now have the on-campus resources they need thanks to music room enhancements made possible with funds raised during GivingTuesday on Nov. 29. The campus fundraising contributed to the Universitywide success in the effort.
Forty-six donors contributed to the $5,135 raised by Penn State Lehigh Valley during the fundraising blitz, held on the first Tuesday after Thanksgiving every year. A karaoke fundraiser was also orchestrated over the campus' common hour where students, faculty and staff were encouraged to give $1 to sing their favorite song.
Music is an extremely popular activity on campus. Penn State Lehigh Valley's Music Club currently has more than 70 members, but countless students take advantage of the music room when not in class or studying. The improved room will be used for introductory music classes beginning in the fall 2023, and it will ultimately serve as a hub for students at all skill levels to fine-tune their talents.
"We will be purchasing guitars, a new drum set and keyboards," said Kirsten Mears, Penn State Lehigh Valley alumni relations and stewardship officer. "The funds are going to help add more recording studio space and the information technology infrastructure to do so. The intent is to also add a podcast room for anyone who'd like to share their stories through this burgeoning media outlet. The students drove the focus of the campaign and are extremely excited that their voices were heard."
GivingTuesday was an overwhelming success for the student-driven campaigns across Penn State and ultimately raised more than $1.25 million for various campaigns, making it the largest show of support to date.