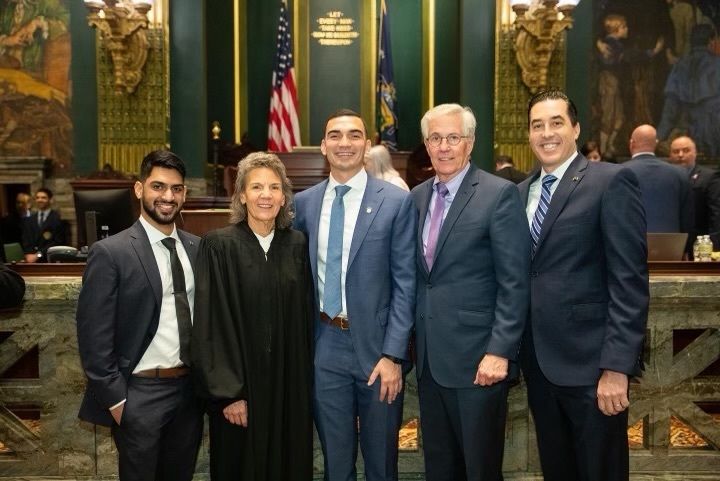 CENTER VALLEY, Pa. — When Nick Miller left Penn State Lehigh Valley for University Park in 2013, it was with the earned admiration of his professors and a sense that he was quickly emerging as a leader among his peers.
Nine years later, the Penn State graduate earned an even greater distinction as the youngest candidate to be elected to the Pennsylvania Senate in more than 123 years.
"Even during his days as an undergraduate, Nick had a maturity and focus that are rare and special," said Nichola Gutgold, professor of communication. "Whenever I would talk with him, I'd get the sense that he was truly listening, taking a mature and focused approach to information gathering and factoring it into his decisions. It's that strategy that I believe will make him an ideal public servant."
Miller was officially sworn into office on Tuesday by his mother, Lehigh County Judge Michele Varricchio, who he says was his greatest inspiration. The newly elected senator credits many of his PSU-LV professors with influencing his path forward, most notably, Gutgold, Denise Ogden, Sandy Kile and Mike Krajsa who took him on his first study abroad trip to Peru — an international journey that changed his world.
"I was the only freshman on the trip," said Miller. "So, I had the advantage of learning from the upper classman. It definitely opened my eyes to all that's out there and the networks you can form through these experiences."
As a sophomore, Miller went to the Netherlands on a similar research-based excursion and to Tunisia the following summer. "After, Penn State held a 'Global Day' where all the campuses were represented," said Miller. "I was introduced to an alumnus there who helped me get an internship with PricewaterhouseCoopers. It was an incredible opportunity." Miller also recounts working as much as 110 hours a week during that time.
"Nick wasn't your average college student," said PSU-LV admissions counselor, Hiba Moussa. "He's so incredibly ambitious, driven, and focused on giving back to the community.  Every opportunity that came his way, he took and excelled at it. He did everything we tell college students to do — get involved, network, travel abroad. Penn State Lehigh Valley was the perfect fit for him."
Miller concurred: "I chose to come back to PSU-LV to walk at graduation. You have such intimate relationships with your professors and make so many personal connections there. It's where I came out of my shell."
Miller also noted the quality of instructors at the campus. "It's no accident that six are Atherton Teaching Award winners and another was recently nominated. There are only six awards given annually within the Penn State system — out of nearly 5,000 full-time faculty. They're not just exceptional teachers — they are involved."
Miller continued his connection to campus through the LaunchBox advisory board — the business incubator that provided him with microgrants and startup support for TeraDrones, LLC — one of two small businesses he founded.
"I grew close to Nick right after he graduated," said PSU-LV graduate and newly appointed advisory board member, Previn Joseph. "We would often find ourselves on campus panels, speaking to current students. He loves to give back to campus and advise students from his experiences. His focus really sets him apart. But what really amazes me is his desire to truly enable all those around him. It's not just about him — he wants everyone to succeed."
Joseph recalled the night before a final interview at IBM where Miller worked. "He stayed on the phone with me for almost an hour helping me prepare and reassuring me that I was ready. I got the job."
"He was also there when I was trying to help my parents buy their first home," Joseph said. "We never owned a house and didn't know the first thing about the steps involved. He was empathetic and patient — especially when we had to navigate the difficult real estate market during the pandemic and didn't think we had a shot. But he never hesitated. And when closing was scheduled within three days of our lease being up, it was Nick who rented the U-Haul, pulled his friends together and got us moved."
Miller graduated from Penn State in 2017 with a bachelor's degree in finance and went on to accept a project management position at IBM while also working in real estate development. He then enrolled in a master of public administration program at the University of Pennsylvania, where he later decided to pursue a second master's in law.
When asked what advice the senator would give to students, Miller said: "Get as many internships as you can in different areas. I completed six at organizations including, Schlossberg, PricewaterhouseCoopers, the Chamber of Commerce, and JP Morgan, which led to multiple job offers. Beyond the incredible networking opportunities, these experiences help you understand what you like and want to dive into in your career." He added that it was one of the many benefits of starting at PSU-LV, "there's so much industry in the Lehigh Valley to tap for internships and jobs."
Miller spoke to his capstone project in college that focused on Artemus — a NASA initiative that will return Americans, including the first woman and person of color, to the moon. As part of the project, he worked with members of Congress to understand what they want to see from the agency and ultimately, presented a plan that (among other things) showed the economic impact of NASA on various companies, including Lehigh Valley-based Air Products which provides gases and fuel for rockets.
The newly elected senator intends to continue this type of thoughtful research and strategy in the Senate, particularly around education. "There is no better investment of state dollars than in education," said Miller. "It is the foundation for success, and we need funding for both vocational institutions and colleges."
The challenges in education are ones he understands well, having joined the Allentown School Board in 2019 as one of the youngest members ever elected. "There are 500 school districts in Pennsylvania and a bipartisan formula to level up the poorest 100," Miller said. "Both sides agree on how to do it, but only 17% of our state funding goes through the updated Fair Funding Formula. School districts like Allentown just don't have the property value to sustain it. We need to fully implement the formula to eliminate an unjust system that has proven to be harmful to our children's education."
Miller has been finding ways to help fund education since he was a college student himself. "Mike Krajsa's study abroad trip and subsequent mentoring made such an impact on me that I wanted to help other students have that same opportunity," he said.
"Sandy Kile was holding a candy fundraiser for the study abroad program at the time, so I decided to match up to $500," said Miller. He has been contributing the gift ever since through the Varricchio-Miller Education Foundation which he founded and funded using money earned in his internships, summer jobs and investments. In addition to helping Penn State students, it provides financial assistance for students in Nairobi, Kenya, and has funded initiatives including 47 scholarships for recipients that he led throughout Kenya.
The young senator's efforts reached new heights, however, last Christmas morning when he summitted the world's tallest free-standing mountain — again raising funds to help others. "I would walk through [Allentown] school district facilities and see rusty, old weight rooms," said Miller. "I was able to raise $25,000 climbing Mount Kilimanjaro and help create access to better equipment for our students."
Miller's website outlines the District 14 senator's intended impact areas beyond education, including support for small businesses, the LGBTQIA+ community, water safety, the preservation of green spaces, and importantly, what he terms, "smart growth."
"Since the election, I've been taking time to meet with dozens of local leaders," Miller said. "We have to move past the polarized politics." He went on to note that he's looking forward to working with Republican Jarrett Coleman who won the 16th Senate District seat. "The Lehigh Valley will have two of the youngest legislators in the state. I'm excited to move it forward."