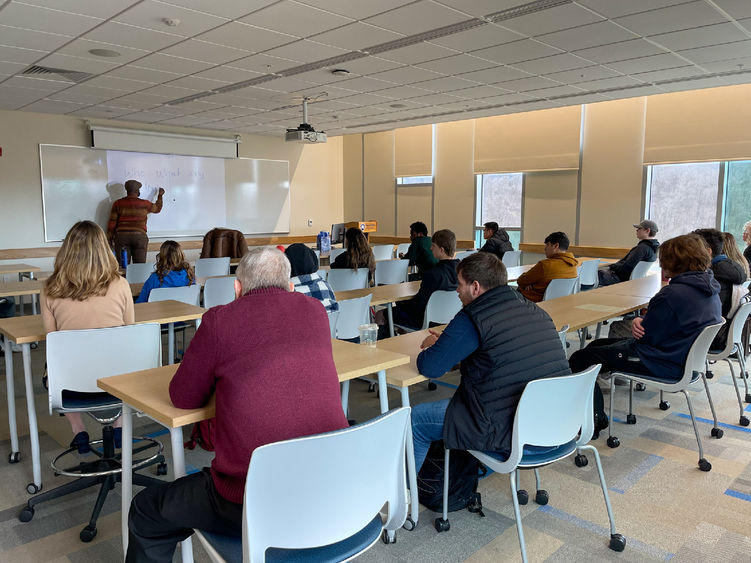 CENTER VALLEY, Pa. — Addiction and recovery specialist Kevin Smith has seen individuals from all walks of life work hard at recovering from various types of addictions. Smith spoke to a crowd of students and faculty at Penn State Lehigh Valley (PSU-LV) on Jan. 30, and his presentation had a clear message: help is out there.
Smith is a certified addictions counselor and director of Change on Hamilton/Lehigh Valley Drug and Alcohol Intake Unit in Allentown, a drop-in recovery center for individuals working to overcome any type of addiction. The highly engaged crowd offered their own experiences with friends or family members' struggles with addiction. Smith pointed out that addiction still has a stigma, which prevents many individuals from seeking help. As part of his presentation, Smith staged a simulation of a 12-step meeting to give attendees a better understanding of the support these gatherings provide to those working on their recovery.
This was a big reason why Teri Kistler, program coordinator and lecturer in rehabilitation and human services (RHS), invited Smith to the campus.
"We wanted to help raise awareness about addiction and recovery, and break through that stigma," she said. "It was also an opportunity to learn about professional options for students who want to work in the recovery field. If you are interested in this profession, we have a certificate in chemical dependency and counseling where you can gain valuable skills."
Smith's presentation is the first in a series of events Kistler and the RHS program are holding this semester to raise awareness and promote careers in the field.
Kistler said one important point came out of Smith's discussion with the students: "If any student is questioning their own use of substances, or wants to refer a friend, we have resources on campus. We have our counselor Tammy [Yocum-Cwienkala] and help is available."
Likewise, Kistler said it would be possible for any students in long-term recovery to start a club to support one another and do fun events without peer pressure.
"We want students in recovery to know that Penn State Lehigh Valley is a safe place," she said. "We celebrate your recovery with you, we support you in your journey, and we want you to have a fun, rewarding college experience on our campus."