Jacy Good and Steve Johnson presented on the importance of cell-free driving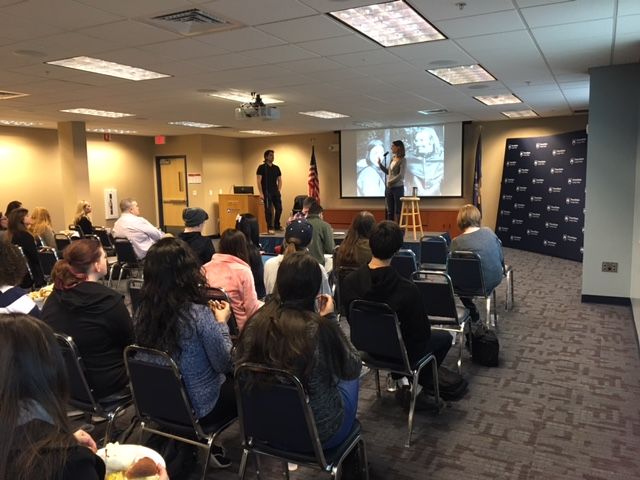 CENTER VALLEY, Pa. — Jacy Good and Steve Johnson, nationally recognized public speakers and advocates of cell-free roads, came to Penn State Lehigh Valley on Feb. 7 to share their story to educate students on the dangers of distracted driving.
Good and Johnson met in 2004 as freshmen at Muhlenberg College. Three and a half years later, they had their lives planned together as they prepared for their college graduation and the start of their careers.
May 18, 2008, started as an exciting day. After four years, both Good and Johnson were graduating from college. After the ceremony, they packed the cars and headed home. Halfway home to Lancaster, Pennsylvania, Good and her parents stopped at a Sheetz on 222, as they always do on their way home. That is the last thing Good remembered for two months.
Good's father had a green light to drive through an intersection, as did the 18-wheeler in the next lane. A young man at a red light was talking on his cellphone, forgot he was at a red light and proceeded to drive into the intersection, causing the tractor trailer to swerve and hit the Good family car head on. Good's parents did not survive. With a 10 percent chance of survival facing Good, the road to recovery for her was long. After four months in the hospital and rehabilitation center, Good was finally able to come home.
"I need to be alive. This story needs to be told. This story is not unique, it happens every day," said Good.
Good and Johnson sent a clear message while presenting at the Lehigh Valley campus. There are dangers beyond texting and driving. Talking on the phone with a speaker phone or Bluetooth is just as dangerous as texting. They said approximately 15 lives are ended a day from cell phone use behind the wheel.
"How lucky am I? I woke up this morning ... I can use my voice and you can use yours. We can do something about this," said Good.
Because Lehigh Valley is a commuter campus, Good wanted Penn State Lehigh Valley students to understand the importance of safe driving.
"Nothing on a phone is more important than a life," she said.
Samantha Haydt, a sophomore rehabilitation and human services (RHS) major, was grateful to be able to listen to Good and Johnson's story.
"Good and Johnson came to my high school in 2013. Seeing the couple again now that I'm a driver impacts me more now than it did then. It's easy to make the pledge not to use your phone behind the wheel before you're driving, but now that I'm driving I see the temptation, but also the importance to resist," said Haydt. "As an RHS major, I hope I can reinforce this message in my future career."
Since 2011, Good and Johnson have been traveling the country to speak to people about hanging up their phones while driving, to encourage companies to enforce cellphone policies and to work with legislators to create laws that protect the public.
Contact
Dennille Schuler
Public Relations Specialist
Penn State Lehigh Valley