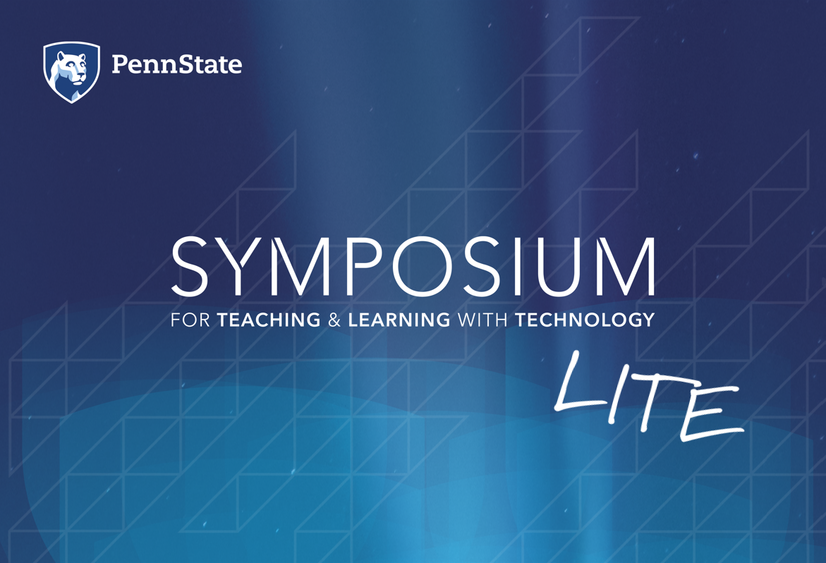 UNIVERSITY PARK, Pa. — Teaching and Learning with Technology is excited to announce its first-ever virtual Symposium Lite on March 23, the week after the in-person TLT Symposium.
The half-day event will feature four 30-minute, prerecorded presentations followed by 15-minute, live facilitated discussions with the presenters. The presentations will be a mix of new material and repeated presentations from the TLT Symposium, allowing participants to continue exploring how technology can enhance teaching and learning.
"We're excited to offer this virtual opportunity, with high-quality presentations and real-time conversations, for those who either cannot attend the in-person event or who simply want to extend their Symposium experience and engage in this whole new way," said TLT Interim Director Crystal Ramsay.
Symposium Lite registration is now open.
 The sessions include: 
1–1:45 p.m. — "TLT Faculty Fellows Explore VR Student Engagement and Community" (presented by Anna Divinsky, Courtney "Cookie" Redding, and Zena Tredinnick-Kirby, School of Visual Arts)
1:45–2:30 p.m. — "Course Insights' Influence on Pedagogy" (presented by Chuhao Wu, Sarah Zipf, and Ben Hellar, TLT)
2:30-3:15 p.m. — "Early Faculty Insights Implementing Top Hat into Courses" (presented by Marilyn Goodrich and Sherry Rice, TLT; Kim Cooper, Health and Human Development; Erica Fleming, Information Sciences and Technology; Tim Kelsey, Agricultural Sciences; and Mary Ann Smith, Penn State Schuylkill)
3:15-4 p.m. — "Engaging Students Through Innovative Applications of OER Technologies: Faculty Panel" (presented by Sara Davis, TLT; Noel Habashy, Agricultural Sciences; Bryan McGeary, University Libraries; Larry Musolino, Alison Bonner, and Elizabeth Nelson, Penn State Lehigh Valley; Pauline Milwood, Penn State Berks; and Christina Riehman-Murphy, Penn State Abington) 
Registration is also open for the in-person TLT Symposium on March 18.